This post was originally published on our partner website: India.com.
Speak without shame, and stand with me — and bring about the change we want to see" – Priya, from "Priya's Shakti," the comic book.
Those are the powerful words of India's newest superhero, Priya, an ordinary Indian woman with an all-too-common story. Seated on the back of her loyal companion tiger, Priya sets off to educate and empower everyone she meets in hopes that one day women around the world can finally feel safe in societies of like-minded individuals.
Priya is the protagonist of "Priya's Shakti," an innovative new comic book that tells the story of an average girl whose simple dreams of becoming a teacher are ripped away from her when her father pulls her out of school. Someone needs to tend to the household chores, he said.
Already suffering from the consequences of being a woman in a largely uneducated and patriarchal society, Priya's life steadily becomes only more difficult. One day she is accused of being a "loose woman" because she wears provocative clothing and later becomes prey for leering eyes.
Her worst nightmare becomes reality when she is raped and shunned from her family and community out of shame. With nowhere to turn and no one to help her find justice, Priya escapes to live in the forest — that is until she finds her shakti, or power.
Like many women in India, Priya is more than a victim for gender-based violence; she is a victim of a society that is notoriously unjust to women and the brainchild of New York-based filmmaker Ram Devineni, who wanted to create a modern-day hero that understood the pain of so many but could also represent hope for social change.
"I was in Delhi when the horrible gang rape happened on the bus in 2012, and was involved in the protests that soon followed," Devineni said in a recent email interview.

"Like many people, I was horrified by what had happened and angered by the indifference exhibited by government authorities at every level," he said. "There was an enormous outcry in particular from young adults and teenagers — both women and men. At one of the protests, my colleague and I spoke to a Delhi police officer and asked him for his opinion on what had happened on the bus. Basically the officer's response was that 'no good girl walks home at night,' implying that she probably deserved it, or at least provoked the attack. I knew then that the problem of sexual violence in India was not a legal issue; but rather it was a cultural problem."
Both troubled and inspired towards action, Devineni set out to explore India and Southeast Asia to learn more about gender-based violence. He heard from a range of voices, from rape survivors and activists to philosophers and poets, coming to the conclusion that India's long history of gender-based violence both stemmed from and was fueled by a mingling of deep-rooted cultural stigmas and ineffective justice systems.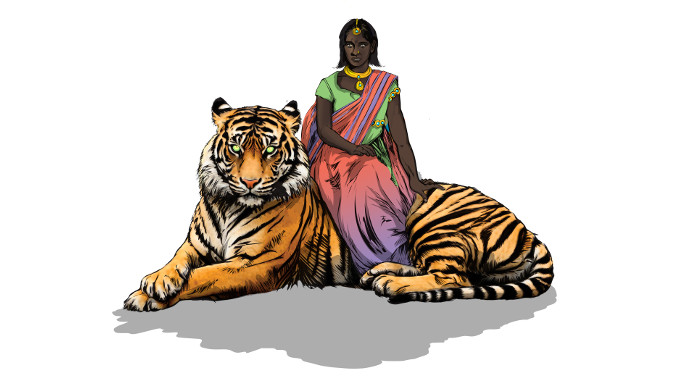 Priya, India's new comic book superhero and rape survivor, returns to her village riding on a tiger.
On victims seeking justice, Devineni said he realized how much their lives were constantly under threat after they reported the crime.
"Their family, local community, and even the police discouraged them from pursuing criminal action against their attackers." he said. "The burden of shame was placed on the victim and not the perpetrators, and this created a level of impunity among men to commit more rapes."
Hoping to empower the unheard voices of so many victims in India and around the world, Devineni created Priya, who realizes her shakti when the Goddess Parvati gives her a superpower, the power to change minds. Not exactly a typical superhero-like power, but Devineni said Priya's ability to be a proponent of change through non-violence is particularly what makes her so powerful to inspire others.
"Priya is not your typical 'superhero' and her strength is her power of persuasion and the power of an idea," Devineni said. "Although she rides a tiger, she has no powers. Nonviolence and passive resistance is one of India's greatest contributions to human society, and that of the philosophy of Hinduism that has been a source of many ideas."
Devineni said his goal in publishing this comic book is simple.
"I think the most important thing we want to emphasize with the comic book is that change is possible," he said. "Trying to create a cultural shift is incredibly difficult but not impossible. India is going through some remarkable and monumental changes in a short period of time. People's views have not caught up with the speed in which things are changing in India. But what was clear to me from the massive protests that happened all over India after the horrible rape on the bus is that we want things to change in our country. There were so many teenagers and young adults at those protests, and they will be the future catalyst and leaders who will define India, which is a hopeful sign."
Even though Devineni said he started this project because of what happened to Nirbhaya, a 23-year-old medical student from Delhi, whose gang-rape triggered mass international protests, he explained why he chose to make Priya a girl from a village and not from a big city.
"Although the story takes places in a rural setting, I felt Priya's struggle resonates really well with audiences all over India – and even in other countries," he said. "I do think the audience would have been affected and reduced if we made Priya from a more privileged background. There is a 'universality' to Priya, which everyone can relate with, no matter what social or economic background you come from."
New York-based filmmaker Ram Devineni, also the creator of the new comic book superhero Priya, from "Priya's Shakti."
On how he developed Priya's character to have an international appeal and be relatable to a wide span of different readers:
"On a technological level, we believe the use of augmented reality will have a significant impact on readers in India who are not as familiar with this approach," said artist Dan Goldman, whose credits include working as Second Screen Experience Architect and Transmedia on AMC's "Breaking Bad." "There is a huge 'WOW' factor when readers first experience augmented reality. Our comic book will be one of the first publications to use augmented reality in India and can help define the new frontiers of integrating books, exhibitions, and public art with augmented reality."

Goldman added: "Priya was a compilation of many Indian women throughout Indian history. We created a photo-book of many women from migrant workers to Bollywood movie stars. And she had to be a teenager that every teenager around the world can identify with. There had to be a universality to her look and personality. In future editions, her character will be more developed."
"Priya's Shakti," raises international awareness of sexual assault cases. A clear indication of Devineni's purpose behind the project.
"I think this comic book is already part of a movement that is happening in India that started with Nirbhaya," Devineni said. "The comic book takes the spirit of the protests and the people who are actively working towards change."
Some of those steps towards social change include working with Apne Aap Women Worldwide, a registered charitable trust in India working to empower women, by distributing and using the comic book as a tool to reach communities and schools.
"We are also working with street artists and former Bollywood movie poster painters to create large murals of the comic book on walls throughout Mumbai and New Delhi," Devineni said. "We will then add augmented reality to the murals, which will be a remarkable synergy of public art, technology, and social activism."
"Priya's Shakti" is available to download for free, and readers can use the hashtag #StandWithPriya to get involved in the movement. Follow "Priya's Shakti" on 

Twitter

 and 

Facebook

 for more regular updates.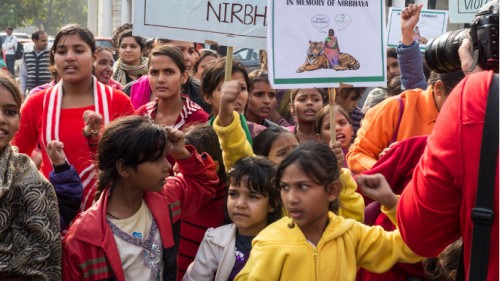 Indian children march in memory of gang-rape victim 'Nirbhaya' in New Delhi on 15 December 2014.
---
Foram Mehta is a freelance journalist and photographer enjoying the life of a "starving creative" in New York City. When she's not hunting down the best brunch in NYC, you can find her rooting on her beloved Texas Longhorns and dreaming of the day Oprah comes calling. Check her out on her personal blog: A Metaphorical Mind.