This post was originally published on our partner website India.com:
This year has kicked off on a powerful note for the transgender community in India with the debut of a unique and talented group of six singers, the 6-Pack Band.
Their first video, released on January 6, is an exceptional cover of Pharell Williams's popular track "Happy." The band's rendition, titled "Hum Hain Happy," sends a message deeper than just its name. The song celebrates the willpower of a community that, unfortunately, has been frowned upon and mocked in our society. "Hum Hain Happy" evokes heartfelt emotions and is set in the casual, nuanced environment of narrow Mumbai alleyways. In just three days, the music video has crossed 1.2 million views on YouTube.
The hijras, as the transgender community is known, and their signature move of clapping hands to music are called upon during weddings or childbirth because their presence is considered auspicious. Outside of such occasions, however, India's transgender community is socially rejected and often forced to beg for money or become sex workers in order to survive. Luckily, in this case, the band's song and dance encourage us to milke bajao taali (which translates to, "let's clap our hands together") and join them in their journey towards a judgment-free life.
The music video embraces traces of Bollywood-like melodies and backgrounds and is, therefore, the simple, famous, and widely relatable foray into pop culture that 6-Pack Band deserves. A portion of the video shot in an office where people are visibly straight-faced—mouth open and awkward as hell—starkly mirrors the criticism that transgender face over their societal image. In no time, though, these office-goers join the group in their performance. How could they not? "Hum Hain Happy" has such catchy beats and lyrics—you will be dancing, singing, clapping, crying and smiling all at the same time when you finish watching the video. Beyond that, the prevailing point of the song is to convey that the society's shunning and snubbing of their community will only empower them to rise higher, let the world be damned.
The stereotypical depiction of transgender people in film or television has finally begun to shatter with the public launch of this band. Pop culture's influence is vast and the hope is that with this development, audience perception and tolerance will finally begin to change. With the backing of Bollywood production powerhouse, Yash Raj Films (YRF), and its youth division, YFilms, 6-Pack Band has the public backing of Shameer Tandon (who developed the project), Ashish Patil (Director of YFilms), and even Bollywood actress Anuskha Sharma, who lends her voice to the narration of the "Hum Hain Happy" music video. However, all these big names pale in comparison to the genuinely soulful charm of each of the band's singers.
Through the band, YFilms and the project's contributors are taking a very public stance to challenge social issues such as gender inequality and discrimination in our country; issues that need to be tackled immediately. In fact, according to Mashable, YFilms auditioned around 200 aspirants before narrowing down and finally choosing the six band members, who range between the ages of 22 and 33.
As for their bright future, 6-Pack Band is collaborating with singer Sonu Nigam for their next song, "Rab De Bande"—a teaser for which can be seen at the end of "Hum Hain Happy." But be prepared: it will tug at your heart strings as the video showcases the real-life struggles these singers have faced. "Rab De Bande" will release at the end of this month, fittingly, on India's Republic Day, January 26.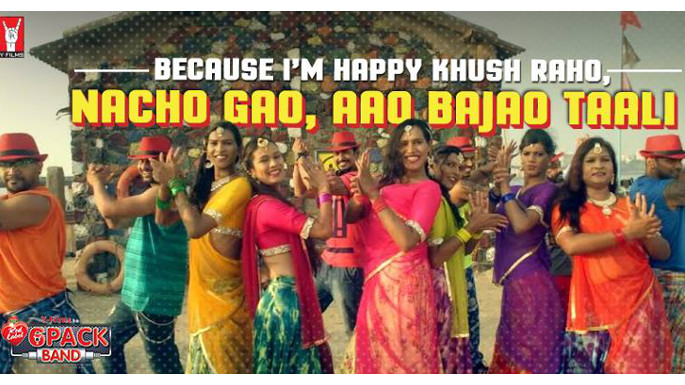 [Photo Source: Facebook.com/YFilms]
---
Saloni Gajjar is a recent alum of NYU's Magazine Writing Program. Her passion lies in pop culture writing, as is evident in her work with magazines like Marie Claire, Interview, and Complex. Her goal is to show the arts as a medium and mirror of the society, much beyond just entertainment.