In spite of India's conservative ways, the creative and daring minds at Anouk, a clothing brand that retails on Myantra.com, are breaking barriers to create social change.
With multiple ads challenging India's society through their "Bold is Beautiful" campaign, such as the one featuring a single mother and another showing a young woman waiting at a bar, Anouk has produced yet another out-of-box video, titled "The Visit."
It captures a heartwarming conversation (and some kissing) between a live-in lesbian couple (Shocking? We know!) that is taking the next step forward in their relationship: introducing one partner to the other's parents.
Avishek Ghosh, co-partner of Hectic Content, the production house responsible for making the film, told the Times of India that those involved with the ad "tried to avoid stereotypes associated with gay people."
"There was no one woman looking more masculine or feminine in the film. We tried to give it a candid feel like it is any other couple being apprehensive about meeting the parents."
With more than one million views seen on YouTube, the ad company succeeded in spreading their message in a society that is slowly, but surely evolving.
Considering India still has a law in place that criminalizes homosexuality, thanks to Section 377 of the Indian penal code, it is a bold step for Anouk and the producers of "The Visit" to make an ad that could easily be seen as "fighting the man" and bucking the current system in place. But that's precisely why the ad is so important because even though the majority of the country does not agree with homosexuality, it's crucial to note that parts of the country are willing to accept same-sex couples.
The need for equal rights for homosexuals in India is an ongoing, difficult fight that demands to be reconsidered by the eyes of Indian lawmakers and society. But the lack of gay rights is an issue that also plagues us internationally, so hopefully "The Visit" will allow more people to come out and support gay rights, regardless of their preferred sexuality.
Sure, it's just a 3-minute ad, but even the shortest productions can be bold and make an everlasting impact. Now, it's time for the rest of the country to follow suit.
---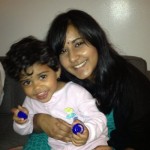 Born in Texas, went to college in Missouri and now living in New York City, Keertana Sastry has a unique perspective on being Indian in different parts of America. Keertana has been working as both an entertainment, culture and lifestyle reporter, as well as a casting assistant for the film and TV industry. She loves to infuse her Indian heritage into her work and life.