This post was originally published on our partner website India.com.
On Friday, July 22, the Court of Appeals of Indiana vacated the felony conviction of 35-year-old Purvi Patel, who was charged with feticide after a self-induced abortion in 2014. It is the latest turn of events in a trial that has stood as a landmark in the ongoing debate over reproductive rights in this country.
In July 2013, Patel was arrested after she sought emergency medical care at a local hospital. According to sources, a doctor who belonged to an anti-abortion group called the police. It was alleged that the bleeding she had was due to her delivery of a one and a half pound boy, which prosecutors alleged she then threw in the trash behind her parents' restaurant. She was charged with feticide (a class A felony) and negligence of a dependent (a class D felony).
According to court records, Patel had taken an abortion medication, which is not illegal in Indiana, that she purchased online. Patel claims that she had a miscarriage and that she was bleeding so profusely that she was in shock for 10-15 minutes. The fetus would have needed medical care within a minute of its birth to have any chance of surviving.
In 2014, Patel was sentenced to 20 years in prison for the higher felony charge of feticide. In 2015, the court responded to Patel's appeal, upholding the charges due to "sufficient evidence."
Since her arrest, Patel's case has drawn national attention, especially from reproductive rights groups. They argue that her case sets a troubling precedent for "absurd use" of the feticide law in Indiana.
Today's ruling is one that overturns the more serious felony charge, negating her 20-year sentence. The trial court has been remanded to resentence Patel, based on the felony negligence charge.
Though not seen as a full victory by some (Patel will still have to face consequences for the secondary, lesser charge), this is an incredibly important ruling with implications of how the charge of feticide can be used– or abused. The fact remains that both women who have been charged with feticide in Indiana have been Asian.
Indiana has startlingly become a battleground for women's reproductive rights. In March of this year, the state legislature passed a bill making it a criminal offense to dispose of fetal remains in any other way besides burial or cremation, including in cases of abortions, miscarriages, and stillbirths. The law went into effect this month.
---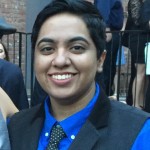 Priya Arora is a queer-identified community activist, writer, and student. Born and raised in California, Priya has found a home in New York City, where she is currently pursuing a Master's degree in Counseling Psychology at Teachers College, Columbia University. Priya's passion and research lies in capturing and fostering the needs and experiences of South Asian American LGBTQ people, with a mental health focus.