by Atiya Hasan
While growing up, the term "feminism" always held a positive meaning for me. But only now, as I delve deeper into the world of feminism, I realize that there are many facets and brands of feminism. There is the liberal feminist, the secular feminist, separatist feminism, radical feminism, cultural feminism, anti-feminism and so many more.
Moreover, I've been surprised to learn that in many social circles, the word "feminism" is considered the vilest of insults. Even more surprising was the fact that so many women explicitly choose to recognize themselves as "not a feminist." It doesn't make sense to me – why would you not want equal rights and opportunities for women everywhere?
So, I started reflecting on why this term evoked such positive notions from me. It wasn't a word that I had heard growing up in my Urdu-speaking household. Yet, from my earliest memory of having heard the word, I somehow related to it.
I grew up as the only daughter in the house – the second oldest amongst three brothers to be exact. Despite spending the first decade of my life in Saudi Arabia, I recall no biased moments of my life where my parents treated me differently from my brothers.
My mother, who is a teacher with 30 plus years of experience in her pocket, would never shy away or feel threatened by anything that was thrown her way, career-wise or on a personal level. She only became emboldened by it and worked that much harder until she attained success.
During her college years, she played on the all-female cricket team at a college for women. Cricket is a sport that is generally considered a man's sport in India, but she didn't just play it, she excelled at it, which is evident from the many awards and trophies she has shown me during our visits to India.
When I was 7-years-old, I remember my older brother had joined a men's only swimming pool, as gender segregation is customary in Saudi Arabia, so he could learn to swim. The days my dad took him to the pool were their one-on-one time. One particular day, a few of my male cousins had come over and wanted to see this Olympic standard swimming pool. That day, my mom helped dress me up as a boy, so I wouldn't have to be left out and could also see an Olympic standard swimming pool with my cousins for the first time in our lives. An insignificant act but it taught me that being a girl wasn't a good enough reason to miss out on any life experiences.
There were very few days, and far in between, when my mom would be waiting for us at home with food on the table, ready to feed us as we arrived from school. These were definitely some of my favorite days but, I remember they were some of my mom's most anxious ones. She was always looking for her next project to work on or a better job. In fact, the only times I saw my mom unhappy was when she was out of a job or when her place of work wasn't being very appreciative of her. Yet, no matter where she was or what she was doing, there was always a home cooked meal waiting for us when we got home that she had prepared in the wee hours. In return for her commitment to us, my mom expected similar hard work and ambition from all of her four children equally.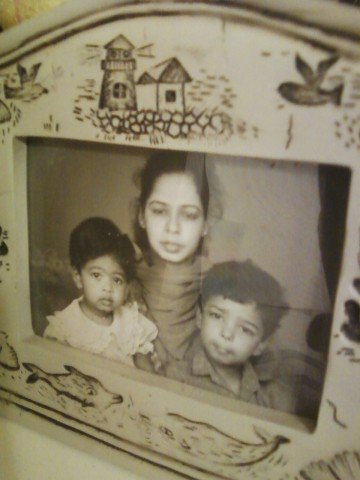 When I decided I wanted to further my education at a medical school in Central Asia, which is a tremendous 7,000 miles away from our home in Houston, TX, she stood by my side and helped convince my dad to allow me to go. She has been my greatest champion and, grudgingly for me, my voice of reason.
When my mom saw a need in our community, she stepped forward to fill it. The patrons of our local mosque were mostly refugees and those from low income families. She saw that their children needed a place to go to for guidance, so she put her heart and soul into convincing the all-male board of directors about starting a Sunday Islamic School for children in the 3-16 age group. She took on the role of a principal and put together rigorous curriculums and trained teachers. Once the school flourished, she stepped down and handed it over to those she had trained in her place.
All of this and so much more is what feminism looks like to me. I've never heard my mom call herself a "feminist," but I have seen her eyes fill with anger anytime injustice was committed to men, women and children anywhere in the world.
I still don't know if I recognize myself as a feminist, but I do know that I believe in many of the same ideals and practices as my mom does. More so, I am extremely passionate about equal rights for women…not for nothing, I am on the editorial board for Brown Girl Magazine.
Happy Mother's Day from us to your mothers and families. If you have a story to share about your mom, share it in the comment box below or email us at Staff@BrownGirlMagazine.com.