Back at home, every August 15, my alarm clock is set to blast patriotic music. The enthusiastic elders of the community gather around a tall pole in the neighborhood park by 10:30 a.m., humming the tunes that blare out of massive speakers. Tables are piled up with boxes of samosas and laddoos along with flasks of hot and incredibly sweet chai. I can expect the lunch menu to consist of a tri-colored rice preparation – tomato, coconut, and mint – laid out on plates to resemble the Indian flag.
Today, I am 7,500 miles away from New Delhi, I am woken up by my phone, a long to-do list flashing across its screen. I pour myself the usual bowl of cereal as I get ready for another week of assignments and submissions. The only sounds of the world outside consist of the garbage truck backing up, ready for the weekly waste collection. India's Independence day, now more than 12 hours through, is just another unremarkable day in Chicago, IL.
As an Indian studying in the United States, this year marks my second Independence day away from home.
Over the years, August 15 transformed from an exciting holiday into relief for getting to sleep an extra hour or two. What stayed constant was my faithful attendance at the flag hoisting ceremony, whether it was for patriotic reasons or the irresistible draw of the snack table. I usually consider myself a proud Indian, notwithstanding the regular criticism every country and government both deserves and needs.
But this year, I wasn't looking forward to August 15 as much as I longed to experience July 4. This desire was born out of a combination of curiosity and the need for a long weekend. Spending the weekend in New York and D.C. with family and friends, watching a baseball game, baking lava cakes and catching a glimpse of the fireworks despite incessant rain, made July 4 more memorable than the thought of spending August 15 working on an assignment while my country celebrated its Independence from the British in 1947.
As both countries battle their individual political storms, from Trump politics to Hindu extremists, many would argue the word "independence" doesn't mean much when not everyone in the country can enjoy the same freedoms and privileges. What makes these days special is knowing you get to spend a day with the people you love and believing for a moment you belong to a place that extends far beyond your individual self.
So what really makes a holiday? As I stare at the 4X6 inch Indian Flag taped on a wall in my studio apartment in Chicago, I know a single day cannot change my identity or erase the narrative of 21 out of 23 years of my existence.
All I know is the next time I am in India on August 15, I will be waiting under the pole for the flag to unfurl, samosa and chai in hand.
---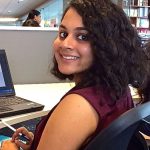 Vishakha Darbha is a videographer and a feature writer, with particular interest in creating profiles of ordinary humans doing extraordinary things. When not hunting for stories, she spends her time singing, backpacking, consuming and/or analyzing pop culture and reading biographies. She is currently pursuing her master's at Medill School of Journalism, Northwestern University.