by Zara Husaini
This post was originally published on our partner website India.com.
The following profile is part of the Urban Desi conference/concert series. Produced by Desi in NYC and presented by India.com, #UrbanDesi is a one-of-a-kind, two-day event in New York City featuring 20 global South Asian artists for an exclusive conference and a state-of-the-art concert in Times Square on March 24th and March 25th, 2016. For more information and advance tickets, visit UbranDesi.org. Use promo code BG2016 for 10% off. #UDC0216
Some people might be surprised to learn that Sonia Mehta—a quiet, book-loving financial analyst by day—doubles as a musician at nights and on weekends.
Mehta, a 23-year-old Ohio State University graduate, has always loved singing – and despite the fact that she is, by her own admission, quite reserved. Singing became a greater passion when people started to take notice of her talent.
"Singing has always been a part of me, but when I was 14 I sang in front of a large group of people for the first time. It was a formative moment for me," she said. "Seeing people react so excitedly to my voice—granted, they were my family and friends—was the spark that started the fire."
Many South Asians who dream of entering the entertainment industry understand that careers in the arts aren't always encouraged in our culture. Still, Mehta hasn't had negative reactions to her dreams.
"I've never been put down when it comes to my dreams of being a singer, but I feel that many people don't always understand how serious and dedicated I am about it," she said. "While at times that can be frustrating, it's also kind of the best part. I get to take my vision and actually show people. I could talk all day about my dreams or my goals, but the fun lies in working towards them and bringing to life what I've always seen in my head."
https://youtu.be/aGeHs0O1H8A
Mehta tries to strike a balance between her American identity and Indian roots in her music.
"I exclusively listened to Bollywood music for a large part of my childhood, and although I didn't understand Hindi, I was always deeply moved by how I could understand the emotion of every song," she said.
Bollywood isn't the only influence that shows up in Mehta's music.
"My music is a representation of many influences — from alternative rock to hip-hop and Bollywood to mainstream Western pop. Music is always evolving, and so are my sound preferences, but if I had to choose one genre, I'd say I'm striving to be a pop singer," she said.
Despite not understanding the language, Mehta is inspired by Bollywood's melodies.
"I often emulate this concept in my songwriting process. Sometimes I know the topic I want to cover, but haven't quite found the words yet. I know how the topic makes me feel, so I pour that emotion into a melody," she said. "At times it ends up being a bunch of gibberish, yet the mood speaks in a reminiscent way that Bollywood music often left me feeling. Later, I go back and choose the right words to fit. You could say I owe a large part of my songwriting abilities to my Indian roots."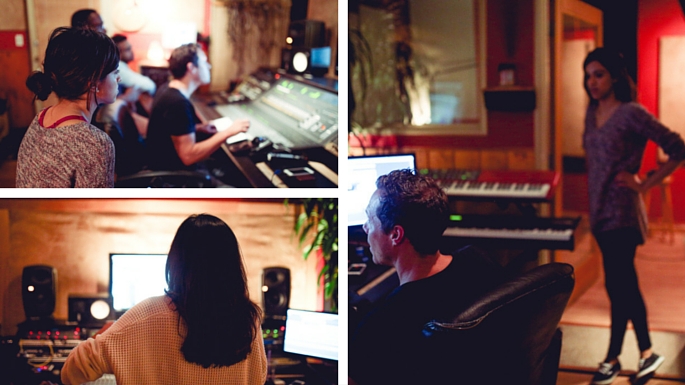 Though Mehta's culture strengthens and inspires her art, it can be undeniably tough for South Asians to enter America's entertainment industry—but Mehta isn't deterred by that.
"I think we're living through a time of tremendous cultural connection and pride. We're all intertwined through social media platforms and mutual networks—it's amazing to see the work others are doing and the friendships forging throughout the process. I believe if we support each other in a collective journey, we can reduce barriers that were once insurmountable by South Asians in mainstream entertainment," she said.
For Mehta, music is about more than just songs.
"I believe that life is precious and time is valuable, so the time people spend with my music is important to me.," she said. "We all endure our own journeys filled with both amazing and tough experiences. I hope my music touches on a wide spectrum, but ultimately aids others in finding a way to truly live a full life."
Her music is also a way for her to express who she is.
"Despite years of being on stage either singing or dancing, it usually surprises people to find out how reserved I am," Mehta said. "I share a bit of this on the track 'Good Girl.' While I love spending time with friends and family, meeting new people, and learning new things, I am also very happy enjoying a lazy day by myself reading books and sipping some chai."
https://youtu.be/NJ-I0TGG2n4
Stay tuned for more from Mehta, who describes her music as "genuine, happy and fun." The singer might not know what the future holds, but she's excited about the tremendous possibilities she sees.
"I have a lot of dreams that I hope to one day turn to goals," Mehta said. "I mentioned a bit before that music isn't my full-time job right now, so we'll see what the future holds," she said. "At this point in my life, the possibilities are endless. I'm just working to embrace every moment and piecing together a life that continues to make me happy. I know that music is a large part of my happiness, so I'm sure I'll still be creating and releasing songs five years from now."
---
Zara Husaini is a Chicago-based writer/editor who has covered everything from fashion to breaking news. She's a graduate of the Medill School of Journalism. You can find her personal blog at statementscene.com.