by Jinal Shah – Follow @jinaltshah
For Indian-American actress, writer, and reporter Shruthi Mathur, life came full circle when she was offered a role in the recently released Bollywood film "Banjo," starring Ritesh Deshmukh and Nargis Fakhri.
The Virginia native plays the role of a music student, Mira, who encourages Fakhri's character Christina to chase her musical dream by finding her inspiration—a unique street band in Mumbai.
For Mathur, who comes from a family of singers and musicians and was brought up on a steady dose of Bollywood, bagging a role in a Bollywood film has been her long-cherished dream; even when she was developing her career as an international reporter and a writer. And she has only gotten her feet wet!
Her recent artistic endeavors include playing prominent roles in films like "By Any Means" (2016), "After the Outbreak" (2016) and TV series—"The Adventures of Lillian Kate." She also created, wrote, pitched, and sold a sci-fi screenplay to Nickelodeon.
Mathur is now working towards launching her own production company and a studio in LA where she intends to create a show about Hollywood for young people around the globe.
As a part of our Fast Five interview series, which highlights building actors and activists in the South Asian community, we sat down with this immensely talented actress.
Here's what we learned.
Tell us a little bit about yourself and your background.
I'm a Virginia girl with a flair for the dramatic. My family is full of musicians and entrepreneurs, dreamers, and doers. My grandfather was a poet and could quote full Shakespeare plays and my grandma sang on the radio.

My hardworking parents came to the US with nothing and inspired me to always be innovative and create my own opportunities. My dad literally has worked 6.5 days a week for nearly 30 years to become the CEO of his own consulting firm. He has taught me there are no handouts or shortcuts and you must be fearless and fight for every chance.

So I was determined to immerse myself in the diverse D.C. arts scene. n high school I got to host my first TV show, write stories in the Baltimore Sun, perform shows at the Smithsonian Museums through a local scholarship program, and travel across the country raising awareness as one of a handful of members of the American Red Cross National Youth Council. I attended Johns Hopkins University where I worked at the National Geographic Traveler and ABC News and ended up graduating early to become an international TV correspondent!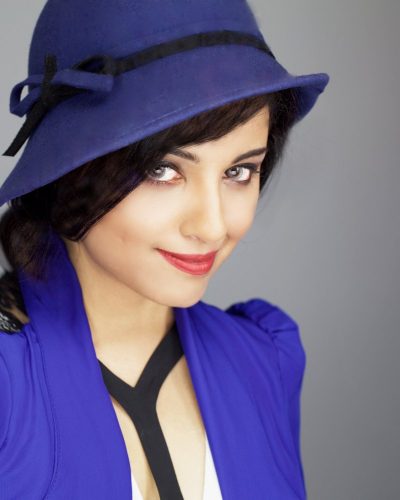 You are a screenwriter, reporter, and an actor. What is it like to wear so many hats?
I actually love wearing hats, literally! it's awesome. It's kind of crazy to say that I have reported on Arab princes at the UN, sold a sci-fi movie to Nickelodeon, and am now a Bollywood actress—so I think I'm closer to accomplishing my lifelong goal to be a pretty fun dinner guest! At the end of the day, whether it's writing, reporting or acting—I get to tell interesting stories that can connect with millions of people from all corners and backgrounds and that is the most awe-inspiring aspect for me.
How did you bag your first Bollywood film? And tell us about your role in the film Banjo.
Let's see…I was spotted while sipping a salted caramel chai latte at Starbucks! Hehe I wish! That would be romantic but in reality I was taking classes and getting roles in NYC. I was working on a commercial and the casting director thought I would be perfect for this new movie, Banjo.

But of course there were hundreds of potentials, so I was thrilled to be shortlisted to audition for the director, National Award Winner Ravi Jadhav and his talented team. But when I came to the callbacks, I found that the "short list" included well over 40 other actresses, which was quite intimidating! I stayed focused, and after several rounds was selected for the part. But I didn't have time to celebrate because I barely had a day to prepare monologues for several scenes in two languages!

In the film, I play hip New York music student Mira, the bubbly best friend to Nargis Fakhri's lead character, Chris. It was so cool—I had a red streak in my hair, a leather jacket, feather earrings, and had my makeup done by a Game of Thrones artist flown in from Spain!
1yr ago I decided not to delay my lifelong dream of acting & now #Banjo is in theaters worldwide ?????? #TuesdayMotivation #actorslife pic.twitter.com/UuKIg9ra7T

— Shruthi Mathur (@Shruthi_Mathur) September 27, 2016
There are so many aspects that made this movie feel meant to be. Director Ravi Jadhav described Mira as the catalyst for motivating Chris to chase her musical dreams from Manhattan to Mumbai and I could immediately relate to the character.  My little brother Shomin is an actual New York music student at the Clive Davis Institute of Recorded Music at New York University Tisch and I'm the one who's been encouraging him to pursue singing, songwriting, and producing beats professionally. I think we all need champions in our life to inspire us, so this was certainly a passion project that came full circle!
What are the challenges you face as an Indian American actor both here and in India?
It has been a very unique and interesting opportunity to get to work in both Hollywood and Bollywood. One of the biggest differences I found is that in the United States, we are pioneers in many ways and so it's up to us to shape our own narratives. Every day I am changing perceptions and redefining the limits of not only who I am, but who I can play on screen.

Diversity in Hollywood is a personal subject rooted in pain that literally touches everyone around the globe, because the truth is, what we see on screen shapes how we view the world around us. And we all just want to belong. Our ethnicity is just 1/100th of what makes us each tick. It is certainly a daily challenge to fight for roles where you feel you connect to the character's essence rather than simply their ethnicity. The refreshing thing about working in Bollywood is that I could forget about all the questions around ethnicity and focus on the nuances of my character.
#InspireAWriterIn5Words
Your pen is your paintbrush! pic.twitter.com/7z1DGfNC8P

— Shruthi Mathur (@Shruthi_Mathur) July 29, 2016
What is your advice to young Indian Americans who are trying to break in Bollywood?
I have come across many people who tell me that it's their dream to be an actor and I see the wistful regret in their eyes of not feeling "good enough" and I want to shout from the rooftops – go for it! Don't wait for anyone to give you permission because you have to be the star of your own story!

Once you've decided that this is an around-the-clock passion for you and are accepting of the real risk and rejection that will become a part of your daily life, then equip yourself with the best tools—classes, improv, read everything, study the industry, and start building a supportive community of fellow artists and mentors around you! For Bollywood especially, brush up on your Hindi.
#WednesdayWisdom #losangeles pic.twitter.com/acmeacFYi6

— Shruthi Mathur (@Shruthi_Mathur) July 20, 2016
My greatest aspiration is to be an inspiration. Like my character Mira, I want to be an enabler and a motivator and to encourage young people to reach out to me on social media – there is no reason we cannot all chase our full potential while pursuing that which makes our blood pump. The most important advice I can give is to understand your own unique narrative and prism with which you view life. The most compelling artists are those who are bursting at the seams to tell stories that could only come from their collection of thoughts. Have substance, something new to say, and know the WHY.
To learn more about Shruthi, follow her on her
Twitter!
---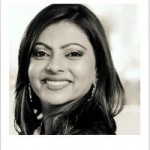 Jinal Shah is a New York-based freelance writer, who specializes in news, health, food, travel and lifestyle. She loves to travel (paid for or otherwise) and knows the difference between a traveler and a tourist. Shah also believes that the best stories come from Mumbai's locals. And when she is not writing, she can be found on the sidelines observing people and the world at large.