As an actor, you dream about that once in a lifetime role, the role that you know you were born to play. Not out of ego, but because the minute you read it, you know who this person is, and you fall in love with the world that the writer has created.
And this is exactly what happened when D. Tucker Smith sent me the script that became "Roof of the World." I knew this was it…the play was a story for the ages, and that this woman she had created, Safia Das, was someone who would change my life.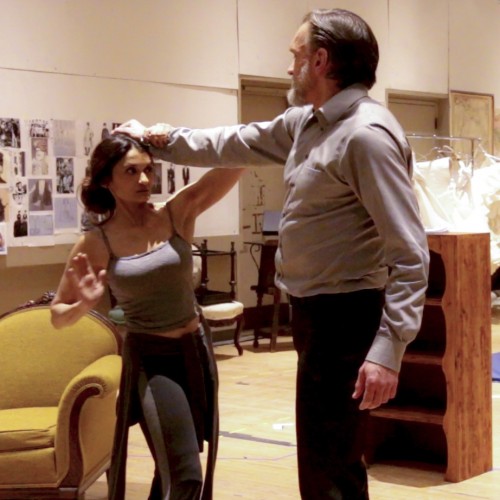 [Anjali Bhimani and Brent Harris in rehearsal for "Roof of the World." [Photo Courtesy: Anjali Bhimani]]
What I didn't know at the time was that the journey from that moment to now would be as full of intrigue and adventure as the play itself, which only makes this production that much sweeter. Smith has become one of my dearest friends, and we have connected with some of the most perfect collaborators we could have asked for.
Our director, Eric Rosen, artistic director of Kansas City Repertory Theatre, is an old friend from college and the perfect captain to steer this ship. So doing the show here in Kansas City, at his theater, just makes it more special. And the cast couldn't be finer…every day I'm so touched by their grace and commitment to the show, which means so much because how much the show means to me personally.
It's hard to talk about the play without giving away too much, and part of what makes this story so special is the mystery around it and around Safia.
One of the most powerful things that drew me to her, and to this play, is her struggle to find her identity and the true meaning of home…that home doesn't have to be a place, and that you can find it in another person. Add to that the ferocity of heart that Safia has, and her willingness to go to any length to protect that home, and I couldn't love her more. I also love that the play doesn't shy away from dealing with the tacit racism that exists because of fear of the unknown, and how despite taking place more than a century ago, there are obvious parallels to the way we live now.
I don't usually find myself looking at roles from a "brown girl" perspective…I usually think of my ethnicity as one of many defining characteristics that make me who I am. But in this case, I'm extraordinarily proud to be bringing this particular woman to the stage. I don't think I've ever seen a role like this in our repertoire, and yet there are so many fierce women in our South Asian history–warriors, ranis, and everything in between–and today we see so many wildly powerful women–using their strength and heart to fight for who and what they believe in.
It is amazing to me that we don't see more roles like this in today's cinema or on stage. But here we are now, with an epic romantic adventure spanning two continents, with a fierce Indian woman at its core, and three more powerful female roles as well. There is a huge pride in bringing the show to life–as a woman, as an Indian, but most of all, as a storyteller.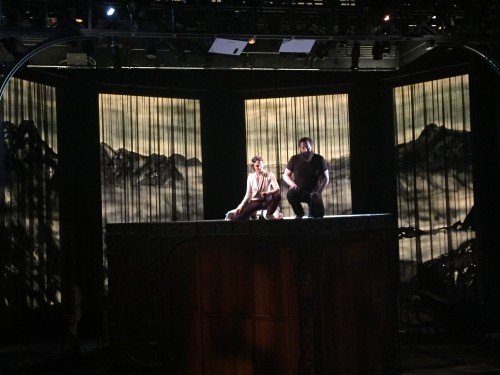 [Anjali Bhimani and Rusty Sneary in rehearsal for "Roof of the World." [Photo Courtesy: Anjali Bhimani]
"Roof of the World"is a sweeping romantic adventure set alternately in the mountains of the Himalayas and the drawing rooms of Victorian England. It tells the story of an Indian spy and a British explorer during the time of the British Raj, and how their coming together changes one family forever. It is playing at the Kansas City repertory Theatre from Feb 26 – Mar 27. Book your tickets at kcrep.org.
---
Anjali Bhimani is an American actress that is known for appearances in TV shows like "Modern Family," "The Fosters," "Outsourced," and many more. Anjali is a former Brown Girl of the Month and a role model for Brown Girls everywhere trying to make it in mainstream media. Anjali is known for her role as Raksha, mother wolf in the stage interpretation of Kipling's "Jungle Book." She is also a part of the cast of the South Asian female-centric film "Miss India America."