by Aditi Paul – Follow @Browngirlmag 
When you think of celebrating Independence Day, you think of hoisting the tricolor, singing the national anthem, and if you are feeling especially patriotic, watching Prime Minister Narendra Modi hypnotize the entire Indian demographic with his hopeful rhetoric about how to make Bharat Mahaan. Or if you are like me, you're just happy to get a day off work to enjoy a plate full of chicken biriyani and a mid-day nap.
Four ambitious Indian-Americans with some serious television cred decided to stir up this mundane Independence Day celebration routine. The American Born Desi Comics team of Alingon Mitra, Akaash Singh, KC Arora, and Tushar Singh organized a two-hour stand-up comedy show in the heart of Times Square in New York City, at the iconic Carolines on Broadway, to celebrate 70 years of India's Independence.
Together with the four ABDCs, the show featured two special guests – New York based writer and actor Aparna Nancherla and British comedian and actor Paul Chaudhury.
With all of the artists being Indians who grew up in Britain and the United States, a lot of their content was inspired by their unique experience of being desi outside India.
From dealing with ethnic name problems, to being the only brown friend to your church-belt raised Alabama buddy, to being the rebellious one because of eating steak (holy cow!)—the comics highlighted the many predicaments that ABCDs face.
The comics also did not shy away from taking jabs at desi parents, aunties and uncles. The hoarding desi parent who refuses to throw anything away, the nosy aunty who keeps asking you when you're going to get married and have children and when your children are going to get married and have their children, and the racist uncle who makes Donald Trump look progressive and tolerant—the accuracy of these stereotypes had the audience in splits!
Above all else, what won the audience over was the raw, uncensored, and unsanitized humor that the comedians dished out with a lot of finesse.
"The happiness of a young girl is a turn off for me. Like life hasn't taken a shit on you yet"
"I'm done wit working on taking off girls' bras. They should just do that themselves."
"I am against gay marriage. Because if that becomes acceptable in the South Asian community, soon gay arranged marriages will be a thing. And my mom will start showing me profiles of guys to marry."
Congratulations are in order for the quad squad of the American Born Desi Comics for having a sold out show in New York City, for raising the bar for desi comedy, for paving the way for upcoming desi comics in the diaspora, and more than everything – for celebrating the freedom of expression with a dash of wit, candor, and humor! More power to you!
---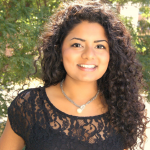 Aditi Paul is an assistant professor of Communication Studies at Pace University. She tries to find out how strangers become friends and lovers with people they meet online, all in the name of academic research. When she is not professing, you will find her pretending to be a singer and a guitar player on SoundCloud.