by Simerjeet Sahota – Follow @SimerjeetSahota

My biggest complaint about the internet (gross exaggeration, but go with it) is that despite all of the streaming information at our fingertips, I never seemed to get enough insight or even photos of India's fashion weeks. I don't want to blame the disorganization of Indian websites (or do I?) but the information just seems so spread out it's hardly worth writing about. But don't worry, despite these insurmountable technological odds, I was able to compile the following information for you to be on top of your current South Asian fashion game. No more awkward fashion-based dinner conversations for you (but, for real, do people have those? I would like to be invited. Thanks).
Naeem Kahn's First India Show
Not to be confused with the use of South Asian aesthetic usually seen in Kahn's designs, this was in reality the first show staged by the designer in India. Seems like kind of a no-brainer, but when you're as popular as Kahn is (his designs have been worn by the First Lady Michelle Obama and Beyonce, to name a few) and you're staging your shows in grand venues in Paris. While he was re-showing his already viewed fall show, this marked his first show at India's Fashion Week where he focused on the international flair that defines his work.
[images courtesy of www.xuvious.com]
Tarun Tahliani's Return
After a break from presenting at the scheduled shows, Tahliani returned. Enjoy the photos below more than any words I can offer (As a sidenote: Can a girl get away with wearing her dupatta tied at her shoulders like that? Cause I would like to accomplish that.)
[Photos courtesy of www.xuvious.com]
Conscious Collections
India's social conscious goes further than recent legal reforms with the fashion industry focusing on aiding rural villages, supporting local artisans, and the conservation of India's tiger population. Bollywood actresses walked out with local village heroes and designers used locally-created fabrics and embroidery in their designs.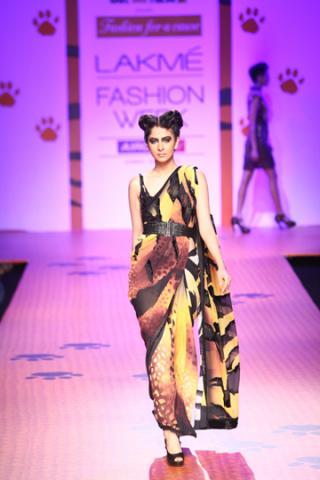 Save our Tigers: Fashion for a Cause. Lakme Fashion Week Summer/Resort 2013
Image: Vogue India
As a final note, xuvious.com is a fantastic reference for Indian fashion photos and articles. Up-to-date and easy to maneuver, this is my new go to for Indian fashion.