The following post is brought to you by our sponsor, Indelust. All photos and videos are courtesy of the sponsor.  
Ladies, don't you agree, shopping is even sweeter when you know the brand is doing something good for the world. We sure do, and that's why we introduce to you—Indelust, an online boutique with a mission to decrease economic disparity and promote an ethical production process.
"Our vision is to build global awareness of an emerging design sensibility originating from the Indian subcontinent."
It features items created by South Asian designers and artisans. The designers, artisans, and innovators featured at Indelust are all from India, Pakistan, Sri Lanka, Nepal, and Bangladesh.
The concept of Indelust was developed after the collapse of the Rana Plaza factory in Bangladesh in 2013, which caused the deaths of 1,129 factory workers, and it remains one of the worst industrial accidents to affect the garment industry. The collapse of Rana Plaza brought attention to deathtrap workplaces within the garment industry, and that's why Indelust is a platform for socially conscious designers from the Indian subcontinent.
"An important first step for Indelust was to partner with NEST to help us execute our principles. NEST is an international NGO whose mission is to align the interests of local designers and artisans to produce ethically sourced materials. Each Indelust supplier signs and complies with a 'Code of Ethics' created by Nest and Indelust. The agreement includes a review of each of our suppliers' factory facilities."
Indelust believes in shopping with a social conscious, therefore, it uses handmade, organic, sustainable items that are made to order and leave a positive social impact in society.
Founder and Creative Director Sana Rezwan describes her personal aesthetic as minimalistic with timeless pieces. She said this aesthetic translates into her brand. When her team was searching for brands to carry on Indelust's website, they looked for designers who have modern designs but use classic Indian techniques.
Rezwan said her target market is someone who is intellectually curious and confident enough to take the best from different cultures and make it into his or her own style.
"They are urban, educated and socially responsible. They love fashion but aren't dictated by trends. They are independent in their thinking, experimental and inspired by their travels around the world."
Since it's wedding season, we asked Rezwan to share tips on bridal fashion. She said her favorite bridal outfits for a sangeet, a wedding ceremony, and reception are anything but traditional. She merges traditional South Asian fashion with American and European trends in her wedding fashion that she shared with us.
She went on to say, her favorite bridal sangeet look is a conservative black and white long sleeve lehenga with a printed light colored top and black skirt by designer Payal Singhal.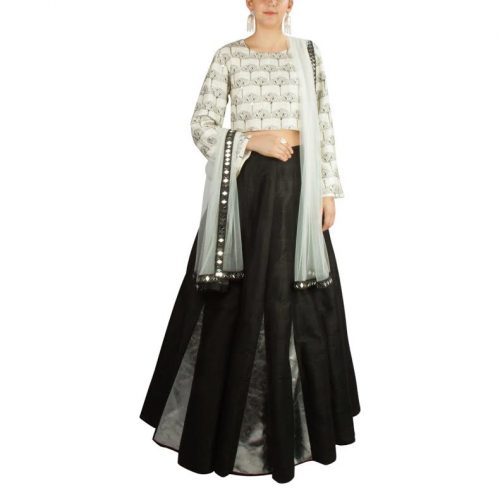 Sana chose a look that merges European and South Asian influences for a bridal wedding ceremony look. This elegant dress is a beige-gold colored short sleeve gown with sheer paneling by Rahul Mishra.
Rezwan shared a wedding reception look that embraces the androgynous trend we're seeing globally this season. This look by Rahul Mishra combines a men's suit with a traditional sari using light materials and colors.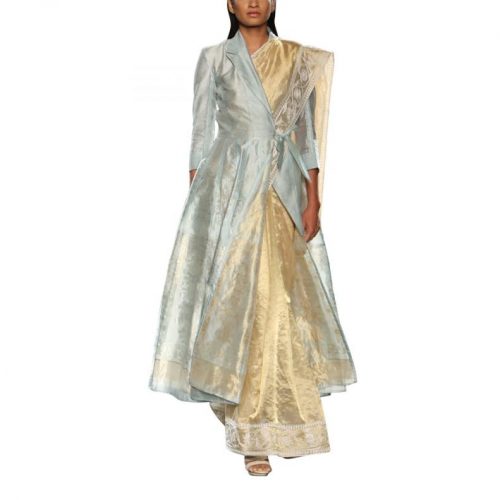 Sana's advice on changing looks from the wedding ceremony to the reception should be about the bride's own sense of style. She strongly feels, less is more. Focus on hand-woven textiles rather than embroidery that sparkles, she said.
"Let the jewelry do the sparkling."
And some of Rezwan's most-favorite worn designs includes a baby blue lehenga by Pankaj & Nidhi, which is glammed by embroidery on a sleeveless jacket with a front enclosure and a flowy solid colored skirt.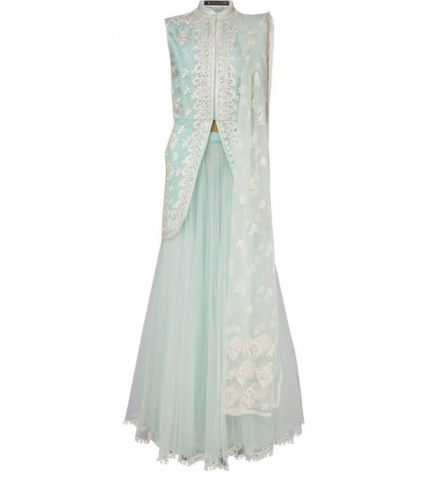 Another outfit Rezwan said she wore to a wedding recently merged a sari with a dhoti. Designer Kavita Bhartia created a light salmon ensemble with a sleeveless, embroidered blouse.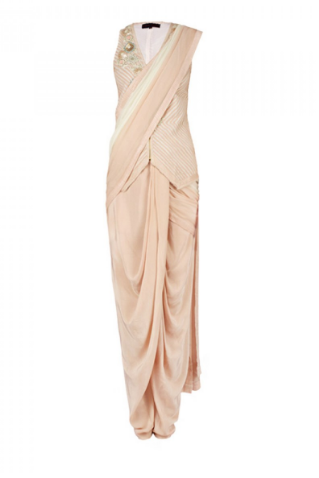 Last but not least, Rezwan shares this elegant peach kurta by Ankur and Priyanka Modi. It's a modern-age three-quarter sleeve kurta that is loose-fitting with palazzo pants. The light orange-peach color with floral applique, metallic sequins, beads, and leather detailing makes the outfit appropriate for a formal event like a wedding, or just a casual night out.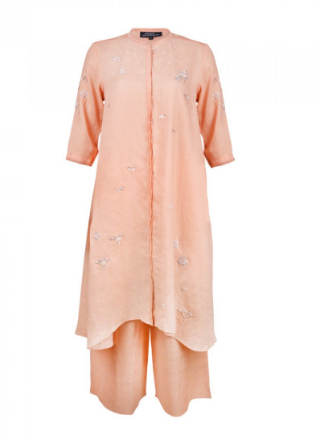 Brown boys, Rezwan shares some much-needed advice for you too! For this season, Rezwan chose a stylish, lightweight, handwoven cotton-linen denim kurta set with a mandarin collar and double sided pocket detail by Suket Dhir.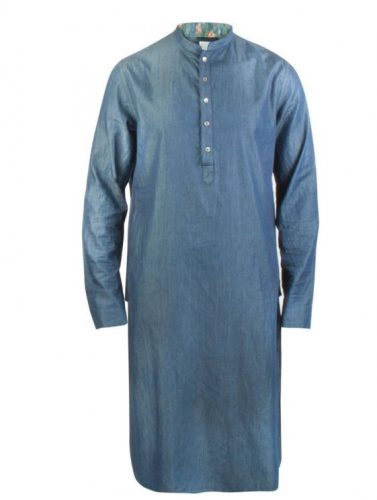 Indelust also features hand sculpted home décor, much of which is modeled after old artisan and Mughal styles. Rezwan's taste for sangeets and wedding décor, like her personal style, are much more of a merging of eastern and western styles.
Sana said she would love to see someone plan a sangeet inspired by a Fabrege Easter egg (these used to be popularly used by Russian Czars as gifts in the 20th Century; now they are more popularly seen as novelties).
Sana said her favorite destinations for weddings are the English countryside, Istanbul, Maldives, and Venice. She loved spending three weeks in Latin America for her and her husband's honeymoon. She loves traveling to places that not many people have been.
Indelust showcases the next evolution of fashion—one that is ethically smart and interior design that is forward thinking in it's merging of South Asian and western styles, but also socially conscious.
In the next five years, Sana said she hopes to see one of her handcrafted products like this sugar milk stack make it to more homes around the world.