by Felicia Singh – Follow @browngirlmag
It is incredibly important to hear perspectives from women with whom you can relate; women who understand your everyday struggle, but strive, like you, through it. I cheered for Payal Kadakia when I learned how successful ClassPass became. She not only represented women leading at the forefront of entrepreneurship, but she also represented Indian women. She represented me, and she did it with grace, passion, and determination.
As I walked into the Athleta Studio on 5th Avenue  in New York City, I faced the studio's wall which read Athleta's mission of influencing "The Power of She," and I thought Joya Dass chose the most fitting place to host her LadyDrinks' May Edition: Fireside Chat with ClassPass founder, Payal Kadakia.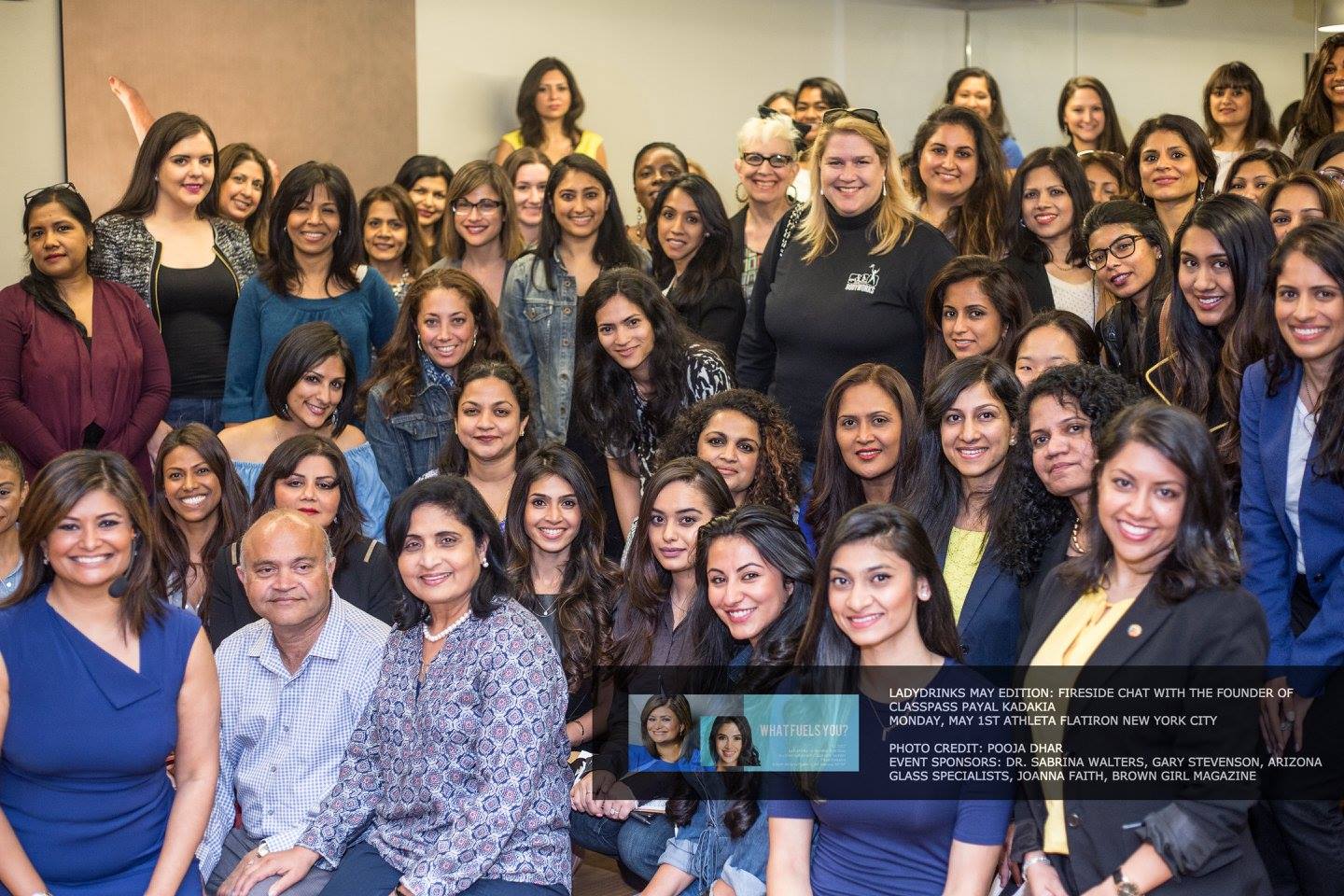 Women of all ages, and a couple of men, one of them being Kadakia's father, leaned in to hear how the 34-year old built her company simply from her love of dance.

"I felt like I was leading two identities," Kadakia reflected.
Before her complete transition into pursuing her true self, she worked for Bain & Company, where sitting behind a desk no longer represented the best part of who she truly was a person. As an MIT graduate, Kadakia was raised and truly believes education is important, but pursuing one's passion- feeling complete in your own skin- is just as important. "Dance was my place," she proclaimed, and it led her to create Sa Dance Company, allowing her to dance full-time.
Her creation of ClassPass, however, didn't happen overnight and her vulnerability in sharing this with her admirers is what makes her stand out as a rising leader in the tech industry.

"I was trying to be someone else when pitching my business-I was trying to be who I was in the corporate world…it took me a while to get it right."
Kadakia graciously offered how she did get it right by creating a company that truly represented her desire to provide access to a variety of ways people could stay active in their lives. As she spoke, women in the room began to vigorously write, record, and snap her truth.

"Be authentic."
Kadakia began pitching from her heart, which is how she landed her first investor. "Honesty runs a company," she said proudly. Being authentic should always lead to follow through because, according to Kadakia, "execution is everything." She humbly did not take all the credit for her hard work in building ClassPass because she "surrounded herself with awesome people who guided the future of her company."
This then led Kadakia to her most prized advice:

"Trust yourself. Focus on your magic…live your life fully as possible, be active, be creative and when someone believes in you strongly, lean in."
Kadakia gratefully acknowledged her parents who sat proudly in the back of the studio.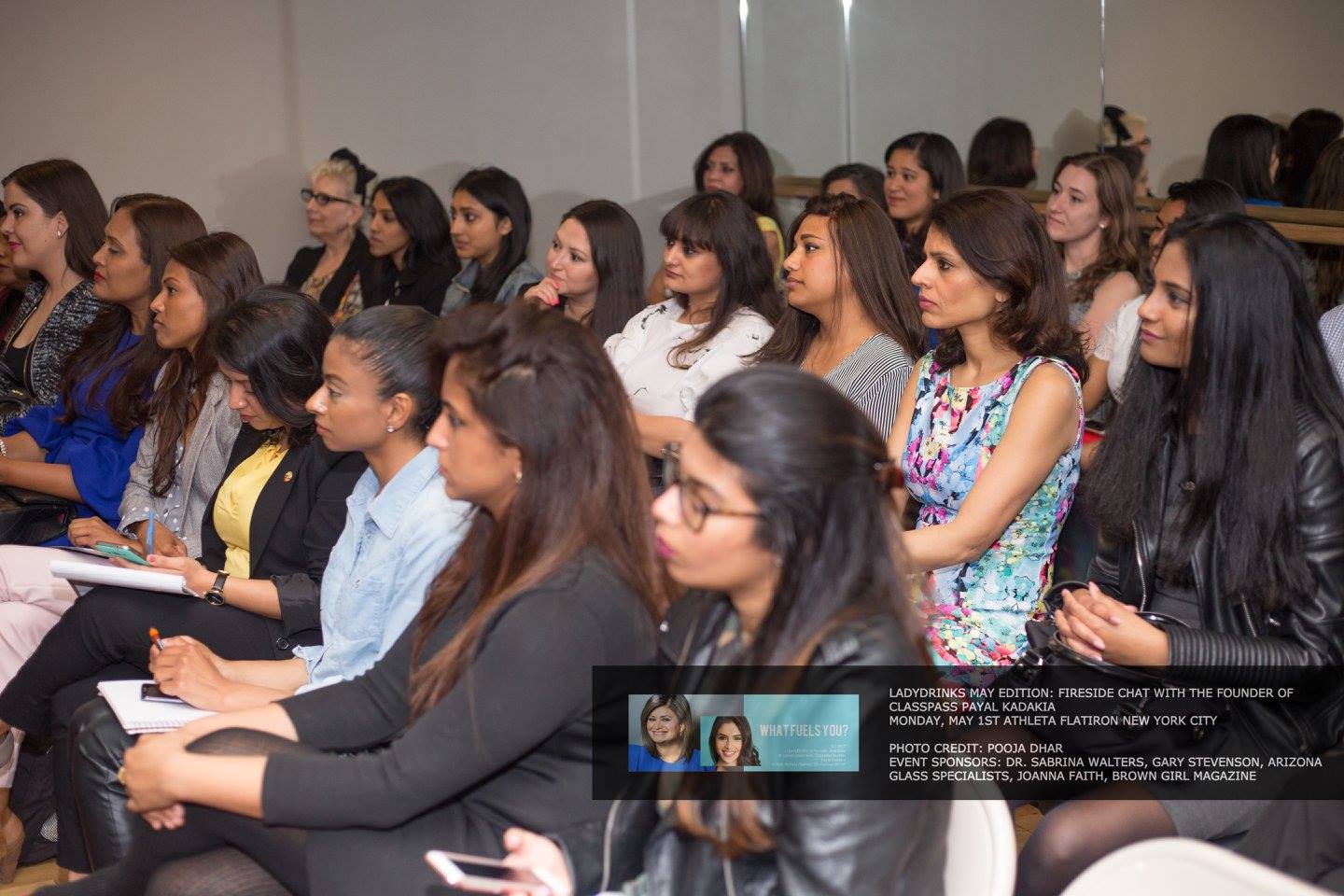 To me, what Kadakia really shared was an opportunity for South Asian women in the room to imagine and believe in what they could all become. For a long time, I believed heavily in the quote, "you can't be what you can't see," because I rarely saw anyone like me when I looked at covers of magazines, in our politics, or leading their own businesses. This concept does not have to be true for Indian women. Kadakia confidently proclaimed that being Indian and being a woman had never felt like a challenge to her.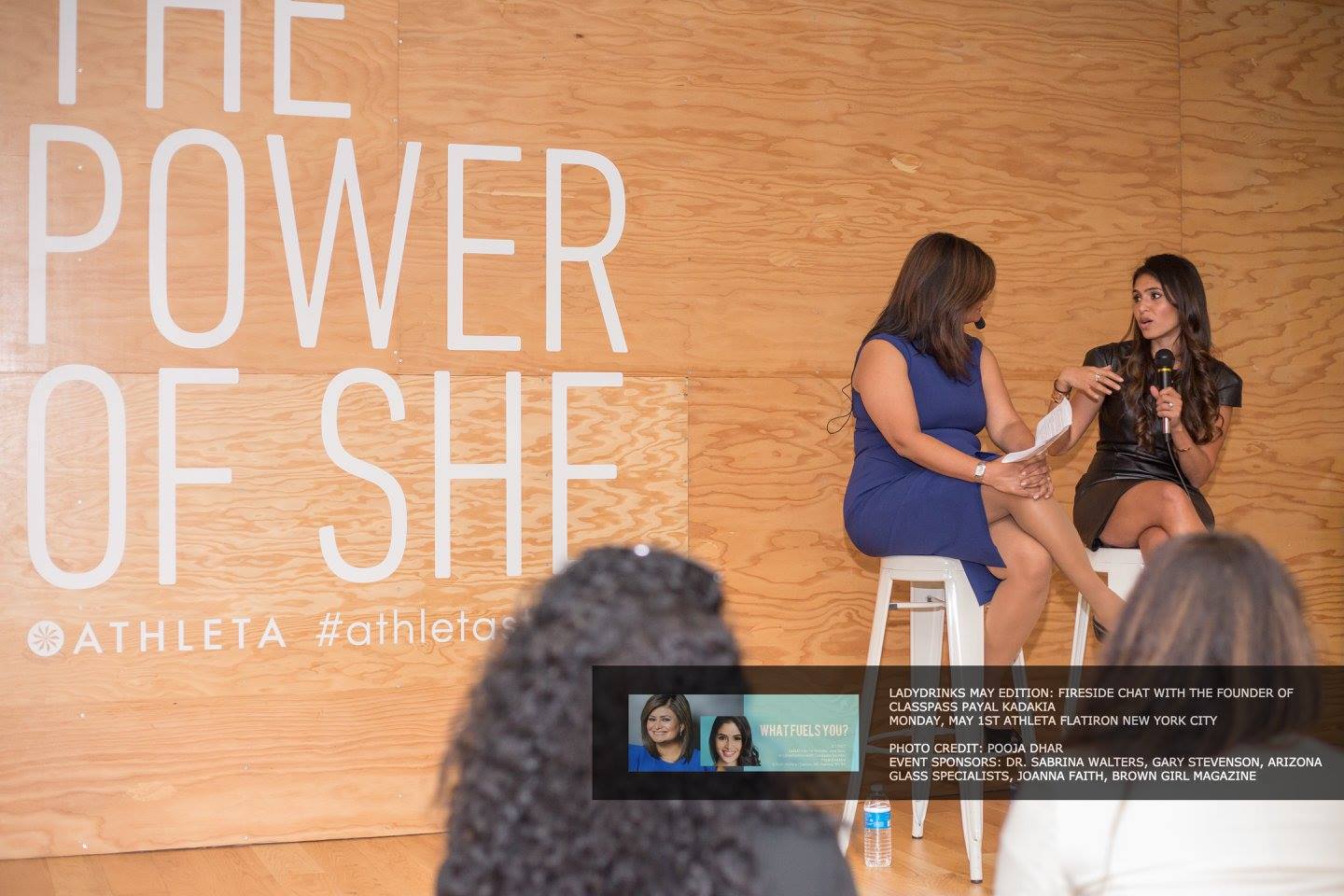 Because of Kadakia's confidence, leadership, and fearlessness, ClassPass has expanded to at least 39 cities in the United States and has also grown internationally. Kadakia hopes ClassPass will become the destination for what you want to do.
One attendee asked Kadakia, "What advice would you give someone who knows their passion, but is scared to take the leap?"

Kadakia paused reflecting on her own story and said, "Your greatest life is on the other side of your greatest fear."
---
Felicia Singh is a New York City native. She served in the Peace Corps from 2013-2015 in China as a TEFL volunteer. During her service, she created and co-taught her school's first women's studies course. She also was the Editor-in-Chief of Peace Corps China's Gender Equality and Women's Empowerment Newsletter. She holds an M.A. in Adolescent English Education for grades 7-12 and currently teaches in Brooklyn. Her passions include but are not limited to discussions on race and diversity, gender equality and feminism, and understanding the balance between a healthy mind and body.