My family has always celebrated Christmas in a very grandiose fashion. Our carefully planned decorated Christmas goes up every year during the first week of November and we celebrate the holiday season with family gatherings, gift exchanges and of course a variety of delicious foods. Most of my most precious memories have been made on Christmas and it was only in second grade that I questioned why a Hindu family even celebrates Christmas to begin with.
We celebrated the primary Hindu holidays, Diwali and Holi, but never as lavishly as we celebrated Christmas. Each family member, including my parents, gave me the same explanation: Colonialism. They said, in both Guyana and Trinidad (pre-independence) Christianity was encouraged, especially during holidays such as Easter and Christmas. It all made sense, it had become a tradition. I had accepted and embraced Christmas as my own holiday since childhood and as an adult, although I am not Christian I am still completely obsessed with Christmas. For me, it's not about the gifts. I know for most people that can be the main attraction of the holiday, but for me, it's about the spirit, the magic and love.
Growing up, I believed in Santa. It was exciting to receive gifts and special surprises from Saint Nick but moreover, I loved the magical aspect of the whole process, the elves, letters to the North Pole and flying reindeer. Call it whimsical, but it's nice to have something to believe in. Watching Christmas movies only enhanced the idea of Santa Clause. The entire season becomes magical, people find beauty in simplicity, like lights. There is no other time in the year that adults are so captivated by trees and bows.
The Christmas spirit is like no other. Especially in today's society, it's rare to feel genuine happiness from people. We live in a depressing world where each day we turn on the news and something terrible is happening. Indeed, terrible events don't subside on Christmas but generosity increases. People around the world begin to care more about others, make donations and care about those in need. Needless to say, this is the type of humanity that should exist year round but at least we have one season a year that provides a sense of hope in humanity.
Christmas is also one of the most romantic times of the year. Maybe, it's from all the Hallmark Christmas movies I've watched over the years, but I truly believe that everything about Christmas promotes love–even if it's platonic love it truly brings people together. The entire holiday season is about spending time with people you care about.
Over the years, I have compared how I feel during the Christmas season to other holidays and I've come to the conclusion there is nothing quite like this season. My nephew recently asked me why people celebrated Christmas and I explained to him that Christmas celebrates the birth of a man named, Jesus, a man who taught love, peace and kindness. My religion (Hinduism) has taught me to celebrate and honor great stories or katha and pay homage to people who have done great things. So even though, I do not celebrate the Christmas in a religious form, the teachings and the story behind the holiday still feel alive, regardless of faith. After all, love, peace and kindness, are the greatest aspects of being human.
---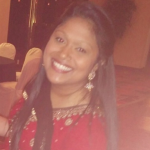 Subrina Singh is a passionate young writer. After completing her degree in all things Indian at Stony Brook University, she is now pursuing her Master's Degree at Columbia University. More recently, she has become committed to using her experience with mental illness to help better the mental-health awareness within the South Asian community. Subrina enjoys writing, reading and drinking Starbuck's Passion Tea Lemonade while singing Bollywood hits of the Golden Era. Follow Subrina on Twitter for her reactions to Pretty Little Liars every Tuesday night!