by Sonali Kudva
I am a proud Indian woman living in the U.S.A.
I am proud to be Indian, of its culture and humbled to represent a country where women, like former Prime Minister Indira Gandhi and President Pratibha Devisingh Patil, have held political power before many developed countries. Even more proud of India for producing some of the best looking women in the universe, who have the right to vote, taken arms to fight off invaders and colonizers, and of women homemakers who left it all to earn a living for their families when it became necessary.
I am a proud Indian woman because of all the strong women before me who fought for my existence today.
Yet, I am ashamed to be an Indian woman. I am ashamed of my body because the sight of it may incite men to violence.
[Read Related: India Bans Nirbhaya's Gang Rape Documentary 'India's Daughter' Out Of Shame (Video)]
I am ashamed to be a woman from a country where a woman walking on the street is not safe. A country where my parents worry about my safety on a busy Indian street at any time of day, but are less worried when I fly off to travel unknown lands.
I am ashamed to be from a country where I have no value without a man, where men still expect to be paid to marry me.
Every time I drink a Pepsi, I think how proud I am of Indra Nooyi, Indian- born chairperson of Pepsico. I am proud of Kiran Mazumdar-Shaw, chairperson and managing director of Biocon Ltd., whose company has revolutionized the way breast cancer is treated worldwide. I am proud of all those women who India claims as its most successful daughters.
But I am ashamed they all had to leave India to become successful. I am ashamed that their success stories (as mine is) had to begin on foreign soil.
On one hand, the women who bring fortune and fame to the country are applauded and celebrated. On the other hand, women who get beaten, abandoned, raped, assaulted, molested, catcalled, are asked to shut up and hide. Let's not forget the babies whose only fault was that they were born the "wrong" sex. Smothered in the bosom of a country they never got to see; a country counted as the third fastest growing economy of the world.
For shame India, that you hate your daughters enough to consider them the burdens of the "mother" who birthed them; enough that you sell them to the highest bidders, then punish them for selling their bodies to support their families.
For shame, India. The country whose most celebrated patriotic film was "Mother India," a film nominated for a foreign-language Oscar in 1958. It was the first film nominated by a nascent democracy, the same country where mothers are mistreated when they become widows and punished as "unlucky."
For shame, India. The country where uneducated rapist bus drivers dictate educated women's curfews and dress codes. Where Indian TV journalist Barkha Dutt may report from battleground Kargil, but women may not go out after dark in the capital city: Delhi, the rape capital of the world.
For shame, India. The country where women are told to be invisible, yet prominent, where we worship goddesses for wealth and success but revile them for their sexuality.
For shame, India. From a proud Indian woman.
---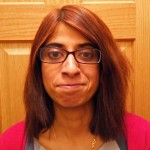 Sonali Kudva is a Ph.D. candidate at the College of Communication and Information at Kent State University, Ohio, with research interests in Bollywood, Human-Information Interaction and Popular Culture. She inherited the travel bug from her parents and has traveled widely, and hopes to get the opportunity to travel to more interesting places someday. In another life, she was a Pulitzer Center for Crisis Reporting Fellow, has worked as a full-time journalist-editor and freelancer at magazines, newspapers and online. Sonali calls India her home, even though she spends more time away from home than in it. She likes to collect academic degrees, and in her spare time, she likes to vegetate with an interesting novel, talk to her family or argue with her friends on politics, international affairs and any other topic that may come up.