This post was originally published on our partner website India.com.
Shubhra Prakash wears many hats. Actor, filmmaker, writer, producer, voice-over artist. If this suggests anything, it's the passion and commitment she has towards her industry. This passion led her to co-founding the Hypokrit Theater Company in New York City with Arpita Mukherjee. Their aim is to feature and help in the rise of talented minority performers, those who are often left out of the spotlight.
Keeping this goal in mind, they are organizing Tamasha, "a celebration of the diverse perspectives, ideas, and imaginations of artists from the South Asian subcontinent and/or who belong to the South Asian diaspora." This festival, which will take place from September 26 to October 2, was created by the Hypokrit co-founders and Nikita Chaudhry.
"We have been planning this festival since the beginning of the year," Prakash shared. "Putting up a festival requires a lot of planning and attention. It's a mammoth task, one you need a really strong team for. We have been working pretty much around the clock to make sure the festival goes on without a glitch. There are so many variables, though, that one can never be sure. But all the work for nine months is about to come to fruition, so that's exciting."
The one-week long festival will celebrate will witness several diverse performers and artistic forms, ranging from theater, dance, and musical shows. They want to move the conversation forward on diversity and inclusion in the performing arts.
"In my experience, a platform such as Tamasha has been the reason for many artists to make the work for which they could not previously find a home," she added. "We already see artists who did not know about each other's work wanting to collaborate because of the festival. I talk to many South Asians who are not artists waiting to support something like Tamasha. They immediately get curious and light up when they find out about our programming.  There is clearly a need and we look forward to feeding that need."
For the festival, Prakash has written the play "The Music in My Blood," premiering tomorrow night at Paradise Factory. She said it developed out of her curiosity to explore the connection between musicians and their music, which she believes is a very pure relationship.
"As a student of music theater-maker, I wanted to communicate these emotions through a play," she added.
Prakash came across the story of Walter Kaufmann, a Jewish refugee in India during World War II. Kaufmann fell in love with Indian music during his time there in the 1930s, composing the "All India Radio" theme music and writing two books on the ragas of North and South India.
"His story fascinated me, now more than ever when the stories of refugees and their desperate conditions clouds the news. I feel it's compelling to bring forth Kaufmann's story which is one about acceptance and love for music."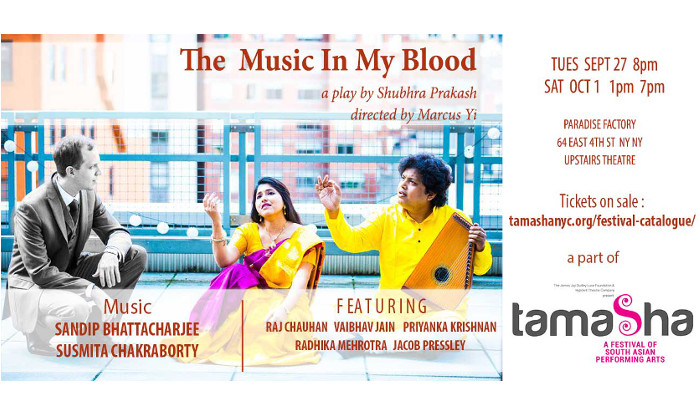 She added that central to the plot is also the story of a mother and daughter, who are also teacher and student.
"Their relationship to the pursuit of music and to each other as mother and daughter, teacher and student is the main story."
This play is not the first experience Prakash has had to conceptualize and create performances. For the past two years, she has been involved with the comic book "Priya's Shakti" as a voiceover artist, which tells the story of a brave sexual assault survivor Priya, who decides to speak up instead of just being a victim. "'Priya's Shakti' has been covered by 400+ media stories and Priya has been named gender champion by the UN."
Handling numerous projects of such magnitude can be difficult, to say the least. Luckily, Prakash is in the right city.
"If you are an artist in New York City, you build the muscle of doing many things at once. It is in the nature of the city to be forever engaged and moving. It can be very motivating and rewarding if you have the right team, which I'm fortunate to have with Hypokrit," she said.
Prakash is not new to living in busy cities and doing a plethora of work. She has lived in Kolkata and New Delhi. In the San Francisco Bay Area, she worked with renowned theater company Naatak, rising in her stance as an artist who is part of the diaspora. She then moved to New York, where she met Mukherjee. When they realized their interests and goals aligned, they started Hypokrit Theatre. The company has several productions under their banner, including the South Asian International Performing Arts Festival.
When they began their company, Prakash said that they were clear about one thing — to be innovative and disruptive.
"Artistically, we wanted to address this issue of representation in the arts in a new way. We decided to take classics and adapt them through a contrasting aesthetic with a multicultural cast," she added."
On those lines, their first production "Romeo & Juliet" was set in modern Delhi and consisted of Bollywood tropes and styles.
"We think a lot about our core audience — young, professional South Asians — and we try really hard to create an experience for them that is familiar and yet something new. Our work also has cross-cultural appeal, so South Asians can feel like a part of a bigger theatre-going community. And of course, we continue to want the respect of our theatre-going peers and audiences, we want to be at this intersection and we know that means doing innovative work," she said.
Their work has won awards at Planet Connection and New York Musical Festival, which, according to Prakash, brought people to their shows who may have never otherwise attended.
After all these years of experience and working in the industry, Prakash has a keen insight into the growth of the representation of South Asians in the mainstream media, she has been part of that growth! However, while she believes that we see more South Asian faces in arts and entertainment now compared to five years ago, there is still the danger of being stereotyped.
"We have a long way to go, [and] this is not going to happen unless we get behind our own stories. Moreover, we need South Asian investors who will then support and make sure the stories see the light of day. I do not accept the argument that our stories are just not good enough or polished enough or that we may not be a safe investment," she continued. "To me, this is a lack of understanding about our communities, which we can only overcome if we keep putting our perspective out there.  You can only improve if you are doing the work. If you don't do the work, how can you ever know?"
Prakash hopes to build on this foundation — on the seeds being planted by festivals like Tamasha and the work being done by Hypokrit. But the realization of lack of time has had the most impact on the decisions she makes.  "Limited time means being aware of how that time is being spent. It impacts what projects I focus on and who I work with. It is a driving factor in pushing myself to pursue the goals I have set for myself."
Those goals include achieving a focused approach for herself, "to work with people who are passionate and driven towards creating work that gives South Asians a chance to realize our true potential as artists."
To see the event schedule and to purchase tickets, visit TamashaNYC today!
---
Saloni Gajjar is a recent alum of NYU's Magazine Writing Program. Her passion lies in pop culture writing, as is evident in her work with magazines like Marie Claire, Interview, and Complex. Her goal is to show the arts as a medium and mirror of the society, much beyond just entertainment.