by Parth Shah
Every once in awhile, I'll release my inner 12- year-old self and take a black pen or a sharpie and draw a design on my ankle or my forearm… I'll admire it for a day or two before it fades away.
I want to get a  tattoo.
But I don't really know what I want to get tattooed. Like a lot of people, I want to get something that's symbolic. Something that I find rich in meaning.
I read an article a few years ago that made me realize I would need to give a lot of thought before choosing a design.
In 2014, a British woman was arrested at the airport in Colombo, Sri Lanka. She wasn't smuggling drugs or carrying firearms. She was arrested for a quote that came off as disrespectful to people of the Buddhist faith. The tourist had a tattoo of the Buddha on her right arm. As a practicing Buddhist, she got the tattoo to show her devotion to her faith. But the airport security didn't see her tattoo the same way. In Sri Lanka where 70 percent of people are Buddhist, her tattoo was interpreted not as devotion but as disrespect.
We may not always realize it but there are symbols all around us. And as seen in the case of the British tourist, two people can interpret a symbol very differently.
This episode we're going on a hunt for symbols with hidden meanings.
Visit the Hyphen Podcast website for more.
---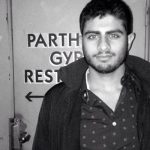 Parth Shah is the founder and host of Hyphen, a podcast about identity. When he's not editing audio you can probably find him sipping bubble tea and listening to Bollywood mixtapes. Parth is a graduate of
UNC-Chapel
Hill, NC and is currently completing a reporting fellowship at a public radio station in Wisconsin.