by Parth Shah
After I graduated from college, I moved to Madison, Wisconsin. I migrated to Madison for a chance to get my foot in the door for a career in journalism.
I migrated to follow opportunity.
When I reflect on my decision to move to Madison, I think about my parents. They left their childhood homes to follow opportunity, too. But the 900 miles I traveled is nothing when I compare it to their journey.
This is their story.
Visit the Hyphen Podcast website for more.
---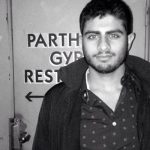 Parth Shah is the founder and host of Hyphen, a podcast about identity. When he's not editing audio you can probably find him sipping bubble tea and listening to Bollywood mixtapes. Parth is a graduate of
UNC-Chapel
Hill, NC and is currently completing a reporting fellowship at a public radio station in Wisconsin.