The selection and purchase of a bridal lehenga or saree is no easy venture for a South Asian bride. Unless you've inherited a beautiful family piece or have a competent personal shopper, acquiring the perfect outfit can be an exhausting and spirit-testing process.
From bargaining with unrelenting salespeople in stifling basement boutiques, to pretending that you're not offended by the 700 percent markup on shoddily made pieces that store owners swear are "designer," this is a process that is so strenuous that it mandates that the shopping process begin at least six months before your big day.
Once everything has been sorted out—the perfect shade of red, the custom stonework, the contrasting dupatta, the most cost-efficient khundan accessories—the average South Asian bride, while radiant and angelic, only spends roughly six to eight hours in these glorious testaments to culture, tradition, and feminine beauty.
[Photo Credit: Jordan Riggs]
That's right: six months of anxiety-inducing preparation for six hours of workin' it! All while our men can practically choose something a few weeks before the wedding (for a fifth of the cost) and still look like film heroes, as my husband did.
Having endured this process myself, in conjunction with an exhausting (but incredible!) week of festivities, it took me two weeks after my wedding day to go back to look at my bridal lehenga, spread neatly on the guest room bed just as I had left it the night of my nikaah ceremony.
I looked at it with a sheepish smile; I couldn't believe that I owned something so incredibly beautiful. Red silk, antique gold embroidery, champagne stonework—it was my dream dress. I was in no way ready to have this outfit stuffed into plastic containers and peppered with moth balls, only to be resurrected for my future daughter who will more than likely immediately reject it as a viable option for her own big day.
[Photo Credit: Jordan Riggs]
After initially lamenting the fact that I would never wear this outfit again, I began to question why that had to be true in the first place.
Why had I spent so much time, money, and effort just to restrain myself from reveling in being the beauty that is the Indian bride?
It was in that guest room, tired and nostalgic, where I decided that I wanted to have one last hoorah with my lehenga.
After brainstorming for a few days and contacting local (and affordable) photographers, I settled on the idea of a fun and mirthful photo shoot that would be perfect for a New York gal like myself—complete with leather, heavy boots, and, of course, my lehenga. It would be a physical illustration of my hyphenated identity.
[Photo Credit: Jordan Riggs]
I know. I said I wanted to revel in being the South Asian beauty. I wanted to expound the perfection that is expected of brides throughout the globe. In retrospect, however, I found that these requirements of perfection were what I found most tiring about my wedding day.
Perfect makeup, perfect posture, and perfect smiles. Having to maintain this trifecta for an entire night was no easy endeavor, and this is precisely what I wanted to avoid in my last hoorah. I wanted to have fun while frolicking in something I had rolled a few paychecks into. Accordingly, I remained open to suggestions from creative minds like my photographer's and prepared myself for a full day of shooting in Red Hook, Brooklyn.
[Photo Credit: Jordan Riggs]
Unlike the precision and idealism that is characteristic of wedding photos, this post-wedding shoot didn't come to a halt for imperfect makeup or dupatta placement. My hair flew wildly about my head and my eyeliner smudged as I climbed upon rocks and ventured into private trucking areas. Even in the latter circumstances, owners of the private lots allowed us to proceed, because, they too, were just as enamored by my lehenga, despite it being paired with heavy boots and frizzy hair. As the pictures demonstrate, the results were absolutely incredible and I had a hell of a time during this nearly five-hour shoot.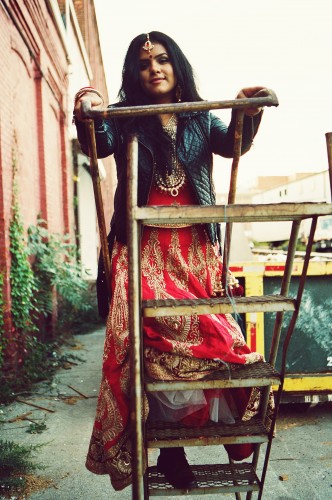 [Photo Credit: Jordan Riggs]
After the vows have been read, the vendors paid, and the guests have been thanked, chances are it won't be months until your wedding photos are delivered. This means it won't be months until you can relive that amazing and special time in your life.
Hey, even if that day wasn't amazing and everything that could have gone wrong did go wrong, then that is just all the more reason to give yourself a new and happier experience with the threads you wore as you ventured into this new chapter of life and womanhood.
[Photo Credit: Jordan Riggs]
If you're a former bride who has used her bridal wear creatively after the fact, share your story with us! We would love to feature your originality and inventiveness here on Brown Girl Magazine.
---
Elizabeth Jaikaran is a freelance writer based in New York. She graduated from The City College of New York with her B.A. in 2012, and from New York University School of Law in 2016. She is interested in theories of gender politics and enjoys exploring the intersection of international law and social consciousness. When she's not writing, she enjoys celebrating all of life's small joys with her friends and binge-watching juicy serial dramas with her husband. Her first book, "Trauma" will be published by Shanti Arts in 2017.