Disclaimer: I dress up extra chic hoping to be stopped and photographed in the streets of Seattle. One of my social media fantasies is to be featured in a local fashionable-people-in-the-city blog. But I can't help thinking sometimes if, in a city as grungy and plaid-loving as this, maybe my colors are too loud.
I grew up in the throes of fashion and couture, as many desis have. A world of rich, kaleidoscope colors makes up my early, infant perceptions, as I got passed along my aunties' hips at every Indian party—which happened almost weekly.
All around me, I saw glittering rhinestones adorning hundreds of women, swirling under a deep bass rhythm, as they danced in peacock, amber, citrine, and highlighter. They are symbols and emotions as much as they are decoration. The colors in Indian fashion are cultural artifacts that defy the advice of some fashion pundits: "Pair a neutral pant with your bright top." Dilute the colors, make sure they don't talk too loud.
Before I started school, the colors weren't too loud. They weren't too garish or wild. They weren't exoticized, yet. They were comforting. As a teenager, I scrolled through New York fashion blogs and noticed a central theme.
"Why do they always feature people who only dress in black, gray, tan and white?" I asked my girlfriend.

"That's just what looks good!" she said dismissively.
I grew up frustrated and confused by what I perceived to be the American fashion industry's emphasis on neutral tints and hues. Media outlets described neutrals as universally appealing.
But why didn't they appeal to me?
Then I discovered India's Lakme Fashion Week.
In high school, I scoured the Internet for something that better resonated with the way I experienced the world: in color, lots of it. I landed on Lakme Fashion Week. Every year, my friends would turn wide-eyed over neutral silhouettes from New York Fashion Week's catwalk photos. But my eyes would glaze over, bored and uninspired. I patiently waited for Lakme's photo and media rollout every season.
I also gravitated towards American brands that had a spring in their step, embracing a fearless love of luxury, color, and butterfly motifs: Betsey Johnson,  Juicy Couture,  and Kate Spade.
I connect more with the global fashion industry because it reflects a diversity. Designers and wearers express their sense of place, mood, ancestry, and personal philosophies through fashion.
I show up to family functions in elephant-print and bedazzled headbands. I see some of my cousins proudly affixing diamond-studded jewels to their black blazers. Both expressions are regal and patched with drama—as the desis like it.
I once had a disturbing conversation with a friend who told me,
"The first half of my life was influenced by my Indian identity and I would be smart to break free from that into my adulthood."
The truth is, culture and expression cannot be separated. My life will always be informed by my Indian-American identity. We each walk through the world and perceive it through our cultural attachments and values.
Fashion makes ample room for representation across cultures. Men and women wear turbans that match their bicycles and stitch bright jewelry into their corporate garb. They pair saris with sneakers, and I wear Punjabi juttiya with sundresses.
Among other factors, cultural influence on human expression is rooted in a sense of place. It's the reason I walk a little taller under the Santa Monica sun, past bodies dressed in my favorite flavors of Kool-Aid. It's the reason when I ask for a body-hugging, hot pink sweater dress at a Seattle mall and the sales associate warmly laughs and says, "Look online. This is the Northwest, sweetheart!"
It's also the same reason why I felt solidarity with a man I saw on the street in India, painting the trunk of a tree bright blue.
I find comfort and security in vibrant colors. My fashion choices are rooted in my cultural upbringing as much as my personality, and I feel it is an injustice to separate the two.
Neutral tints and vibrant colors have space and representation in every culture. In an increasingly globalized world, it is important to understand that the fashion industry is in a constant idea exchange, and so are we. We are prisms reflecting experiences of culture, art, media, and our own selves. But it is worth noting that Indian culture is admired around the world for colors, and Lakme Fashion Week exemplifies the cultural importance of what those colors represent: a love and celebration of life, of the human experience through seasons, festivals, milestones.
The sensibility is this: it is quite beautiful. In Indian culture, color, and expression are more of a foundation that it is an ornament. It is our norm.
Here's my recap of the runway:
Masaba Gupta celebrates elements of spring through color, shapes, and symbols. Shraddha Kapoor wears an asymmetrical butterfly silhouette, capturing themes of transition and transformation. A graphic saree boasts carrots, a spring vegetable, as a motif.
@FitbitIN presents @MasabaG at #LakmeFashionWeek pic.twitter.com/bJ2rbBFyQ5

— Lakmé Fashion Week (@LakmeFashionWk) April 2, 2016
Monisha Jaising showcases the glitz and glam of popular Indian neutrals, pairing metallic golds and silvery sheens with geometric statement patterns and cut-outs.
. @MagnumIND presents @Monisha_Jaising at #LakmeFashionWeek – @stregismumbai pic.twitter.com/vV77biUISi

— Lakmé Fashion Week (@LakmeFashionWk) April 2, 2016
Rohit Bal's ivory designs enrapture the crowd during the grand finale fashion walk.
#RohitBal mesmerises the crowd at Lakmé Absolute Grand Finale by @rohitbal_ #LakmeFashionWeek pic.twitter.com/S0tipv5oTh

— Lakmé Fashion Week (@LakmeFashionWk) April 3, 2016
Lakme features Indian street style, contrasting color-and-pattern bursts with stylized white. Both outfits feature the traditional, open-pant silhouettes.
Street style at #LakmeFashionWeek pic.twitter.com/txHpAsvj5m

— Lakmé Fashion Week (@LakmeFashionWk) April 3, 2016
---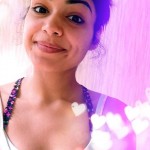 Jasleena Grewal is from Seattle, WA. Her beautiful Pacific Northwest home has taught her to see stars in cars, little amoebas in raindrop reflections against the quivering dashboard. Aside from what her parents have to say (about anything), she only let's the sky rule her moods.