"What can I do? How can I bring about change? How can I be a part of the dialogue?"
These are just a few questions I have asked myself in years past, but more recently the questioning has become fervent as gender-based violence is becoming a permanent fixture on both national and international news. India has faced scrutiny in particular for both: the atrocious acts committed against women, and what many deem a legal system, which impedes justice due to its patriarchal constructs.
Controversies such as the ban of Leslee Udwin's documentary "India's Daughter" and the subsequent media hoopla led to numerous, heated discussions. Many Indians bemoaned the documentary as unfairly suggesting that the issue of gender violence is unique to India or that all Indian men are inherently bad because of their culture. Still, others wondered why India was put in the spotlight when rapes are more common in supposed "progressive" societies such as the U.K. or U.S. Indian nationalists pointed out that the U.S. was in fact outdated and un-progressive as they still lagged behind in having strong female leads in politics and history.
Western pundits countered with the argument that India does not have a legal system that supports women due to its misogynous ideologies, which have become institutionalized norms, thus undercutting any supposed female power Indians believe they have. And so, if you remember, the back and forth ensued.
It was dizzying and akin to watching a ping-pong match between two sides of the world, one arguing "You have more rapes" with the other contending "No, no, YOU do!"
Ethnocentrism on both sides is alive and kicking, yet neither argument shed any light on why gender-based violence (hereon referred to as GBV) is an epidemic with no regard for a country's status as first world, third world, progressive or conservative. A country can number-crunch all they want but institutionalized sexism appears in numerous societies.
In order to change rape culture, more dialogue is required so we can collectively challenge the global patriarchal systems that perpetuate sexism. The reality of doing so, and bringing about systemic change by way of activism is complicated and nuanced.
How could I, an individual, for instance, challenge something as pervasive as gender violence and misogyny?
I was looking for a way to be a part of the dialogue. I found the inspiration I was so hungry for in Ram Devineni and Dan Goldman's epic comic book Priya's Shakti, the first of its kind in India.
The comic book presents Priya, a rape survivor turned superhero, who tackles sexual violence in India and around the world. The comic is inspired by ancient mythological tales. Priya invokes Goddess Parvati and together they fight against patriarchy, misogyny and indifference.
The comic has since gone viral with 300 feature news stories all over the world. Although it started a national debate in India, its message has spread globally about how, not Indian society alone, but societies in general treat rape survivors and perpetuate stigma.
As a woman, feminist, and burgeoning comic as Sketchy Desi, I couldn't get enough of Priya's Shakti. It was so empowering to see art and activism converge so dynamically. Furthermore, the creation of the comic demonstrates that there are many creative ways to stimulate dialogue. More so, it was empowering to see this comic's message—inspired by Indian-Hindu stories— strike a chord with people from various religions and nationalities.
Recently, I had the opportunity to speak with Priya's Shakti co-creator Devineni and learn more about what stimulates his work.
"I was involved in the protests in Delhi in December 2012, and was motivated like millions of Indians," Devineni said. "What was clear to me from the massive protests that happened all over India is that we want things to change in our country. There were so many teenagers and young adults at those protests, and they will be the future catalyst and leaders who will define India, which is a hopeful sign. I think the most important thing we want to emphasize with the comic book is that change is possible. Trying to create a cultural shift is incredibly difficult, but not impossible. India is going through some remarkable and monumental changes in a short period of time. People's views have not caught up with the speed in which things are changing in India.

"Also, I want to make it clear that gender-based violence is not just a problem in India. Audiences around the world respond really well to Priya's story and message, so I know she can have a global appeal."
Lucky for me, on May 7, the comic book was brought to life in a groundbreaking augmented reality art exhibition in New York City. Housed at the City Lore Gallery, the venue was morphed into a walk-in comic book where audiences could unlock special animation, videos, real-life stories, and other interactive elements to life via Blippar, a mobile visual discovery platform. This was truly a convergence of art, technology and activism.
"We wanted to showcase this remarkable project and the artwork created by Dan Goldman to audiences in New York City and to our fans," Devineni said. "It is the first augmented reality art exhibition in the USA and the innovative technology using Blippar is quite remarkable. It was important to allow the audience to experience this."

"More importantly, we wanted audiences to immerse themselves in Priya's story and how she has become a powerful symbol to fight gender-based violence. The exhibition also brings together all the people involved in creating it. All of us were moved to action by the horrible rape on the bus in Delhi in December 2012."
The exhibition and comic book is also to showcase Priya's Shakti NGO partner Apne Aap, which has done a remarkable job in bringing the comic book to disparate communities and empowering girls from Kolkata to Bihar.
Ram spoke about the strength of this project speculating that a lot of the power of this endeavor was that it was created by "regular guys" who were motivated by what had happened and wanted to do something.
"I am of course speaking of myself, artist Dan Goldman, and co-writer Vikas K. Menon," Devineni said. "Working on this project, we all realized that gender-based violence and women's equality is not just a women's issue, but also a men's issue. This needs to be addressed and championed by everyone. Of course, we worked with many extraordinary women on this project including our impact strategist Lina Srivastava, and our consultants Shikha Bhatnagar and Ruchira Gupta, and our amazing editor Joan Hilty."
Augmented reality is a powerful tool to say the least. But I was curious, in awe really, of the actual reality. Aside from Priya's Shakti being a comic book character, the image of Priya on a tiger has been painted as outdoor murals in Delhi and Mumbai. I wanted to know from Devineni what people's reactions were when seeing the life-size murals.
Were there different reactions from women versus men? What were the reactions across generations?
"The artwork has been incredibly received from all classes and generations, who appreciate the beautiful interpretation we have done of the Hindu gods," he said. "Currently, it is only available in English, but we are working on several regional languages including Hindi. So, people from Dharavi and other slums in Mumbai have not responded to the story. Although they love the artwork and especially the large murals we have painted in Dharavi. The next step is to translate the comic book and distribute it in schools. Whenever we paint a mural of Priya on a Tiger, many men gather around and watch it being painted, and the common statement they make is that the image is of an 'empowered woman.'"
With so many Goddesses in the Hindu pantheon, I was curious to learn why it was important that Priya be Parvati's bhakt. As an artist, filmmaker, and activist, what was it about Parvati that made Devineni gravitate towards her?
"In Hindu mythology, Parvati is the Goddess that challenges Shiva, the others gods and humans to open their eyes to sensitivity and struggles of others," Devineni said. "For her, wisdom is meaningless if it does not enable the liberation of those who are trapped in fear. So, her role is to challenge Priya to conquer her fears, but it is up to Priya to motivate and challenge other humans."

"In Hindu philosophy, Shiva's eyes are shut because he is removed from the fears of others. For Shiva, the easiest solution is the most direct one—stop humans from procreating. But, Parvati will not allow that. In Devdutt Pattanaik's book, 'The Seven Secrets of Shiva,' he writes: That is why the Goddess stands in opposition of Shiva as both the radiant Gauri (producing light), and as the dark Kali (consuming light). She hopes to change Shiva, the insensitive, angry God into Shankara, the god who empathizes and is patient. So, the Goddess Parvati is the awakening light in Priya and Shiva; the Goddess wants Shiva and the human race to empathize with Priya and other survivors of rape. She motivates Priya to conquer her fears and find her Shakti and be the catalyst for change."
Priya's Shakti is a labor of love and though undoubtedly a catalyst for change, Priya wasn't always in comic form, Devineni said. In fact, in its initial stages, it wasn't a comic, but a movie called "Parvati Saves the World."
"Originally the remix film 'Parvati Saves the World' was the first incarnation of the comic book," Devineni said. "When Dan and I watched scenes from the film, we both said it looks like a comic book. I re-edited the film to closely align with the comic book using a dozen different Hindu mythological films from the 1970s and we added a new soundtrack by Rene Veron and a voiceover by Shubhra Prakash. The idea of the remix film was influenced by DJ Spooky's remix version of D.W. Griffith's 'Birth of a Nation,' which compelled audiences to address race in the America."
Speaking with Devineni, my mentor, has been extremely inspiring as I continue to find ways to bring about change using my own art and writing. In the comic, Priya sums it up best when she declares:
"Only when injustice is revealed will it end. Only when society protects all of its citizens equally, will it be truly safe."
As asked at the end of his comic how will you stand with Priya?
---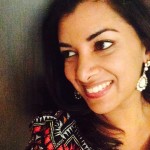 Soni Satpathy-Singh is a recipe writer and developer who resides in Manhattan. She is either always cooking or eating be it for work or simply because she loves to! She is working on her own cookbook and also recently created "Sketchy Desi" which provides daily humor, greeting cards, and apparel that celebrate brown culture. To see more of Sketchy Desi's work, visit SketchyDesi.com or stay tuned to upcoming posts on Brown Girl Magazine.