by Suraiya Ali 
Ben Kinsely writes in his work "The Sword" and "The Flute," that when he went to Bangladesh and East India to study the cowherd Lord, Krishna, he stumbled upon, and was then encompassed by, the feminine Absolute, Kali Ma. He, of course, writes the work mentioned as a way to synthesize the two sides of a phenomenal coin, a version of Divinity, worshipped in harmonious duality, all over the eastern part of South Asia. However in my case, I went searching for Kali's sword, but instead, I stumbled upon, and in many ways was encompassed by, Krishna and his flute—not only in literature but also in real life.
When you stay at home for college and everyone else flies off to fulfill their own notions of adulthood, loneliness is far more creeping than the most malicious Yaksha's of Vedic lore. It's no surprise I picked up reading again after a long hiatus from my bookshelf. My interests had always been theology and philosophy, but right as I began to peak interest into Kali Ma, however, I was also thrown into a group of new friends. In this group, I was introduced to a South Asian, or more exactly, Dravidian, ISKCON Hindu—the first of which I had ever met. A girl I am beyond proud to call my best friend. I also met a boy who followed his own Islam with the tendencies of most 19-year-olds, who ends up being the most illustrious foil to my friendship with my Gopala devotee.
It was easy to see Krishna slowly dancing his way into my Kali studies. From the work of Ramaprasad and Tagore to the Devi-Mahatmya, The King of Vraj was often prophesied right next to the Devine Mother herself. In His eternal lila, he would call for Durga-Puja as vehemently as he called his gopi's out of their homes. Kali Ma, the most ferocious, all fatal, all radiant mother, one who the Hindu-cupid Kama would never be able to subdue, can easily be attested to have found a match with the flute playing enemy of Kamsa.
His call to the gopi's is said to transcend time and space, and maybe that's what I heard when I put down my Tantra and picked up The Bhagavad Gita, The Gita Govindam, and the Bhagavata Purana. Krishna and his play are said to dwell everywhere, even between black print and white pages. I absorbed Vrindavan with every stanza I read. Now, in times of deep stress, I can only meditate on his feet dancing in the green grasses of Goloka in tandem with Kali's feet dancing in the dust of the cremation ground.
Govinda, however, does not play by the rules of men, he doesn't play by any rules at all. He could not just dwell in my books. To meet, and then befriend a woman who is from the very soil Krishna's dark skin is colored for, is a very sneaky way for the cowherd Lord to prove his own ubiquity. In nuanced ways, our friendship blossomed to prove a common understanding of Bhakti, and a common understanding of that sneaky absoluteness. God and Krishna are synonymous terms to her, much like how Krishna's blackest murtis and the night sky are synonymous as well.
The foil to this is a normal teenage fling with a very normal 19-year-old boy that ran its normal course. When asked if he looked up at the black night sky to absorb the dome we live in, his answer was no. I realized then that Krishna is that sky, and if one cannot register the dome then the sound of Krishna's flute will fall flat to such ears, such is not the company I needed to be keeping. Two months after I asked that question, instead of going on an ill-fated date with a Tinder match, my Gopala devotee and I pulled out our ghagra's and went to Temple for Friday's evening aarti.
I grew up going to many types of religious houses, but I had never been to a temple sanctioned by ISKCON. I had met the cowherd Lord in books and in my relationships, but now I was going to his house, for the very first time. So we dressed up, as my best friend said that evening, "there is no such thing as being overdressed to the temple, as you're dressing for the pleasure of Krishna."
In blue and pink hues and traditional Indian earrings, we ran into aarti about five minutes late. The mantra had already started, three little girls were leading it as the boy next to them played the tabla in unison. Fire had already been offered to Radha-Kalachandji, we came just as it was being passed around for the devotee's to take blessing from it as well. It was a time of lovely meditation.
The mantra's praised Guru-Dev, Narasimha-Dev, Rama, Brahma, and Krishna himself. They sounded very close to the Ismaili ginans I grew up with. To bow in front of Govinda felt like a meeting that had a long time in coming. To see his murti's feet was validation for picturing them in my mind so many times over. And to place my forehead on the blissfully cold wooden floor signalled a sensation that may be similar to placing my own two feet on the ground of Vrindavan. Surrounded by incense and happy children chanting, it was almost impossible to not feel any version of the Absolute in the Darshan Room. 
I had been to Krishna's house many times before. But to go physically, with a devotee who understands the ubiquity of those sneaky, ever-omnipresent feet, was an experience I can only describe as lila. On the passing of this recent Janmastami, I knowLord Hari is dancing in his green grass, swirling his gopi's in ecstasy. Such thoughts give me peace—the same peace I hope every bhakti has felt on this beautiful holiday.
---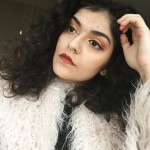 Suraiya Ali is a student currently living in Dallas, Texas. Her interests include feminist theology, mystic poetry, and the pursuit of the perfect matte lipstick. She wants to eventually couple a business degree with one in linguistics and theology.