A silky, smooth voice fills the room. Her voice is like amber: beautiful, dreamy, warm and glowing. Her lyrics drip heavy with passion, and the words hit me in the gut with their realism and raw emotion.
Meet Krithi Rao: a young jazz singer who infuses electronic, ambient, and trip-hop elements into her music.  Rao's unique charm and effortless command of her voice makes listening to her engaging and mesmerizing. Her music is almost a salute and a nod to her influences of Fiona Apple, Carmen McRae, The Velvet Underground, SBTRKT, and James Blake, to name a few.
Rao, 28, is an up-and-coming artist who, apart from her full-time job, fills her days with voice lessons, recording, writing, practicing, and creating music. She has performed at a range of venues across the United States and hopes to make a bigger impact on the music scene in the upcoming months and years.
Hailing from Brooklyn, but having been born and raised in Chennai, India, Rao was originally trained in Carnatic music.
"I started Carnatic vocal lessons when I was 5 years old," she said. "I owe a great deal of my technique to the lessons I took back in India."
Though her formal lessons started at age five, Rao has been singing since she was much younger.
"One of my earliest memories is of me singing nursery rhymes and Indian songs with my mom," she said.
Rao's mother, Lakshmi Rao, has had a big influence on her daughter's musical development, as she is a professional singer herself.
"My mom is an amazing singer," Rao said. "She's always encouraged me to pursue a career as a singer. If I didn't have her support, I think I would have completely brushed it aside."
But Rao found that she could not fully immerse herself in the Carnatic music that she was learning because, "…it was religious and in a language that I didn't understand." So, she soon turned her attention to western music because English is her first language.
"When I moved to the States, I joined a jazz choir during my senior year of high school and then continued my training in jazz vocals at Hampshire College," she said.
She found that her Indian Carnatic background came in handy.
"My Carnatic music training definitely helped me pick up jazz vocals pretty quickly," she said. "A lot of famous jazz artists have cited Indian classical music as an inspiration, and I definitely share that same view."
Rao started to feel like she could connect to her newfound genre of jazz and could easily relate to the lyrics.
But, unfortunately, not everyone took too kindly to a brown girl singing western jazz.
"A talent scout in the industry once told me I should monetize on being Indian," she said. "I felt as if he reduced me to how I presented myself, as a brown Indian woman. However, I have come to embrace a balance of both Indian and Western elements in some of my newer tracks."
Though, singing is not something Rao does for money or glory, she said:
"Singing is what I turn to when I feel the extremes of any emotion," she said. "I sing when I'm extremely happy, I sing when I'm absolutely depressed, and I sing when I'm really furious. It's the only release I know that I have."
With the hopes of taking her music to the next level, Rao recently joined a musical collective, the Recording Artists Development, and hopes to continually produce music while collaborating with other artists.
"I'm so happy that I found this group of wonderful musicians and songwriters," Rao elaborated. "We meet every session and give each other feedback on our tracks. Luanne Surace [board member] and Keiter Braun [session coordinator] go beyond their means to find industry executives to give us feedback on our tracks and the producer, Phil Carroll [producer and founder] is absolutely amazing throughout the process."
Rao said her drive comes from not only a passion for music but also from a place of social justice.
"In the future, I also see myself working with a non-profit that helps children and musicians from underprivileged communities realize their true potential and musical talents," she said.
Her advice for other young women who want to pursue music, as a hobby or career is to:
"Just do it, especially if it makes you happy, because you'll only regret it when you're older. Just keep working on your music, even if it only gets you about 50 followers on Soundcloud, and even if you only make about $10 a month on sales. I know it's difficult but it's important to focus on how the process itself gives you satisfaction."
"For me, singing is a channel of expressing myself and having my friends and family listen to my music," she added.
She went on to explain how the journey is as important as the destination:
"I'm happy when I work on instrumentation ideas, I'm excited when I come up an awesome lyric in the shower, and I love it when my producer and I come up with weird vocal improvisations for a track. Those are the moments that make me feel accomplished as a singer/songwriter."
To follow Krithi Rao's musical journey, follow her on Soundcloud and Facebook. 
---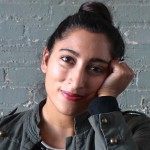 Lakhpreet Kaur is editor-in-chief for Kaur Life, a nonprofit online magazine geared to empowering Sikh women. She is also on the executive board of SAFAR: The Sikh Feminist Research Institute.