South Asian-Americans across the country are running for office.
http://https://www.youtube.com/watch?v=blLmLPH_0vk
Attorney General Kamala Harris is busily running for the U.S. Senate in California. Also in California, Ro Khanna is running for California's 17th District's House seat. Raja Krishnamoorthi is running for a House seat in Illinois, and Pramila Jayapal is eagerly anticipating a progressive victory in Washington.
But running for office is not easy for the majority of Asian-American candidates. South Asian candidates in particular, who often have to face charges of "otherness" in a multitude of ways, whether it is because of their names, religions, or families.
On Friday, October 7, the home of Indian-American congressional candidate Peter Jacob was vandalized and painted with a large swastika. Jacob, a Christian, was endorsed by former presidential candidate Bernie Sanders and is looking to unseat incumbent Republican Leonard Lance who has represented the 7th district of New Jersey since 2009.
The incident, while upsetting, turned a little-known-about race into a national news story. Jacob's campaign accused the Lance campaign of instigating the vandalism, citing that Lance's campaign shared a blog post on its Facebook page putting the photo of Omar Mateen (the Orlando nightclub shooter) and Peter Jacob's photo side-by-side. Lance's campaign replied, saying that the Facebook post was not trying to compare the two candidates.
Others argue that hate crimes like these come as a result of increasingly racist rhetoric coming from Republican presidential candidate Donald Trump.
"When you say the kinds of things that the Republican nominee has said, you are showing a lot of ill-will and a way for people to feel that that's OK," said Joan Peters, a member of Social Justice Matters in New Jersey.
No matter what the reason for such an act of hate, it is clear that brown folks have to face significantly higher hurdles in order to reach their goals.
---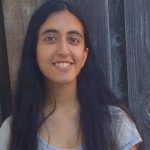 Sravya Tadepalli is a student at the University of Oregon studying political science and journalism. She is a proud Indian-American-Oregonian and grew up in a small town in the southern Willamette Valley. Sravya is passionate about theater, racial issues, and politics. She is also particularly interested in figuring out policy solutions to problems of social justice and political partisanship.