This post was originally published on our partner website India.com:
The trailer of Sanjay Leela Bhansali's highly-anticipated historical saga, "Bajirao Mastani," released on Friday in Mumbai amidst much fanfare.
The action-packed trailer opens with Bajirao (Ranveer Singh) and Mastani (Deepika Padukone) riding horseback alongside one another while in full armor. This sets the tone well for the three-minute glimpse into the world of the warrior Peshwa (Prime Minister) of the Maratha Empire in the 1700s. The film is Bhansali's take on N.S. Inamdar's book, "Rau," which tells the story of warrior Bajirao, his first wife Kashibai (Priyanka Chopra) and his mistress, Mastani.
Set against the backdrop of a kingdom at war, the trailer captures both the alluring chemistry of both leading pairs, as well as the dramatic intensity of lives adrift in battle. Although too much about the plot cannot be surmised strictly from the trailer, it becomes clear that the love triangle between Bajirao, Kashibai, and Mastani acts as a stark foil for the intensity of the ongoing war.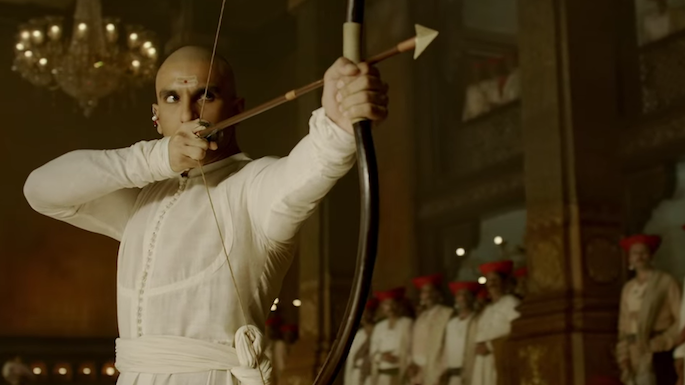 As we have come to expect from Bhansali's films, what stands out in the trailer is the grandeur of "Bajirao Mastani." With epic battle scenes staged in expansive fields, colorful and decorative havelis, and hundreds of background dancers in elaborate costumes, the film promises to be as engrossingly artistic as it seems to be dramatic. Two previously released videos from the film's soundtrack (composed by Bhansali himself), "Deewani Mastani" and "Pinga Pinga," have already fared well with audiences, both visually and musically as well.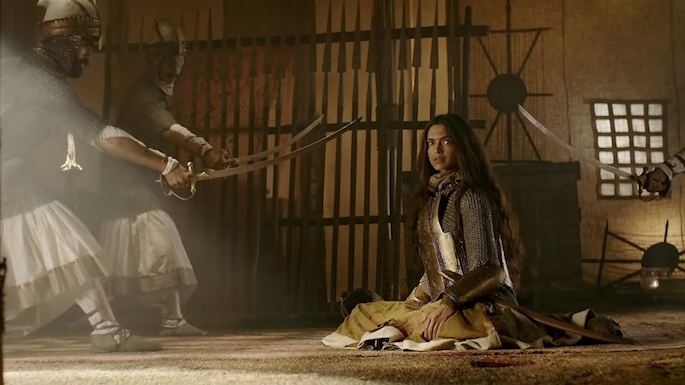 "Bajirao Mastani," though reminiscent of Bhansali's previous works, including "Goliyon ki Rasleela Ram Leela," stands out especially because of the focus on action. Padukone and Singh are seen in multiple sword-fighting scenes, intimate encounters, and as somewhat expected, fighting for their love against Chopra's Kashibai and others who look down upon Bajirao's affair with Mastani.
The on-screen pairing of Singh and Padukone is another strong move for Bhansali—when he first announced the project 12 years ago, "Bajirao Mastani" was supposed to star his then-leading pair, Salman Khan and Aishwarya Rai, following the success of "Hum Dil De Chuke Sanam." The real-life couple broke up soon after, however, and the project had been shelved since—until the "Ram Leela" pair reignited Bhansali's vision.
#BajiraoMastaniTrailer @deepikapadukone and @RanveerOfficial posing for shutterbugs… pic.twitter.com/0puLhuK5MV

— pinkvilla (@pinkvilla) November 20, 2015
Arriving at the trailer launch in a buggy, Singh and Padukone held a discussion with Bhansali and Chopra about what it was like to prepare for and shoot, the film. Chopra, who is currently in the U.S. shooting "Quantico," joined in via satellite. The actors talked about how demanding their roles were, both physically and emotionally—Chopra even confessed to breaking down in tears on the third day of shooting, though Singh praised her for overcoming those initial hurdles. Describing Bhansali in one word, Chopra simply called him, "magnetic."
#BajiraoMastaniTrailer Sanjay Leela Bhansali joins @priyankachopra @deepikapadukone and @RanveerOfficial on stage pic.twitter.com/rCCeo4WSVj — pinkvilla (@pinkvilla) November 20, 2015
Singh was all praises for both leading ladies, but especially his real-life girlfriend, Padukone. "It takes a special kind of artist to have that kind of honesty in front of the camera," Singh said of Padukone's performance in the film. "It's an honor for me to have acted with her in our second film together. I think every day of the shoot with her I'll cherish for the rest of my life."
Sanjay Bhansali @deepikapadukone @RanveerOfficial with @priyankachopra on the big screen (crtsy @ErosNow ) pic.twitter.com/CaY9DGJenN

— Faridoon Shahryar (@iFaridoon) November 20, 2015
Tearing up after watching the trailer, Padukone added her own praise for the movie, which she holds in a special place. "When already as an actor [you are] expecting so much, you give so much and it surpasses your own expectations, it really means that we have something very very special in our hands," she said. She also remarked that shooting "Bajirao Mastani" was so intense that it made "Ram Leela" look like a tiny rehearsal.
One thing is clear: "Bajirao Mastani" continues to elevate already high expectations from Bhansali, Singh, Padukone, and Chopra. We'll all have to wait for the film's December 18 release to see whether it truly lives up to all the hype—but if the trailer is any indication, "Bajirao Mastani" may just surprise us all.
---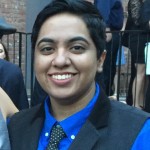 Priya Arora is a queer-identified community activist, writer, and student. Born and raised in California, Priya has found a home in New York City, where she is currently pursuing a Master's degree in Counseling Psychology at Teachers College, Columbia University. Priya's passion and research lies in capturing and fostering the needs and experiences of South Asian American LGBTQ people, with a mental health focus.