by Kaly
Brown Boy and hip-hop music artist Kaly talks to Brown Girl Magazine about his journey so far. He also shares his thoughts on the music industry and his latest work, "Letters from Agrabah."
I started, way back in the sixth grade, writing poetry. Ironically, I blame Bollywood for turning me into the rapper that I am today. If I didn't think that writing a poem to a girl would win her heart, I wouldn't have started. Needless to say, it never worked quite how I wanted it to, but the natural progression of poetry is to set it to music. So at some point a girl came along who made me want to not just write lines on a page, but lines to a song. I was hooked from that point on.
My journey in this "industry" has been a painful one. I say industry in quotes because, in all honesty, there isn't even the slightest semblance of a South Asian-based industry here in the U.S. What we have are the allowable arts; the dancing, the singing. But hip-hop or
anything urban? No, we can't do that. From the moment I started, I have been looked down upon and made to feel like an outcast.
I have worked for the better part of a decade to hone my craft, to try and build a community for those that purposely strayed from the beaten path. I have collaborated with artists as far away as the U.K. and India, where thriving hip-hop scenes have emerged and firmly ingrained themselves in the youth culture. Throughout this journey, I have continually been reminded that we do not have anything equivalent to those scenes here in the U.S. It is just not allowed.
Nonetheless, I have continued on, and this Agrabah project, and especially the song "Brown Boy Lost," is my f*ck you to everyone who doubts our capabilities as South Asians. That includes our own self-doubt, which I believe is extremely prevalent in our community. We not only limit ourselves, but we tear down others who strive for something greater.
"Brown Boy Lost" is me showing you that I know my culture very well. The fact that I rap does not mean that I have forgotten where I come from. We are so multifaceted as human beings, and I believe the South Asian culture is one of the most important and beautiful cultures there is. It's about time we start showing it in all the various ways that we can. This is my way. I'm not lost anymore.

---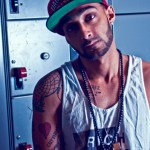 Born to immigrant parents on July 29, 1985, Kaly almost didn't make it into this world. Surviving his mother's umbilical cord choking him, he was welcomed into a modest one-bedroom apartment furnished only with a toaster, a black and white television, and a mattress on the floor. Though much of the rest of this time is forgotten, it is these humble surroundings that have shaped the artist who has come to be known as Kaly. Given his name by a former flame for his naturally smooth tone of voice, Kaly is known more now for his raw, gritty vocals and uncompromising lyrics. Soft-spoken and respectful in person, even he will admit he has no idea why a change comes about every time he steps into the booth, "I literally have no idea when that first started happening or why it still happens, people are always surprised when they hear me in person and then on a track. Trust me, I'm the most amazed out of anyone." It is this combination of grittiness and intelligence that has brought Kaly to the forefront of all of his peers, but also that which has proved to be the basis of his difficulties in the industry. Unorthodox in his delivery and unwavering in his belief that music is more than what you hear in a club, he has found himself at odds with numerous industry acts and even members of his own team at times. Nonetheless, through sheer determination, Kaly has made inroads for himself, charting numerous tracks on the BBC Asian Network; gaining praise from industry notables such as Rishi Rich, DJ Bikram Keith, and Mentor Kolektiv; and even having one of his tracks featured on the Playstation 3 video game "Haze." No longer waiting on others for their approval of his dream, Kaly has reinvented himself and vowed to make everyone who ever doubted him choke on their words. There isn't much he forgets.
Check out Kaly's website to keep up with his upcoming appearances and music, check out his Facebook page.