by Aditi Paul 
Three days after the 9/11 terrorist attacks in New York, a poor Muslim couple accosts an affluent Hindu couple to request a ride. "A Muslim in the Midst," an award-nominated play by Anand Rao, tells the story of what happened.
Speaking about the novelty of the play's backdrop, Kim Sharp, the director of the play commented,
"This is not a repetition of the New York story. It happens in Bangalore, India, where we see two couples who are drawn together, not because of 9/11 but around the event."
After some deliberation, the Hindu couple agrees to give the Muslim couple a ride. What transpires as a result of this rendezvous, though, is an ideological dialogue that touches upon various topics including, religion, global politics, modern medicine, feminism, sexism, terrorism, poverty, education and social inequality.
Ultimately, what surfaces from this conversation are the primal fears and prejudices of the Hindu couple about the Muslims in their midst. Through this revelation, the play highlights one of the most pervasive paradoxes of modern society — that the most progressive and educated members of society may be susceptible to such xenophobic dogmas.
Rao, the playwright of "A Muslim in the Midst," has received accolades from his own actors, audience members, and theater enthusiasts from across the board. One sentiment that is echoed in all the appreciation that this play has received is Rao's astuteness in keeping the audience contemplative and engaged in the conversation beyond the conclusion of the play.
"A play or any work of art for that matter that stays with you long after its conclusion, and opens up a discussion within you, is a masterpiece. That's as high a compliment I can sincerely give 'A Muslim in the Midst.' I long for more such experiences," acceded Kanad Banerjee, an award-winning creative director.
One of the leads of the play, Gopal Divan agreed with this sentiment.
 "A Muslim in the midst is a show about those who bear witness, about how honest we can be with our assumptions, opinions and perceptions we have. Can you handle your own truth?"
Strong performances by the protagonists, Deeksha Ketkar, Ram Kanneganti, and Nikita Tewani, augmented the already strong storyline of the play. The play has earned a nomination to the prestigious Thespis Theater Festival, and rumor has it that plans are underway for a Bangalore showcase of this highly acclaimed theatrical genius.
---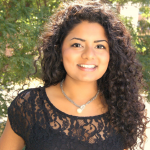 Aditi Paul is an assistant professor of Communication Studies at Pace University. She tries to find out how strangers become friends and lovers with people they meet online, all in the name of academic research. When she is not professing, you will find her pretending to be a singer and a guitar player on SoundCloud.