by Nur Kara
Due to longtime criticism against Mattel's famous doll for promoting unhealthy body weight and idealistic notions of femininity, Barbie has suffered declining sales in recent years.
Therefore, this January, the company announced a new line of 33 Barbie dolls—now in four body types and seven different skin tones, with 22 eye colors and 24 hairstyles—in an effort to more realistically portray the diversity in female features and proportions. While this is a positive step, Mattel remains to embrace the accessories that are actually quite necessary to connect with girls across sociocultural contexts.
Hence, "Hijarbie." Although this time, Barbie's signature style is hidden behind her newest accessory, a hijab.
About two months ago, trained medical scientist, blogger, and entrepreneur Haneefah Adam posted now-viral images to her Instagram account of Barbies dressed in homemade cutouts of hijabs and abayas. A 24-year-old from Nigeria, Adam's vision for Hijarbie was to create positive awareness and similarly inspire Muslim children. She believes that making a doll that looks like herself will better represent her own cultural and religious background.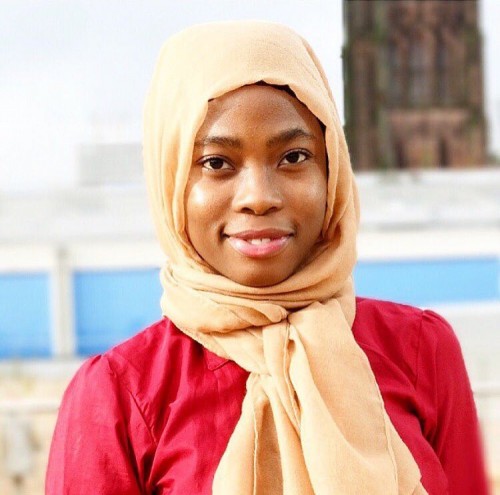 [Haneefah Adam, founder of Hijarbie. | Photo Source: Instagram.com/Hijarbie]
Adam got the idea for Hijarbie after following the popular Barbie Style Instagram, separate from the regular Barbie Instagram, displaying Barbie in "blogger-worthy styles" and "grown-up Instagram habits." In an interview with Mic.com, Adam said,
"It got me thinking about how I'd actually like to see a doll dressed up like I would have—covered up. I was mulling about the idea for about three months while I was still studying for my master's degree in the U.K. When I got back to Nigeria, I went to the mall, purchased a doll, dressed it up, documented it and here we are."
Many have been impressed with Adam's fashionable designs:
Hijarbie might be the best doll that Barbie forgot to create: https://t.co/GT0gBWVAWP pic.twitter.com/4SyTqBqJ7Y

— Teen Vogue (@TeenVogue) February 4, 2016
@ms_hanie congratulations on finally getting the attention and respect your work deserves. Absolutely proud of you. #hijarbie

— Fuad ???? Davies II (@davies1608) February 4, 2016
Honestly the #Hijarbie is the most fashion forward thing I've seen in a while. Absolutely obsessed.

— nicole wojtowicz (@nicolewojtooo) February 5, 2016
Negative comments have pointed to how Adam's dolls are still the classic white and blonde Barbies. To this, Adam has responded,
"The simple truth is, I couldn't find the different types in Nigeria (no Amazon or eBay or anything, Lol). I'd have loved to dress up a black doll myself too. I've ordered for some internationally and they'll soon be here. I basically started with what I had."
And still others, unfortunately, have taken this innovation as an opportunity to toot the Islamophobic horn:
Toys go #FullRetard
Curvy Barbie spawns #Hijarbie (Alluha Akkbar) & curvy Ken dollshttps://t.co/UZcjmzrTpK#FeminismIsCancer #rabidfeminist

— Mephistopheles (@myfist0) February 3, 2016
@MaryfromMarin @EricaJacobson13 Ridiculous. The Hijab is a sign of oppression. What next, Ken has 4 Barbie wives? Just piss off!

— Mathew Johnson (@UAI2000) February 5, 2016
BARBIE would never wear a hagib/garbage bag….but since she's been corrupted, will Ken have on a suicide vest? https://t.co/OjyooNzZSM

— AM (@ArRuple) February 5, 2016
Regardless of its stir, it is admirable that Adam took only 8 weeks to release Hijarbie, while it took Mattel more than 50 years to diversify their classic doll with new additions released only this January. Although Nigerian herself, Adam's Hijarbie is sure to appeal to Muslim hijab and abaya-wearing girls across racial and cultural lines—whether toned shades of black, brown, or white.
Alongside leading brands like H&M, Uniqlo, and Dolce & Gabbana's recent ad campaigns highlighting Muslim fashion, Adam hopes to make Hijarbie available for purchase soon. She is also launching a modest lifestyle brand called Hanie, designing and sewing all the dresses and hijabs herself, based off popular Muslim fashion bloggers like Habiba Da Silva and Leena Asad.
"It's important to create a sense of value in the Muslim child, especially the girl child," Adam said. "They become more confident, more driven, they believe more in themselves, which leads to an appreciation of herself and her modest lifestyle and upbringing…Hijabifying [the doll] will create a sense of belonging and hopefully make a positive impact."
Here are our top five photos of Hijarbie's stylish looks:
---
Nur Kara is a medley of Indian ancestry and East African heritage though also carry the labels of "female," "Ismaili Muslim," and "first-generation American." Being part of refugee history and having lived through these various lenses inspires her to similarly share in others' stories. A self-coined "skeptiste," she questions the uncommonly questioned.