by Hira Uddin
India's Prime Minister Modi makes worldwide headlines on a fairly regular basis but this time, he is making some waves for an initiative for social justice—specifically raising awareness on the prevalence of sex-selective abortions and the resulting gender imbalance in India.
Modi's #SelfiewithDaughter social media campaign has rapidly caught the attention of Indian citizens while garnering both participation and support from the international audience.
🙂 My Oba(Father) .. Teacher, Hunter and descendant of invincible Naga Warriors .. #SelfieWithDaughter @narendramodi pic.twitter.com/IlrfSFiKfF

— Temsutula Imsong (@temsutulaimsong) June 30, 2015
The #SelfiewithDaughter campaign is targeted at Indian fathers as a social call to embrace the value of their daughters and celebrating them, as opposed to the traditionally only celebrating sons and their achievements.
Okay, I missed the biggest trend of the day. So here goes #SelfieWithDaughter pic.twitter.com/g6EHmqGu4W — Sachin Kalbag (@SachinKalbag) June 28, 2015
While Modi is receiving credit for the perceived success of the campaign, #SelfiewithDaughter was the brainchild of Sunil Jaglan, an elected official (Sarpanch) in the village of Bibipur in Haryana. Echoing Jaglan's sentiment, Modi encouraged citizens to take a "selfie" with their daughter(s) and include a meaningful tagline supporting the Beti Bachao, Beti Padhao (Save a daughter, Educate a Daughter) initiative on his radio show, Mann Ki Baat (Words on my Mind).
Modi stated the following about the initiative in the transcript of his radio show:
"In our country too, I meet many families who have only daughters. And they bring up their daughters with such pride, give them such respect, that is the biggest inspiration. I believe that inspiration is our strength…I would like to say, to save the girl child, to educate the girl child, this is our social duty, cultural duty, and humanitarian responsibility. We should honor it."
While it is refreshing to see the overwhelming sense of support for Modi's campaign on social media, it is imperative for those participating to understand the deeper context as to why such a campaign is needed and why female empowerment should not stop at this hashtag. Although Indian society has made great strides with regard to implementing civil liberties and improving the quality of life for its female citizens, the country still needs to pay more attention to issues like selective sex abortions and female infanticide.
My Heart Beats – My Darling #Daughters @MyrahRatnani @KiaraRatnani #SelfieWithDaughter @narendramodi pic.twitter.com/LdBjSY89NF — DABBOO RATNANI (@DabbooRatnani) July 2, 2015
Had great time with daughter. Me & my princess. Selfi time @anandibenpatel #betibachaobetipadhao #SelfieWithDaughter pic.twitter.com/hY50PIrEK9 — Hardik Dave (@hardikgdave) June 29, 2015
@narendramodi Sir #SelfieWithDaughter on her 1st day to school!!! pic.twitter.com/vG5hHkuDwx — Shazli Ahmed Khan (@ShazliAhmedKhan) June 28, 2015
According to the gender index report, there was a "son-bias value" of nearly 55 percent reported in 2014 and a study examining the Trends in Selective Abortions of Girls in India found that selective abortions of female fetuses had reached an estimated 6.0 million in the 2000s, which was a further increase from the 1.2 to 4.1 million in the 1990s.
Clearly, it is going to take more than a social media campaign to remedy the deeper social dilemma that needs to be examined by the Indian government and its people. In many parts of India priority for financial stability, job security, education, and even rights awarded through marriage are solely reserved for men. Additionally, legitimate laws bringing sexual aggressors against women, to justice have very recently been implemented, as seen with the Criminal Law Act 2013 and The 2012 Protection of Children from Sexual Offenses Act (POCSO).
Feeling proud about #SelfieWithDaughter campaign. Here is the selfie with my princess. @narendramodi pic.twitter.com/REl12qZh2Q

— Ajay Mirani (@amirani) July 1, 2015
While punitive laws about sexual assault have been drafted and approved, loopholes for aggressors providing the possibility of serving minimized sentences also exist. Violence against women in the form of domestic abuse is a valid threat to the life of an Indian woman because of the remnants of gender inequality stemming from a once highly patriarchal society. A staggering detail this social media campaign excludes is the percentage of battered women (someone's daughters) who suffer physical, emotional, and mental abuse daily, which the gender index report of India determines is more than 40 percent—that's 10 percent shy of half of reported findings.
#SelfieWithDaughter #NarendraModi Proud father of two Daughter !!! pic.twitter.com/lbKH0VK4rl — SANJIV SONI (@SANJIV353) July 1, 2015

The #SelfiewithDaughter campaign is certainly a small step in the right direction and has proven effective in raising awareness surrounding the gender imbalance in India. However, it is important to note that most of the households and villages where female infanticide is widespread most likely do not have access to many basic necessities let alone access to a luxury such as Internet access. This is a direct problem because to a certain extent, Modi's campaign is reflective of many who have access to education and even the correct implementation of civil liberties favoring women, thereby excluding many of India's daughters who have no fathers and no mothers to take "selfies" with.
With social media's increasing presence in our daily lives, it is important as a global society to evaluate the context of Twitter and Facebook campaigns instead of sending a single tweet or share without learning the reality behind such an initiative. At some point, we are all guilty of taking part in "lazy activism" where we think our shares and tweets will suffice when we can be challenging ourselves and our societies to do more. It is arguably more beneficial, more welcomed by society if lawmakers were to promote women's rights by passing laws protecting them from injustices as easily as they are willing to promote one single tweet.
While Modi's intention for the #SelfiewithDaughter campaign is encouraging, let us not allow the importance and value of girls to fade with a fleeting hashtag.
Dear @narendramodi Bhai, no daughters, but here a photo of my mother "Daughter of India" with me #SelfieWithDaughter pic.twitter.com/Im4bQRbk1A — R.S. Bains (@HerrBains) June 28, 2015
---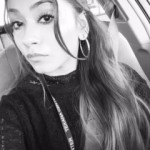 Hira Uddin works as a Qualified Mental Health Professional in Texas. She is a featured blogger at Muslimgirl.net and her contributions have been published on The Dean's Report, The Muslimah Speaks: Her Voice, Her Spirit, Bravura Magazine, and Ummid.com. Uddin is also the editor of her website InsideAmericanMosques.com.