by Ravleen Kaur
"The Daily Show with Trevor Noah" recently aired a five-minute clip illustrating a caricature of how Sikhs "should" go about living their lives in the U.S. During this much-raved about comedic segment in collaboration with The Sikh Coalition, comedian Hasan Minhaj teamed up with various well-known Sikh figures, such as actor and designer Waris Ahluwalia and professor and activist Simran Jeet Singh, to create a comedic yet educational piece on Sikh-Americans.
The video hits hard, not only eliciting eruptions of laughter because of how true everything in this video really is, but also affirming that this country has a long way to go in terms of interfaith education and relations. It also delves deeply into the country's state of Islamaphobia and how it's affecting America's (non-Muslim) Sikh population. 
Minhaj insists Americans are more knowledgeable about Sikhs than Ahluwalia thinks. But when Minhaj takes to the streets of New York to prove his point,  the results were… less than spectacular. 
Minhaj then asserts that Sikhs should make more of an effort to integrate into American society like he proudly claims to do as a Muslim. He suggests Ahluwalia "go to Hollywood" and act in "white movies." Too bad Ahluwalia is a regular actor in Wes Anderson movies.
Despite already having integrated into mainstream media and fashion industries, icons like Ahluwalia and YouTube star Jasmeet Singh aka Jus Reign, still face discrimination and profiling inside and outside of airports, on and off the streets.
The problem here isn't that Sikhs aren't "American" enough or aren't trying hard enough to assimilate. The problem lies in the fact that we are invisible in mainstream media. Minhaj jokes that our magazines and tabloids should stop focusing their energies on snapping photos of celebrities doing the most mundane of things, and instead use their power to do the same for Sikhs in any effort to shed light on the community. 
In addition to having a hilarious yet serious chat with Ahluwalia, Minhaj spoke to a group of Sikh-Americans who expressed the bigotry they've faced for their outward appearance. Even though Minhaj suggested they outwardly state, "Hey, I am not Muslim," those interviewed were firmly against the idea:
"It's just not an option for us to throw another community under the bus," Singh said. "Even if it means things are harder for us, we believe it's the right thing to do."
According to the core teachings of our Guru Jis, we cannot belittle another community to advance ourselves. After all, it was Guru Nanak Dev Ji who said, "Naa koi Hindu, naa koi Musalmaan." While this line has many deep philosophical meanings, one can interpret it as, your actions towards others having more importance than the label of a religion. 
So, what did I take away from this wonderful clip? Minhaj is (as usual) hilarious. Sikhs are invisible, but we as a country are still making progress against ignorance and discrimination. Slowly, but surely, Americans will be able to recognize Sikhs as Sikhs and not confuse them with another religion. Here's hoping that future comes soon. 
---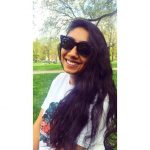 Ravleen Kaur is a student at The Ohio State University studying public affairs and public health. Her hobbies include drinking over-sweetened coffee and performing bhangra in public spaces. She is currently planning to run away from her home state in the Deep South and eventually work in the public health field.