by Kanika Monga
Priyanka Chopra's "Quantico" needs no introduction. If you've been keeping up with ABC's newest, hottest drama on the block, you are probably already deeply intertwined and are trying to figure out the plot.
Well, although I don't quite know what will unfold in the upcoming episodes…I can definitely say I've found my #MCM in Jake McLaughlin a.k.a Agent Ryan Booth. *Swoon*
Of course, he had me at his pretty eyes, and buzzed cut look. I remembered him from when he played Alex's brother on "Grey's Anatomy!" But what REALLY got me was his amazing sense of humor.
So, I had an extreme #fangirl moment yesterday that I need to share with Brown Girl readers. While the show was airing, the cast opted to do a live Tweet session. WOO!
I'll break down my fairytale #FanGirl moment because I can't contain my excitement:
*I decide to log on to my newly created Twitter account to see what this live Twitter chat session was all about, not realizing it would give me the ultimate heart palpitations.*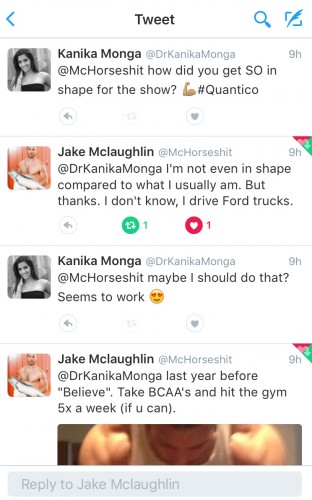 I thought Jake (yes, we are now on a first name basis) was being modest when he said he wasn't "in shape compared to what he usually is."
Brace yourselves, ladies…here's the rest of the image (via Twitter).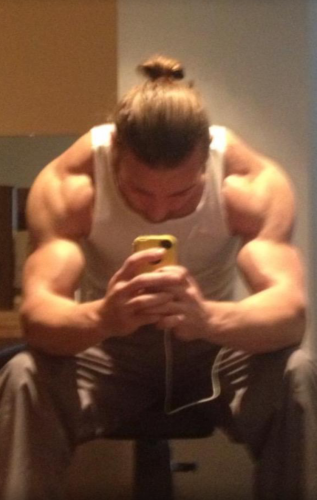 … Told you. Swoon. (That loud noise you heard was me falling to the floor.)
How can someone be so naturally funny? I was literally ROFL. (People still use that abbreviation, right?)
Not sure why I did it, but, of course, I used my sweaty-mid-workout-worst-hair-day-ever pic to send. A little embarrassing… but at least he had something nice to say.
Alright folks, you clearly know who my favorite character on "Quantico" is. The show is gripping, and the cast is making an effort to interact with the audience, which is always fun.
If you haven't jumped on the PC-Quantico bandwagon yet, I urge you to get on it ASAP. It's a super interesting plot, with an incredible cast, and better yet, we reviewing the show and live Tweeting it weekly, be sure to follow us @BrownGirlMag.
I'm #TeamAgentRyanBooth! Whose team are you on?! Comment or Tweet us!
---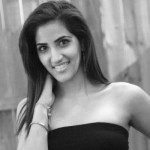 Kanika Monga, a graduate from the University of Texas, is a doctor by profession at the Texas Medical Center. She is a lover of all things creative, and cuddly. Her weaknesses include sushi and sparkling wine. Follow her on social media as she muses over life in her white coat and stilettos. Instagram: Kanika Monga, Snapchat: KandyK579, Twitter: @DrKanikaMonga