by Sheena Vasani – Follow @SheenaVasani
Have you faced pressure to marry and have children by a certain age? If you're South Asian, I am sure that answer is a loud and resounding, "Duh."
Jokes aside, the pressure to couple up and reproduce by a certain age is a source of severe anxiety for many young South Asian women. Marriage and kids are not romantic ideals to aspire to or even a choice we are free to make. Instead, it's yet another unspoken expectation – like obtaining straight A's and lucrative careers – we all must achieve in the never-ending rat race.
God forbid we fail to achieve conjugal "bliss" by a certain age, or ever, lest we be labeled spinsters or failures, irresponsible, selfish, quiet disgraces, destined for lives of unhappiness and regret.
"In our culture, there is often a list filled with boxes to tick," explains Meena Jogia, a British counselor and manager for the Asian Family Counselling service, as reported by DESIblitz in the piece, "British Asians and the Pressure to Marry." She continues, "Culturally we are very aware of this list. There is an expectation that by a certain age you will be married, you will have a child, you will have a house. By 30, people think they should be having a child by that age."
The problem is, however, that some of us are just not quite ready yet for that stage of life or may never be. Perhaps you've consciously chosen not to go down that path. Maybe you're currently nursing a broken heart or still processing the news that you're infertile. Maybe you've had a traumatic childhood; for you, love and family are not dreams to aspire to, but nightmares.
For whatever reason – biological, financial, psychological – some of us have not been lucky enough to turn our own dreams into a reality yet, if ever. Unfortunately,  insensitive relatives and even friends often overlook our circumstances and fail to show compassion.
"I had an aunt call me out, proudly make fun of the fact I wasn't married with kids unlike her son (who's my age) in the middle of a big family gathering," Malaysian musician Sara Ze told me. "I've been asked this question a million times before, sure, but this was different. I was stunned, speechless and humiliated. Was she aware I did want to get married and have my own family? That I was going from one broken relationship to the other? That I just got dumped by some guy who left me for another woman?"
This pressure is dangerous. Young South Asian girls in the United States are already burdened, as evident by the fact that the community has some of the highest suicide rates in the country. Yet just as worryingly, I can't count how many stories I've heard of women rushing to marry and settle down, only to enter an unhealthy marriage that ended in divorce. Sometimes, these relationships turned abusive. There was so much pressure that these women didn't have the time to really consider the person they were marrying. I've wiped the tears off some of these women myself. Heck, many times I've been close to becoming that woman.
So what can be done?
"Don't rush," advises Jogia. "Rushing leads to a higher breakage of marriages.  People are living longer, there is more time to achieve things in life. At the age of 26, you still have a good 60 years ahead of you. 26 is still very young."
But as we know, it can be hard not to rush when Facebook photos show smiling faces and rings, though not the full reality.
So in response, I thought I'd post below stories I stumbled upon from women who are fighting the pressure. These women show that, while the struggle is real, not living your life according to a timeline created by others still does not spell the end of the world. If anything, it can actually be the beginning.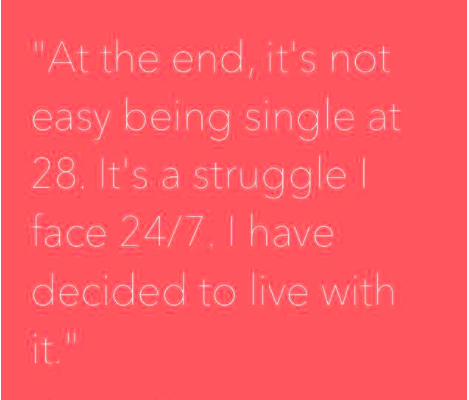 The reason I am single is quite simple – I have yet to come across my Mr. Right…

At 28, ideally, I would have been married for a couple of years. By Indian standards, I've left it late and I am probably at the bottom of the pyramid of eligible women. But I still don't find the idea of "settling for" someone appealing.

Everyone reminds me how I should make compromises and lower my expectations. As long as the man has decent looks and a respectable career and family background, I shouldn't complain.

I don't see it that way. Everyone around me may tell me a man is perfect for me, but I feel it's me who gets to decide.

He might be earning a lot, might belong to the best of families and might be a nice person, but if I don't find him compatible to talk to or to be with, I can't picture being married to him…

At the end, it's not easy being single at 28. It's a struggle I face 24/7. I have decided to live with it.

– Suruchi Sharma, via the BBC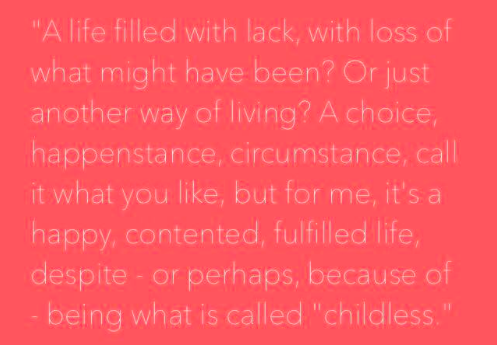 For years I have identified myself as a single woman. It's important to me this definition: singleness is, for me, a positive state, one that is not defined by a lack, by something missing, by a negative – as for example the word 'unmarried' is…

I did not make a choice not to have children, but that's how my life panned out. I don't feel a sense of loss at this, my life has been fulfilling in so many other ways. Why should I have to define it in terms of a lack? Am I a barren woman? I can't square this with what I know of myself….

A life filled with lack, with loss of what might have been? Or just another way of living? A choice, happenstance, circumstance, call it what you like, but for me, it's a happy, contented, fulfilled life, despite – or perhaps because of – being what is called 'childless.' For those of you who've doubted yourself about this, let me assure you, it's a good place to be.

– feminist writer Urvashi Butalia, for Live Mint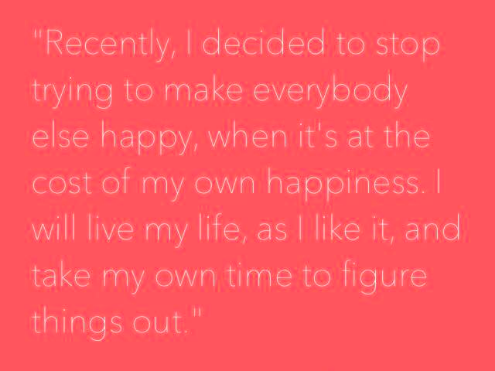 I am 28, with an MBA from a tier-1 business school in India. I am busy figuring out many things in life. What do I want? Where do I want to live? What kind of man do I want to share my life with? I have been in three relationships before and am currently with a fourth gentleman. I have no regrets that I didn't marry the three previous boyfriends because I am convinced they were not right for me. Because I happen to be the wrong gender for living life on my own terms, I am a source of constant worry and often embarrassment to the family. Recently, I decided to stop trying to make everybody else happy, when it's at the cost of my own happiness. I will live my life, as I like it, and take my own time to figure things out.

– Aruna, from Bangalore, via the BBC
Despite what Facebook or your auntie might have you think, there is certainly nothing wrong with you. You are definitely not alone.
---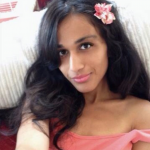 Sheena Vasani graduated with a degree in International Relations from UC Berkeley.  She is a self-described compassion, gender liberation, and mental health activist, and has worked with various social justice initiatives, including V-Day.  In her free time, she ironically enjoys exploring various religions, cultivating her creativity, and cuddling her kitten. You can follow her on Twitter and on her personal blog.