Candice Newnes is the main female character in the Solskrit musical "ROARRR: A King Lost in Time." She plays the character Mayika, which is based on Nala from the "Lion King." Newnes is a talented actor and dancer, and her passion for the performing arts began when she was just a child.
Newnes began her journey to the stage in Bombay and Dubai. In elementary school she "jived" with her family to music on the radio, and in high school she formed her own dance group with friends. The group would go on to perform for Sony promotions, and she would even grace the MTV Asia stage with her performance of the boy-band classic "Bye, Bye, Bye."
Although Newnes was passionate about dancing, her parents were passionate about her studies.
As a child I was not discouraged to dance, by my parents. However, I wasn't allowed to take other dance classes to satisfy my interest. 'Studies come first,' is something I always heard at home," Newnes said. "I regret not learning dance in a more serious capacity as a child."
At the age of 17 Newness immigrated to the U.S. to attend Notre Dame University in California. The pull to dance was not left behind. She began to experiment with different styles of dancing such as, Cuban salsa and Bollywood.
The budding dance sensation would go on to find Solskrit in San Francisco. Solskrit is an Aditya Patel company, which produces Bollywood musical stage performances. The San Francisco based company is described as "the biggest Bollywood musical company in the U.S.," according to their website.
Newnes began with Solskrit in their initial phases with their pioneer program "Gurus of Dance."
Four years ago through the audition process, I began dancing as a 'gSquad Professional Dancer,' with Solskrit. This is when I started to learn Bollywood dance for the first time. It was new and challenging, which is what sparked my interest," Newnes said.
Recently, Newnes has taken on more responsibility within Solskrit. Along with performing in the company's latest production "ROARRR: A King Lost in Time," she is the lead costume designer and partakes in the script team.
It definitely kept me on my toes at all times, with dance rehearsals, acting rehearsals and all that goes into costume coordination," she added.
The inspiration for the story "ROARRR" is based on comes from the quintessential timeless classic "The Lion King." Remaking this story into a Bollywood musical was part Newnes's ambition, but it was more so her task to elevate the story through costume creation.
There was a lot to take into consideration, varying dance styles, what each dance was meant to portray, the scene it was part of and the space for creativity and fusion," said Newness. "It was fun designing the dance costumes, I enjoyed taking the liberty of not being limited to the traditional dance costume styles. The actor's armors are designed by an artist in India. The coordination with our tailors in India was the greatest challenge."
Her enthusiasm for "ROARRR" comes from the special way Newnes relates to the character Mayika she portrays. As a child Newnes did not fit into the mold of "girly-girl," she loved to be outdoors competing with her cousins and roughing it out.
I was ready to play pranks on teachers and paid the consequences for it proudly. As an adult, I find myself quite vigilant for "doing the right thing" and looking out for the needs of the majority," said Newnes.
Her outlook is paralleled by the character Mayika's viewpoint on life. Within the play Mayika is the general's daughter, she is a strong, intelligent, independent and childhood friend of the Prince Mahaveer. Newnes's character similar to the character she is based from Nala must find the king-to-be and bring him home to save his people.
Newnes plays her part with fervor and vigor. She lights up the stage and inspires us all to follow our dreams. Her advice to BG readers who may be looking to get into the performing arts is to simple, "follow your heart and do what makes you happy."
When making difficult decisions, I always ask myself if I would regret my decision. If not, then I jump with both feet. That's my advice — do what makes you happy, even if getting there is scary, vulnerable, anxiety provoking and the most difficult thing you'd ever do. It's going to be worth it to look back and see what you've accomplished," added Newnes.
The multitalented Newnes leaves us all with final thought by Mark Twain:
Twenty years from now, you will be more disappointed by the things that you didn't do than by the ones you did do. So throw off the bowlines. Sail away from the safe harbor. Catch the winds in your sails. Explore. Dream. Discover."
About Solskrit: 
Solskrit – a San Francisco Bay Area company focuses on producing extravagant high quality Bollywood Musical productions. Solskrit is the new venture from the experienced team of Gurus of Dance who are very well known for producing 8 sold out Bollywood Musicals over the past 3 years.
ROARRR premiered in the San Francisco Bay Area in March 2014, and will be back March 2015! If you are looking to be a part of the Bollywood musical, email talent@solskrit.com,  or call (408) 874-6750. Auditions will be held on November 15!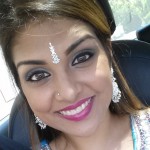 Kamini Ramdeen is quite astonishing. She graduated from Saint John's University with a B.A. in history, is best friends with Beyoncè, and has tea with MIA on the weekends. Maybe not that last part, but when she is not day-dreaming of ridiculously funny stories, and using her crafty clever humor to capture the hearts of millions, she is editing content and creating graphics for Brown Girl Magazine and India.com. She also strategizes SEO for kicks. Follow Kamini on Twitter for her daily observations of the wonderfully bizarre City of New York.