by Akansha Agrawal
One Saturday evening, I was walking to my favorite juice shop, Project Juice, looking for a mid-day snack. The sales lady convinced me to try their turmeric milk and I willingly obliged.
I walk out the door, take my first sip, and feel a surge of nostalgia, like I was being brought back to my childhood. I let the flavor linger for a minute before I finally realized "Whoa, this tastes just like thandai!"
Thandai is an Indian beverage that's made from milk, almond, sugar, and spices like saffron and cardamom. It's commonly served at the Indian festival of Holi. The traditional version is rich, creamy, and, let's be honest, not very healthy. So after tasting this version at Project Juice I was excited to realize that it's possible to make a healthy version of thandai.
I immediately called my mom to explain to her what I had discovered. I was telling her that instead of paying $10 for a bottle of juice, we should make it together.
So we did.
The traditional version doesn't have turmeric but I added it anyway (especially since turmeric is all the rage these days).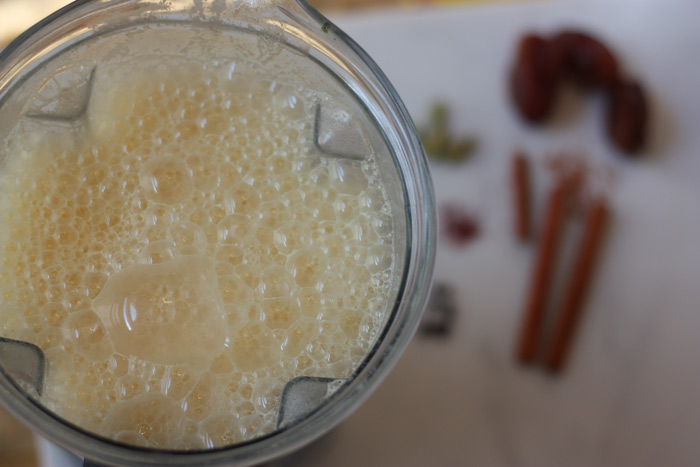 Ingredients:
1 cup of almonds, soaked overnight
4 cups of water
5 medjool dates
2-3 cardamom pods, ground
1 tsp of turmeric powder
½ tsp of cinnamon
Dash of black pepper
Pinch of saffron
Instructions:
1. Place your almonds in a large bowl and fill it with water. Soak them overnight to allow them to sprout.
2. The next morning add your almonds and about a cup of water to your blender and start pulsing. I like to add the water a little at a time to gauge the creaminess of the milk.
3. Blend the rest of the ingredients while slowly adding more water.
4. Strain the mixture using a cheese cloth or nut milk bag over a large pot or bowl.
5. Pour the milk back into the blender to help serve.
6. Add some ice & garnish with crushed cardamom and a pinch of saffron!
You can use the leftover almond meal to make a lighter version of the thandai by adding it back to the blender with more water. Or you can use it to top off your oatmeal, add it to a dessert, or like me, eat it plain.
The thandai should stay good for up to a week refrigerated. Try it out and let me know what you think!
[All photos are courtesy of Akansha Agrawal.]
---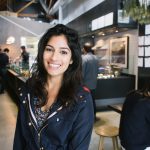 Akansha Agrawal is the creator behind the blog Citrus & Gold. Her goal is to inspire people to live a bolder, happier, and healthier life. She lives in San Francisco and enjoys running half marathons, going on scenic hikes, and finding new healthy restaurants. You can find her at @citrusandgold on Instagram & Twitter.