This post was originally published on our partner website India.com:
Malala is now a name, and face, that is recognized around the world. But where did the name come from?
"He Named Me Malala," a documentary film about the life and family of Malala Yousafzai, opens with an answer to this very question. The audience learns of the tale of Malalai, a fierce female warrior who inspired soldiers on the battlefield centuries ago.
What unfolds over the next hour and a half is a rare and intimate glimpse into the Yousafzai family, both as they live presently in the U.K., as well as the course of events that led to the Taliban's attack on Malala in 2009.
With a mix of animated anecdotes and documentary-style interviews, the audience gets to see a side of Malala that has never been portrayed before. Her brothers tease her, the family plays card games together, and Malala is seen studying (and also fangirling over her celebrity crushes, Brad Pitt, Roger Federer, and more)—in essence, she is a normal teenage girl. On the other hand, she is the Malala we have come to know, giving speeches at the UN and visiting schools in rural areas of Africa.
On a parallel track, Malala and her father, Ziauddin Yousafzai, talk about her childhood and early teen years. Malala shares her story with the kind of humility that is not only rare for someone her age, but also comes with a deep sense of gratitude, passion, and strength. What becomes especially illuminated is a special bond between Malala and her father. Not only does she have him to thank for her name, it is also clear that he instilled important values in her about everything from religion to education to women's empowerment.
In the present, we see him accompany her to most of her public appearances, often looking on with a glowing smile—a silent rock who keeps Malala steady and grounded. We even get to see hilarious moments between the two, such as Malala teaching her father how to use Twitter, as well as quiet, reflective moments when the two travel extensively together.
In covering past events, we learn about Malala's parents, the family's history in Pakistan, and their fight to raise their voice against the Taliban's oppression—an aspect of Malala's story that is both profoundly interesting and incredibly heartwrenching. It is especially nice to hear from and see Malala's mom, Toor Pekai Yousafzai, who is softspoken, strong, and supportive of both her husband and daughter's activist roles. We also learn of Ziauddin's history as a public speaker and writer—one that comes in the face of a speech impediment that he faces honestly and modestly. It comes as no surprise, then, that Malala is able to write and speak so eloquently for the many causes she continues to further. It is also interesting to learn of accusations of Malala being a puppet for her politically-inclined father. Though only touched upon briefly, and vehemently denied by both Malala and her father, this notion lingers when the audience hears from people in Pakistan who find issues with Malala's celebrity status.
"He Named Me Malala" is an important film in so many ways. It illuminates the story of a young teenage girl, the history of a country in conflict, religious barriers to education and modernization, the haunting sadness of being separated from one's home, and the priceless bond with family—all of which are relatable to all of us on some level. It is here that the film's strength lies: universal themes that go beyond the tragedy of Malala's story, instead telling a story of resilience, faith, and strength.
What stayed with me, however, is the way the film unpacks Malala's now commonplace international image. In the end, the film asserts that she is just another girl—one whose story is important not because it is necessarily more unique or tragic than others, but because she made the choice, and was given the platform, to raise her voice.
Really, what lingers though, is the problematic Western obsession with Malala as an icon. By interspersing imagery and clips from her work in Africa and her speeches at the UN and the Nobel Peace Prize ceremony, the film both reinforces these narratives while also trying to convince us just how ordinary Malala is. As a country that actively participates in drone strikes, military operations, and problematic policies in the region, it feels dishonest to sit in a theater and watch a young teenage girl become the face of a movement to empower the people depicted to be suffering in those very regions—as if our support of the education of these young women is supposed to make up for our intrusive impositions of ideologies, policies, and practices in a part of the world we do not seek to understand or get to know.
The work Malala is doing is valiant, but at times, feels out of touch with the communities back home she hopes to empower. By being geographically and (personally) isolated, it remains unclear how much her important international initiatives around education and the empowerment of girls in Pakistan is having an effect on the communities she was forced to leave behind. One wonders too, how these initiatives impact those around the world that live in countries and under the influence of religions and cultures that just do not permit education for women—are those communities, their leaders, their people being brought into the conversation? Are their concerns, difficulties, or desires for change being taken into account?
In today's age, it continues to be difficult, perhaps, to separate public and private selves. Though moving and inspiring in so many ways, "He Named Me Malala" feels, at times, like a paradoxical justification for Malala's status as a world icon. She is just an ordinary teenager, and yet, she is remarkable; she has a wonderful family and strong ties to her culture, and yet, back home, she is targeted, and seen as a figure that is no longer attached to the bonds that once cultivated her very being.
The film, overall, is a valiant attempt to shed light on Malala's life, both personal and public—and it does so well. One wonders, however, what the future holds for Malala, both as an activist with worldwide recognition and as an emerging young woman.
---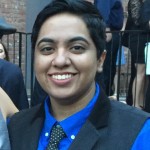 Priya Arora is a queer-identified community activist, writer, and student. Born and raised in California, Priya has found a home in New York City, where she is currently pursuing a Master's degree in Counseling Psychology at Teachers College, Columbia University. Priya's passion and research lies in capturing and fostering the needs and experiences of South Asian American LGBTQ people, with a mental health focus.