by Queenie Shaikh – Follow @browngirlmag
He survived a killing curse, chose love over hate and defeated the most dangerous guy in the magical world. Harry Potter, the boy wizard, has captivated audiences since "Harry Potter and the Philosopher's Stone" was released 20 years ago on June 26 1997. It's now even offering translations in over 73 languages, making it the best-selling book series of all time.
When the books and movies collectively came to an end in 2011, the world of witchcraft and wizardry was kept alive through J.K Rowling's fan-site, "Pottermore". Magic then sprang into action once again with the introduction of the sequel play, "Harry Potter and the Cursed Child" and prequel movie, "Fantastic Beasts and Where to Find Them."
This sense of improved exhilaration made me, a longtime Harry Potter nerd, wistful for the original manuscript, as I skipped down Piccadilly Circus in London to join hundreds of fans flooding into Waterstones for a reading of the "Philosopher's Stone," the environment reminiscent of all the previous midnight releases. I urgently wanted to find out how the books would now affect me as a grown-up, and as I settled down for an evening of longing and nostalgia, some valuable conclusions were reached.
First of all, the series stir our collective imaginations. Until the books came to life on the big screen, Rowling allowed us to run wild with our thoughts—creating characters, spells, Hogwarts and creatures through the mind's eye.
Harry Potter still holds the power to make people read, and technology takes a backseat. Whether it was via Hermione's intelligence or Dumbledore's wisdom, the significance of knowledge was always evident.
Rowling's message of hope is unmistakable throughout the seven books. The young wizard lost his parents and several people who were closest to him. He had every chance of being killed by Voldemort, yet hope for a brighter future kept him alive.
The influence of true friendship is the backbone of the series. Together with Ron and Hermione, Harry was able to tackle every predicament.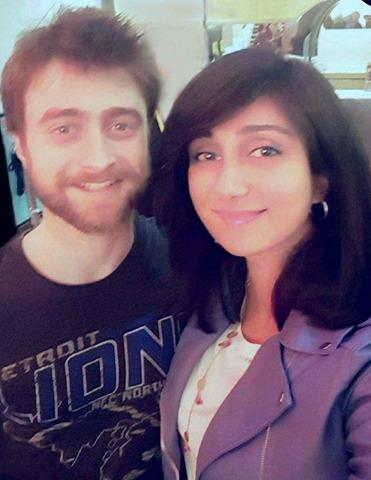 [BG's Queenie with Daniel Radcliffe.]
With so many other such reasons to commemorate, it's not surprising that venues all across the world are celebrating the release of the first Harry Potter book. Facebook and Twitter have also jumped onto the bandwagon and introduced special effects for users as a way to thank author J.K Rowling for instilling hope into people, and making them believe in magic.
---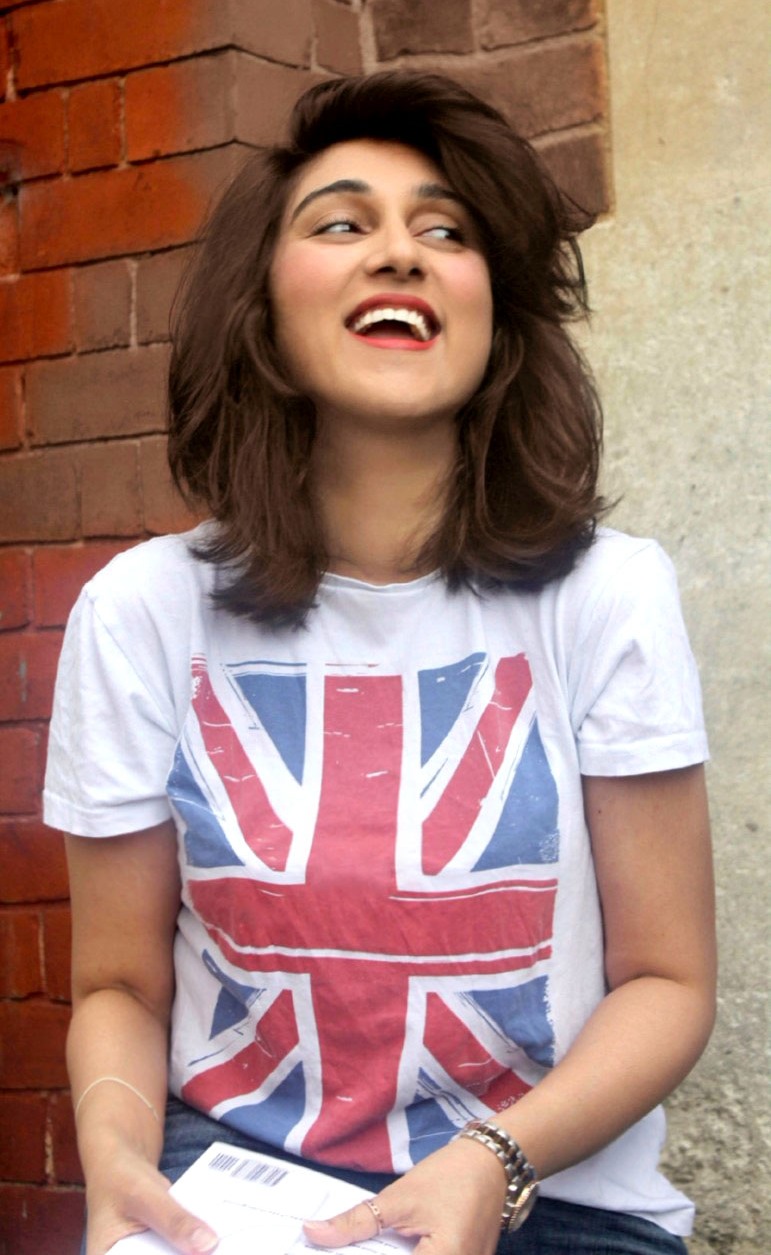 Desk bound by day and travel bound all other times – Queenie thrives on her weekly dose of biryani and chilli paneer. She recently released her first book called The Poor Londoner, which talks about comical expat experiences people face worldwide – as well as her own as a Londoner. Currently a Postgraduate at the University of Oxford – she is further pursuing her passion for Journalism and Creative Writing. Queenie is often found photographing the streets of London; is a huge fan of leather jackets and red lipstick, frequently binge-reads the Harry Potter books and loves cuddling furry little animals. She can be found on Facebook and Instagram.