Film: "Happy New Year"
Director: Farah Khan
Starring: Shah Rukh Khan, Deepika Padukone, Boman Irani,  Abhishek Bachchan, Sonu Sood, Boman Irani, Vivaan Shah and Jackie Shroff
Length: 180-minutes
Rating: 3 out 5 stars
The big Diwali release of 2014 was Farah Khan's "Happy New Year," starring her golden boy, Shah Rukh Khan. After making magic with "Main Hoon Naa" and "Om Shaanti Om" the dynamic duo was back at it again to provide us entertainment, excitement and laughs in this typical over-the-top masala high-energy caper.
The film follows Charlie, played by King Khan, in his mission for vengeance from the scheming and wealthy tycoon Charan Grover, played by Jackie Schroff. Charlie's revenge is personal, as Grover is the man responsible for framing and imprisoning Charlie's father. After years of research and deliberate planning, Charlie feels ready to make his move, the ultimate grand heist of diamonds that Grover will be storing at his hotel, Atlantis, in Dubai.
However, Charlie obviously cannot do this task alone, so he assembles a motley crew of misfits, including safe-cracking Boman Irani, bomb-master Sonu Sood, drunkard look-a-like Abhishek Bachchan, and computer-hacking Bollywood newcomer, Vivaan Shah, son of theater legends Naseeruddin Shah and Ratna Pathak. Each member brings his own skill set, thereby making Charlie's plan as fool-proof as any Bollywood film allows it be, until there is one catch. In order to get into Atlantis for the day of their attack, the boys must be involved with the major event occurring there—the World Dance Championship.
Into their lives strolls sexy bar dancer Mohini, played by Bollywood's latest sweetheart, Deepika Padukone. Mohini knows nothing of the revenge plan, but is eager to showcase her dance skills on a national level and so agrees to coach the boys. What follows is their hilarious, blunder-filled journey into the dance world and Grover's locked up diamonds.
The film is quite hilarious and should be taken at face-value as a comedy even though it has prominent elements of action, mystery, drama, patriotism, and of course, pyaar. At its core "Happy New Year" is a quintessential underdog story, as Charlie's team is an underdog in both getting revenge and in competing in the World Dance Championship. All the members of the crew are "losers" in their own sense, whether it be Mohini as the poor girl who had to go into bar dancing or Tammy (played by Boman Irani) who is a middle-aged Parsi bachelor living with his overprotective mother. "Happy New Year" represents their passion and determination.
The acting, song, and dance are standard fare in this film. There is nothing too spectacular or out of the ordinary. King Khan does sport a—dare I say—eight-pack, however, and Sood is no eyesore either. All the actors deliver well when it comes to comic timing. Irani lives up to his previous funny roles. Shah also does well for himself. Bachchan's role is a bit too facetious and minor for an actor of his caliber, but he manages it just fine.
As a comedy though, the film spends too much time with its action sequences. The entire movie is a whopping three hours, much of which could have been cut down without the excessive fight scenes. Towards the middle, the film begins to drag on. You are never sitting there too bored, per se, but it still would have been a more enjoyable experience had it been at least thirty minutes shorter.
"Happy New Year" knows what it is: a stereotypical blockbuster masala film with little grounding in reality. It's like a mash-up of "Ocean's 11," "Mission Impossible," and any dance movie ever created but with a desi twist. "Happy New Year" has the potential to flail miserably and become an awkward and overused cliché. It is only its self-awareness that saves the film. "Happy New Year" does not take itself seriously, full of quotes from older SRK films and cheeky dialogue. There's even some silly animation. The movie does not pretend to be slick or cool, but rather banks on its irony. This allows the viewer to enjoy the movie guilt-free. You and the movie know that it's kind of ridiculous so there is no self-deprecation to make you feel like you're willingly engaging in something so crazy. The effects and action are loud and so is the comedy.
"Happy New Year" is like that obnoxious, gaudy dress that you have to buy even though you know you will probably only wear it once. That dress, however, serves a good purpose. It's perfect for that one night or one party, but after that it will go into the depths of your closet. You might be a little embarrassed about wearing it, but you will get over it, because you know how much pleasure it gave you for that short period of time.
"Happy New Year" is a fun, lighthearted Bollywood blockbuster film for the holiday season. It makes for a fun afternoon spent at the theater (with popcorn, of course) with your family, but not much more beyond that.
[divider]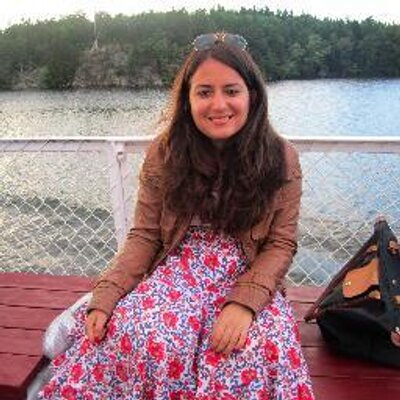 Saumya Bhutani is a recent graduate of Vassar College, where she majored in history and minored in biology. She wrote her thesis on the relationship between beauty ideals and the changing roles of women in India in the late 1970s. Saumya is an aspiring physician, but also considers herself a history aficionado and pop culture junkie.