by Soni Satpathy-Singh and Nur Kara

A "pick-up line" is known as a conversation opener, with the intent of romantically engaging a new encounter. Some pick-up lines may go well, proving clever or smooth, and ultimately leading to more elaborate exchanges. Others may not, deserving a slap or a slur.
What makes "South Asian pick-up lines" different, however, is that it is always ingenious! A precise combination of masti and masala, you have the ability to make your darling's desi-est of dreams come true, but be prepared for adverse reactions. We, South Asians, know how to put players in their place.
This upcoming Valentine's Day, feel free to use our guide for the greatest South Asian pick-up lines and tips on when and how to use them. Good luck and don't worry—if at first you don't succeed, there's always shaadi.com.
If you're aiming for cute and innocent, try:
"Go out with me and you won't be sari."
or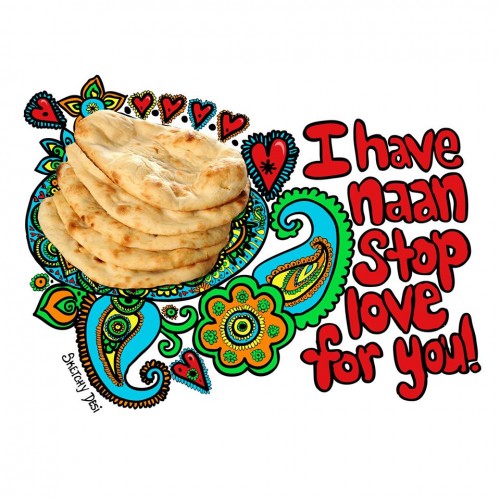 When you're looking to come off as both classy and quick-witted:
"You put the desi in desirable."
or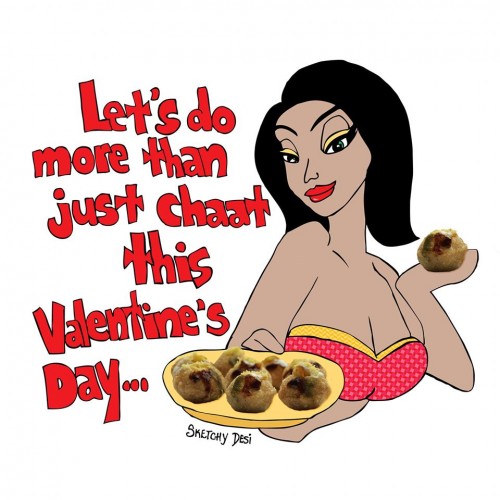 If you're brave enough to risk a slap in return, possibly in public, along with his/her friends' eternal disapproval, go for:
"Are you from India? 'Cuz I'm trying to get In-di-a pants."
For a combination of starved and sensual:
"Do you like raita? 'Cuz I'd like to get raita up on you."
or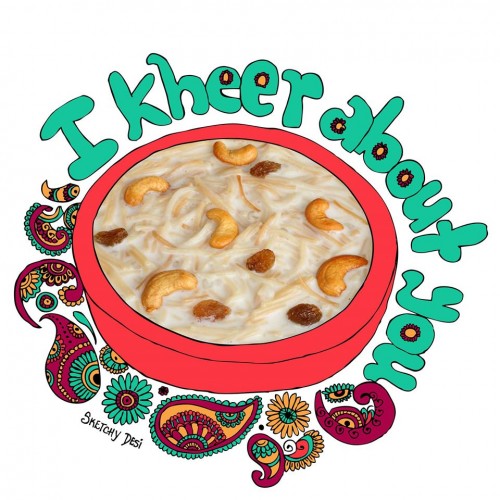 If you're okay with being a grimy Gujju, try:
"Let's have some majama in my pajama."
If you're okay with stereotyping a Bengali:
For when you're shamelessly single:
"If you like bananas, come with me, 'cuz I'm akela."
From a hardcore non-veg to a devout veg, these may help (or hurt) your case:
"Hey do you eat a lot of eggplant? 'Cuz that body is bengan!"
or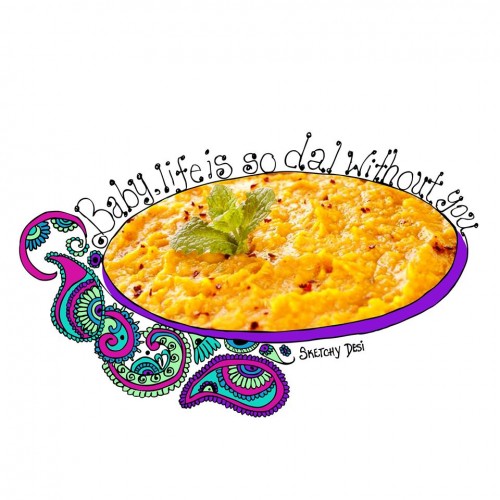 For the heartfelt poets in theory, but not quite in practice:
"Twinkle twinkle little star, will you be my pehla pyaar? Up above the world so high, I'm not even scared of your bada bhai."
And, of course, for the halal homies who also 'gotta get some':
"I need to break my fast. Can I have a date?"
"After seeing you, the first thing I said was Mash'Allah. The next was Insha'Allah!"
"Hey, girl. When I first saw you, I was like? (pronounced like "woah")."
*Looks around girl's hijab* "Sorry, I was looking for the made in jannah tag."
"Hey I just met you, and this is crazy, but here's my dad's number, so call him maybe?" #nikkahtime!
Sketchy Desi created these images in honor of love and Valentine's Day. If interested in purchasing the images on cards, T-shirts, mugs, platters, pillows—just about anything—contact Soni@SketchyDesi.com.
*Sources: Pick-up Lines Galore
[divider]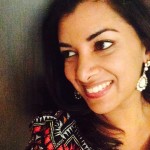 Soni Satpathy-Singh is a recipe writer and developer who resides in Manhattan. She is either always cooking or eating be it for work or simply because she loves to! She is working on her own cookbook and also recently created "Sketchy Desi" which provides daily humor, greeting cards, and apparel that celebrate brown culture. To see more of Sketchy Desi's work, visit SketchyDesi.com or stay tuned to upcoming posts on Brown Girl Magazine.
Nur Kara is a medley of Indian ancestry and East African heritage, though also carry the labels of "female," "Ismaili Muslim," and "first-generation American." Being part of refugee history and having lived through these various lenses inspires her to similarly share in others' stories. A self-coined "skeptiste," she questions the uncommonly questioned.