I have many brothers. Unfortunately, most of them live in different states and countries. It would be great to spend time with them like most siblings and cousins do, but with the distance it is near impossible. Despite the distance we manage to keep the Rakhsha Bandhan tradition alive, with the help of the US Postal Service and social media.
We can all log-on to Facebook or Instagram and dedicate a post to our loveable brothers, but why not take it a step further?
Every year, my mother and I go on a hunt through the Desi market in Edison, New Jersey, and sort through the thousands of rakhis to find the perfect ones for the brothers who have always done so much for us. Picking the right rakhi for a brother is so important. First of all make sure it is something he will love (believe it or not some of my brothers send me specific details on how they want their rakhis to look), also keep in mind that it is important to get a rakhi that is not delicate enough to break on it's journey to your brother's place. Going to the Indian market as early as possible is extremely important because the last thing you want is to have to settle with broken and torn left-over rakhis from crazy weekend sales.
After I find the perfect rakhi I usually go online and find the perfect Rakhsha Bandhan poem to accompany the rakhi. Yes, it is extremely cheesy, but it is a cute gesture. A cool idea I picked  is, to print borders along the edges of the envelope for a more festive look.
Since sweets are one of the biggest factors of any Desi holiday, I choose small individually wrapped pieces of candy to throw into the envelope (Jolly Ranchers have always been a crowd pleaser). After gathering all of the important pieces of the rakhi package I always mark the outside of the envelope with the word "FRAGILE" in huge bold letters, because the last thing I want is for the rakhi to fall apart before reaching it's destination.
Last but not least, it is important to prepare the rakhis and mail them way ahead of time. This way my brothers receive my tokens of love and appreciation either before Rakhsha Bandhan or the day of, and I always follow up with a phone call to ensure that they have received it. Thankfully, with the help of ForeverRakhi.com, my job as a sister has become a lot easier.
A sister's love for her brother lasts longer than a day…so, why shouldn't her rakhi? Forever Rakhi is a chic, customizable line of men's bracelets that will always remind a brother of his sister's affection. Follow @ForeverRakhi
[divider]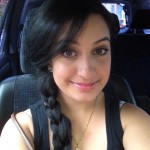 Trisha Arora is a 21-year-old aspiring journalist and broadcaster from New Jersey. She has a  passion for Punjabi culture, more specifically, Bhangra. Currently Trisha hosts her own weekly show on Radio Asia called Bhangra Beats, manages her own blog, hosts events and writes for record label E3UK, and contributes to Brown Girl Magazine. Follow Trisha's journey via Twitter or Instagram.