by Duriba Khan 
This post was originally published on our partner website India.com.
No, I don't want to watch your dance to the Pussycat Dolls' edition of "Jai Ho."
No, pedicurist, I would not also like to get my legs waxed. I'm not exotic.
I can't cook. My eyes water when I eat anything close to spicy food.
Rotis taste like Play-Doh to me. I'm also not a pre-med student, and the closest thing I can do to make chai, uncle, is buy you one at Starbucks.
I also don't care about my skin color, so stop reminding me it's beautiful and that I don't need Fair and Lovely.
This week's episode of the American Desis Podcast, "What is Love…Bollywood Style," really hit home for me, as it entailed a deep ponderation of every one of the remarks etched above's connotation. It discussed issues that roamed the gullies and ravines of my mind, from queers in the desi community, the ideal Bollywood heroine, to defining what the "girl" in BrownGirlMagazine means.
Part two of the episode begins with a reintroduction to Brown Girl Magazine's prime representatives Trisha Sakhuja and Kamini Ramdeen, then it dives straight into the questions from co-hosts Arjun Gupta and Akaash Singh.
The first topic discussed is one that is nearly taboo in the desi community: homosexuality. On June 26, rainbow glitter littered the streets, boas were flung across shoulders, and tears of joy dripped off faces. This was the day gay marriage was legalized in all fifty states of the U.S., the day my Daadi's "NAHIIII" was heard around the world.
Since the legalization of gay marriage and the social media outpour with #LoveWins, many South Asians in the Diaspora have expressed conflicted feelings about homosexuality. On this, Ramdeen said, "For them [immigrants], love is black and white. There is no gray area."
But regardless of how the Indian government pushes anti-gay laws, Bollywood is pushing the envelope by casting many gay characters, Sakhuja said. And of course, enter talk of successful director Karan Johar, who openly depicts gay behavior but publicly denies homosexuality.
In our world today, homosexuality and feminism go together like Raj and Simran, so the conversation moved on to the latter. When asked about Brown Girl Magazine's identity as a "feminist" magazine, the girls beautifully laughed then proudly remarked that "yes, Brown Girl Magazine is a feminist magazine, and there's NOTHING wrong with that."
The editors go on to speak about their upbringings and the role Bollywood has played in their lives.
"When I was growing up, I was watching a lot of Bollywood," Ramdeen said. And why wouldn't she? Bollywood is a wonderful place with colorful scenes, upbeat songs, and the tingly feeling it sets in our stomachs. It can light fires. But does Bollywood create immaculate expectations for relationships? Is Bollywood's perception of love and timeline tantalizing with reality?
The questions above truly opened my eyes to the actuality of "love," and made me realize that I am probably not going to meet my soulmate dancing on a university lunch table with a fan blowing locks of my hair onto my face.
The episode then advances to an in-depth conversation about growing up as a South Asian woman in America.
Sakhuja begins by explaining her upbringing: "I pretended that I was Christian for a long time. I didn't know what it meant to be Hindu."
She added: "I tried to skip gym class because I was hairy. I grew up with a unibrow and my mom was not okay with me getting my eyebrows threaded."
I couldn't help but relate to nearly every point. I don't think any brown girl has ever been excused of the hairy gene that runs deeper than our love for Shahrukh Khan. Why must we be ashamed of the growing of hair like a garden on our skin? Why must we try to shorten the length and hide the blackness of it when it's done nothing but hold us when the world demanded we change our body for the sake of "femininity?"
---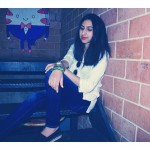 Duriba Khan, or "D-Dawg", is a sixteen-year-old blogging, vlogging, photographing, filmmaking, sketching geek who enjoys long, romantic walks to the refrigerator. She is half-Pakistani and half-Indian, and currently resides in Austin, Texas. Duriba also feels uncomfortable writing about herself in the third person. For more of Duriba's work, check out her blog.