No matter age, location, or culture, everyone has their own coming-of-age tale, with a lot of similarities. And while a clash between Indian and American values may not echo everyone's journey to adulthood, the trailer for the new film "Growing Up Smith" proves its coming-of-age story comes with a lot of relatable experiences.
Set to be released February 3, 2017, the film follows a boy, Smith, as he navigates growing up in small town, America, with traditionally Indian parents and a desire to experience more and more quintessentially "American" pastimes.
The trailer shows us Smith adorably dancing to "Saturday Night Fever," complete with the John Travolta white disco outfit, while falling in love with the girl next door, Amy. Smith also begins to bond with Amy's father Butch as he takes Smith on traditional American father/son trips, all while Smith juggles teaching his own father American activities.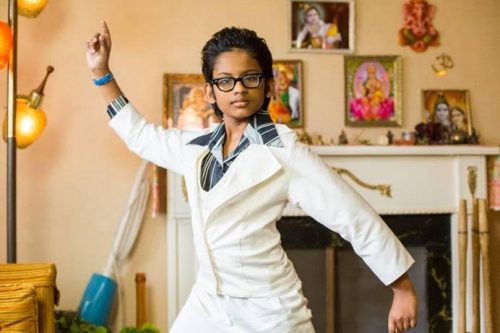 We also see a possible divorce between Butch and his wife, with Butch and Amy's departure causing Smith to possibly chase after his love and American father figure. Judging by these conflicts, we're likely to see some major tension in Smith's relationships – which family life and culture is he more interested in? His own Indian customs or the new, exciting American experiences?
The cast in the film is made up of some of a few great Indian character actors including Samrat Chakrabarti as the older Smith, and "The Night Of" star Poorna Jagannathan as Smith's mother Nalini. The film also features the hilarious Jason Lee as Amy's father Butch. But the one to watch has to be Roni Akurati as the young Smith.
From the trailer alone, Akurati displays innocence, charm, a wide-eyed excitement for the American way of life he has still to experience, as well as depth and emotion in the tough moments of Smith's childhood. If his performance from the movie is half as good as the trailer, this is a kid to watch in the future.
Check out the film's first look above, and set a notification on your calendar now for February 3, 2017. "Growing Up Smith" is sure to be a guaranteed great time at the movies.
[Poster & Image courtesy: Good Deed Entertainment]
---
Born in Texas, went to college in Missouri and now living in New York City, Keertana Sastry has a unique perspective on being Indian in different parts of America. Keertana has been working as both an entertainment, culture and lifestyle reporter, as well as a casting assistant for the film and TV industry. She loves to infuse her Indian heritage into her work and life.