by Dhara Singh – Follow @BrownGirlMag
This post was originally posted on dharasingh.org and republished with permission.
If you are like me then you watch Globe Trekker and secretly wish you had the traveler's job. You also sit at your office desk and scroll down your Instagram feed only to see your friend's having the time of their lives abroad.
Well there is a solution: Just schedule a few days off now and go on that trip of your dreams. If your  job pays for your bills it can pay for that trip. It's all a matter of action, so why wait.
When I set my mind on Greece, I didn't necessarily have a buddy to go on this trip with. I really wanted to go on a solo trip through a tour venture, Globus. I love doing things alone so this was a no brainier. As I started visualizing the ideal vacation and setting out my vacation days, randomly through conversation, my best friend stated she had the same dream.
Before you knew it in a week we bought our Globus Greece 10 Day Hopper package and were booking our flights. I highly recommend if you're traveling abroad and are going to purely enjoy do it through a reputable tour company. All the hotel booking and sight-seeing they chose I could not have found on my own. There was also a grand breakfast included in the package everyday.
Athens, Mykonos including Delos, and Santorini were beautiful beyond words, but let me tell you 10 reasons why I loved this tour.
1. You meet people from all over the globe.
My friend and I were prepared for a trip to Greece to see the nation and it's culture. We didn't expect to get a taste of so many other cultures during our trip. We met a friendly group from Australia whose excitement was contagious and a Spanish mother-daughter pair who we adored. There were also several people from our own state who brought their own fun personalities and stories to the trip. It became a close-knit circle that brought you a "home" away from home.
2. It helps for someone to narrate history for you.
When I initially thought of Athens, I thought of the Acropolis. I already had images of the Parthenon planted in my mind. However, our tour guide expanded on my vision of Athens to show us other historical sites such as the Parliament building, one of the world's universities, and even the Olympic Stadium. If you aren't that familiar with the complete importance of your destination, tours help!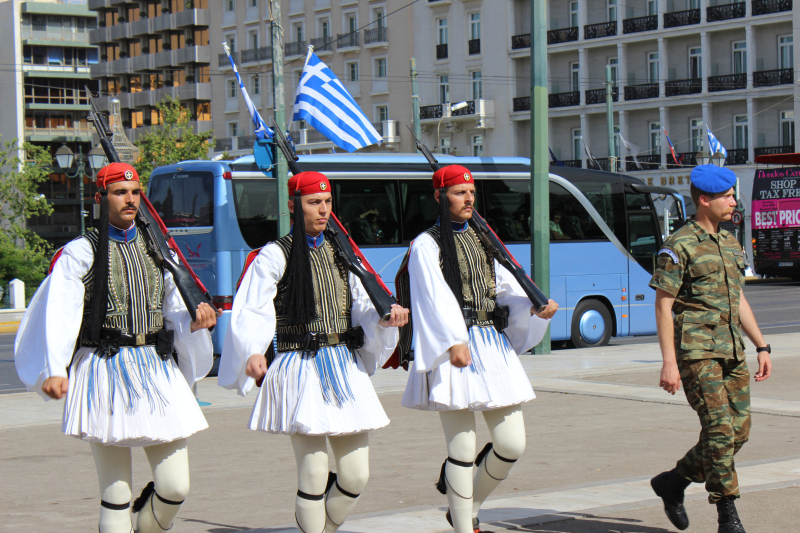 [The Changing of Guards Ceremony by the Hellenic Parliament.]
3. Tours help you segue from "historical views" to "a day in the life."
What I mean is after you get a taste of history your tour guide can recommend fun spots for you to visit. After seeing the historical sites in Athens, the tour guide recommended we check out the neighboring shops and cafes of Plaka. There we saw different crowds just relaxing sipping on their beverages in the shade. I probably had 10 frappé coffees in Athens just alone.
4. Stay in hotels like this. (No filter).
I honestly thought by the time we sailed to Mykonos we would have just brought our bags to another nice Hilton, but wow I was wrong. I didn't expect for the price I paid to stay in a resort as below.  It was so refreshing to wake up to a view in one of these rooms facing water and mountains.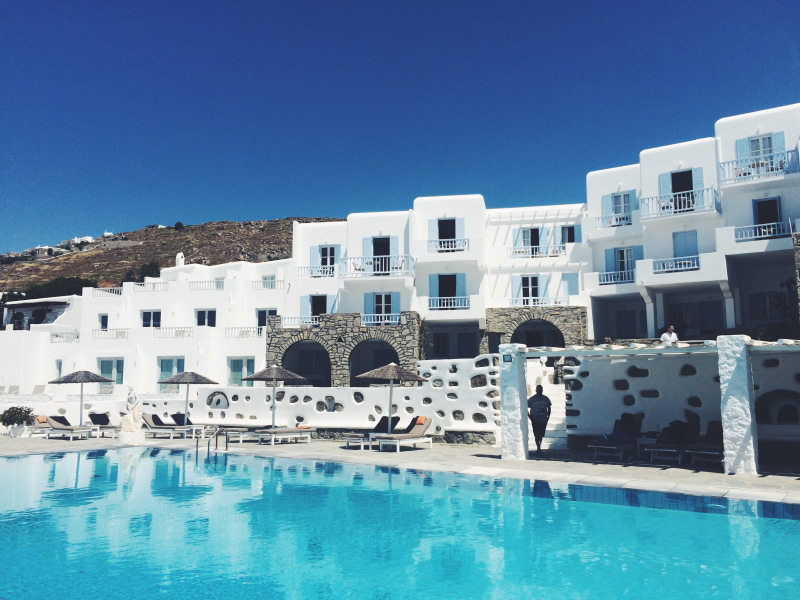 5. Eat meals with this view.
Island facing sea. Sea facing mountain.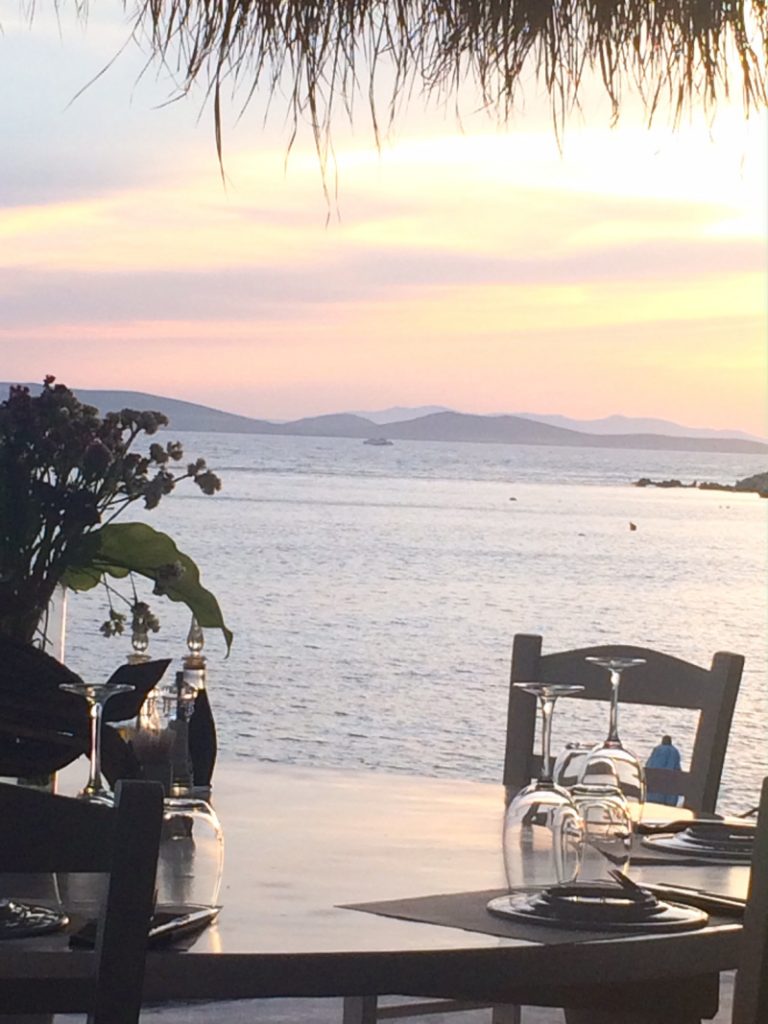 6. The only time you can be "lost" and it is perfectly okay.
When we started exploring Little Venice within Mykonos, my tour guide assured us if we were lost it meant we were exploring well. Little Venice in Mykonos town is a magical place where the floors are "cobble-stone" and all the shops are white cubical buildings that mold into one another.  All the restaurant and shop owners are friendly enough and will point you to the taxi station when it is time to depart. Coming from the United States into Greece, I was vigilant in regards to theft and talking to strangers. It might have been that I visited very tourist areas, but I was surprised that people were genuinely nice.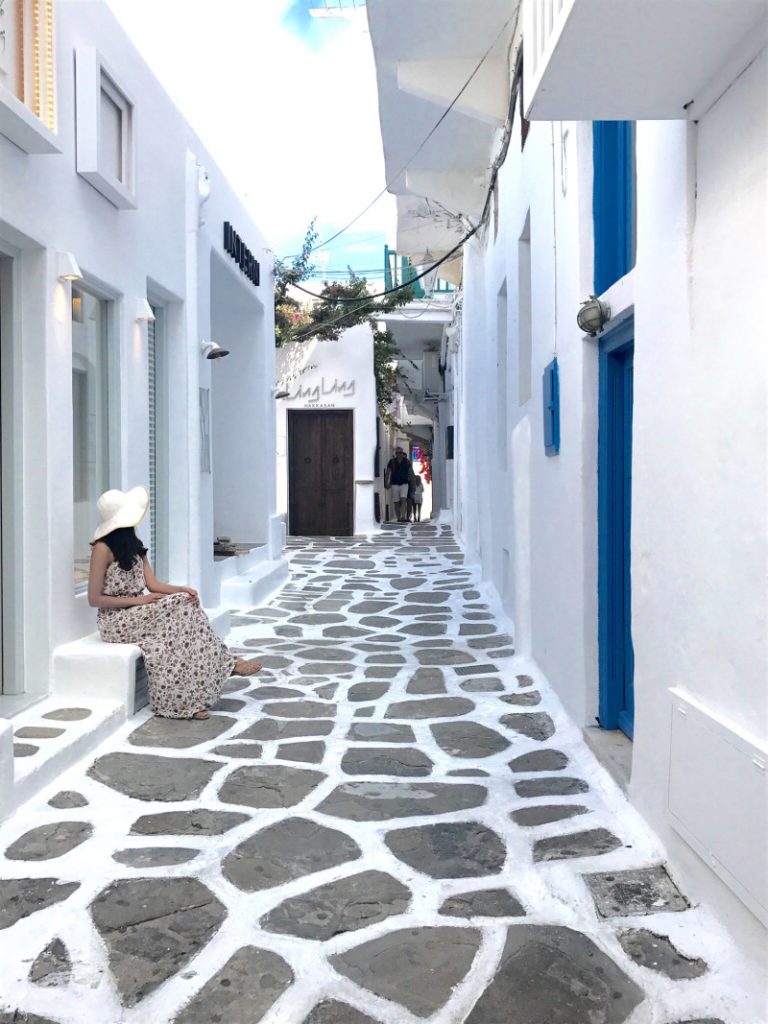 7. Excursions are optional and there is time during the tour to choose them.
The tours allow you to have a flexible experience in Greece where you can choose to relax on your own or take part in an optional tour. There was a day where our tour group went to visit Delos an island of Mykonos, most importantly known as the birthplace of Apollo. There were historical ruins dating centuries back, and I think one of the exciting parts of this tour was actually getting to Delos. If you have ever been to Six Flags with your family you might have been on the Congo Rapids ride. Well imagine having the option of sitting on the balcony of ferry speeding across the Aegean Sea to another island. There's the thrill of the winds but also the splashes of water during your commute. I'm happy we selected this excursion.
8. There is plenty of time to explore on your own and take memorable pictures. Your tour guide shows you the most picturesque views.
If you don't capture nice pictures abroad, did you really go abroad? Well, the tour group was helpful also because I remember growing up I had dreams to explore Santorini and take pictures with the white buildings and blue domes that contrasted with each other. Our tour guide led us to the most picturesque spots and allowed my friend and I to capture our dream shots of Santorini. We were even able to witness a couple taking their marriage pictures during our walk. It was absolutely breathtaking.
9. Your tour guide continually surprises you.
There is more to Santorini then just the blue domes and white buildings. There was the Santorini sunset. There was also the black sand beach where I took the best 3 hour nap of my life. The water was a bright clear blue and the sand was silky soft. I rested under a straw umbrella and had a delicious crispy chicken sandwich all made fresh. We were even able to leave our belongings and take a walk on the beach. It was safe. None of this was possible without our tour guide and her connections.
10. Your tour allows you to step out of your comfort zone.
Before the tour I never had octopus in my life. I always stuck to fish, shrimp, and occasionally fried calamari. In our tour we were taken to interesting restaurants with different dishes to taste. I tried octopus and I have to say it beat my expectations. It was delicious and I am willing to try a couple dishes here in the United States. It might not taste as well, but the fear is gone. Once you have a positive traveling experience, all you want to do is travel more!
---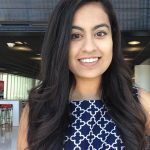 Dhara Singh is currently a private banking analyst at J.P. Morgan. While graduating in May 2016 with a Finance/Supply Chain degree Dhara also finished a minor in African, Middle-Eastern, South Asian Languages and Literatures. When she isn't spending time in the crazy world of business reporting and metrics, Dhara loves to write about everything from the most taboo topics in conservative societies to modern day issues about women empowerment. Ever since she was 7, Dhara has been keeping a journal of all her writing. Her other hobbies include re-reading/watching the Harry Potter movies, exploring the window shops of Brooklyn, and watching shows like Brown Nation, in which currently her favorite character is Balan.