by Nidhi Singh
It was 2001 when the world was gifted with a treasure beyond its time. The magic of Karan Johar together with background score of "Kuch Kuch Hota Hai" brought forth a film that consumed our everyday with lessons of self-awareness, perseverance, fighting for what's right, but most importantly, loving your parents. Ladies, gentlemen and/or which gender you choose to identify with, I present to you: "Kabhi Khushi Kabhi Gham."
Fifteen years later, I still find myself quoting Poo and the wonderful Anjali everyday. The Plastics of "Mean Girls" need to step aside because the Raichands clearly have a lot more to offer, and with such epic style! Here are some of my favorite quotables, out of the oh so many.
1. Poo Keeping it REAL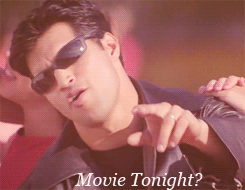 Fuckboys are a no-no. Obviously, Poo sensed early on that Robbie was not worth her time. So how else should Queen P tell off peasant Robbie?
Robbie: Hey Poo, movie tonight?
Poo: Tell me how it was!!
2. Poo's Self-Confidence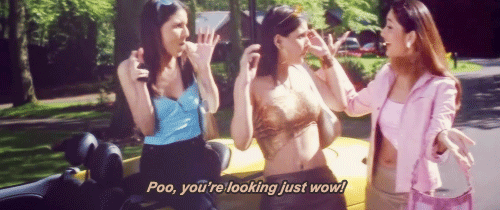 Queen P is easily the most underrated character in the gem that is K3G. It's widely understood how Poo worshipped her divine being and I think it's high time we passed that lesson on to ourselves.
Poo: But aren't I looking phat?
Sidekicks: Fat?!
Poo: P-H-A-T. Pretty hot and tempting!
*Poo and sidekicks laugh at the obvious misconception of Poo being fat. Poo's got jokes y'all.*
Poo: (Pause) What are we waiting for? Christmas?
Queen P said it here first, folks. We are all PHAT.
3. Anjali's Shayri
Let's be real. We all grew up quoting Anjali's shayri for "Ashfaq Mia" to our parents, aunties and uncles. This was the best way to impress them on how well-versed (kind of?) we were with poetry.
Anjali: Yeh ishq nahin aasaan
Bas itna samajh lijiye
Ek aag ka dariya
Aur doob me jaana hai!
VAH?!
Rahul: Vah?
Anjali: *laughs maniacally at her obvious shayri skillz*
And hello, this entire scene has quotables for days! Poor Ladoo!
4. Because it's all about loving your parents right?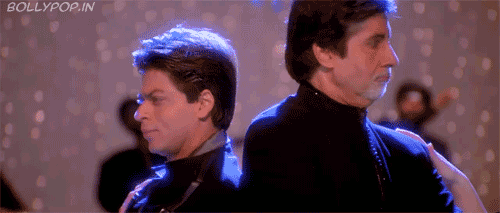 "Zindagi mein agar kuch banna ho, kuch haasil karna ho, kuch jeetna ho….."
Thank you, SRK, (or really the K3G writers) for blessing us with wise words that, in reality, are a way for us to calm down after having a major panic attack.
5. Hallelujah!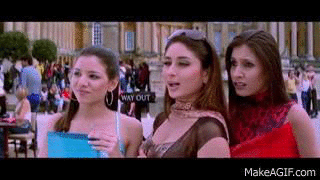 No explanation necessary. Queen P y'all.
Poo: "Prom pe main isi kay saat jaoongi."
Sidekick: "But Poo, has he asked you yet?"
Poo: "Kahaan jayega wo?"
Sidekicks shaking their heads: "Hallelujah!"
"It's Raining Men" should have been part of the official K3G soundtrack. Just saying.
6. Mrs. Sprightly
Now, Poo isn't the only one who comes with a package deal of slaying. This must run in the family because Anjali knows how to handle that next-door-neighbor of hers.
*Cue British accents*
Anjali: "Well, hello Mrs. Sprightly."
Daijaan: "Well, hello, sugar."
Anjali: "Would you like some tea?"
Daijaan: "Yes, with a drop of lemon in it."
Anjali: "And something to go with it?"
Daijaan: "Some cookies please."
Both: "Haaaaaaaaaaa choro!"
Daijaan: "Ise achcha toh humara Chandni Chowk hai!"
7. And Right After Sprightly Says Hello…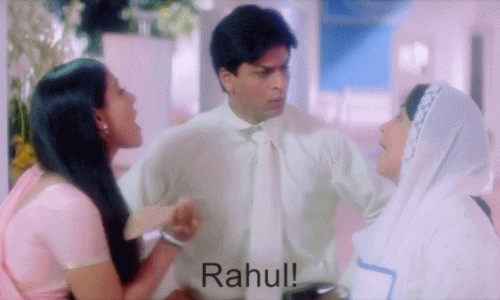 THIS hilarious moment when Rahul realizes what his sister-in-law is wearing to college for the day.
"Rahul. Take a chill pill!"
Eat those words you and Krish tried to sass Anjali with, Rahul. Eat those words!
8. "Keh diya na? Bas, keh diya." 
It's a Raichand thing. Oh, and thanks Karan Johar for making Amitabh Bachchan such a jerk in this movie!
9. Poo's Looking For 3 Things In A Prom Date…
"Good looks, good looks, and good looks!"
That sass is iconic.
10. Literally all of this.
"Bukhar nahi Ammi! Rukhsaar!"
11. Also, ALL of This.
Totally true K3G statistic: Entire scenes of this movie have been quoted in multiple households around the world.
Poo: "Mera Bharat mahan! Remember?!"
12. Was That A Joke?
"Kuch Kuch Hota Hai" throwback! Clever Karan Johar, very clever.
13. Rohan's (Adorable) Revenge
Just when Poo thinks she's finally got Rohan on the hook (and rightfully so), he plays a massive prank on her. In the end, as per usual, she gets her man. Because DUH, she's perfect. The scene is perfect for this line among so many others:
"Ouch! Gir Gaya."
14. And Finally, Let's Just Be Honest: Basically Anything Poo Says

Again, whoever wrote Poo's dialogue is obviously a genius in prose.
Happy Anniversary K3G! May we quote you (and especially Poo) forever.
[Images: Yash Raj Films; Giphy]
---
Nidhi Singh is a recent graduate from UNC-Chapel Hill with a degree in journalism and is taking this time to explore the world through photography, film, and words. She enjoys dancing, travelling, eating Nutella, and watching reruns of old "Friends" episodes (as should anyone!). Follow Nidhi on Twitter and Instagram to see where she takes her next selfeet.