by Nikki Dodani
This post was originally posted on The Nikki Standard and republished with permission.
You may have noticed a sudden spike in the number of graphic tees available in stores, online, and in Instagram posts—even in places you may not have expected! This trend is one of my current favorites because it's an exciting challenge to test how many ways a tee can be worn and how to make it look new every time: Dressing it up or down, styling it more feminine or edgy, even cutting it up to make a unique creation. The possibilities with graphic tees are truly endless.
Because they are so versatile, you can pretty much dress up your graphic tees in any way you want, regardless of what's on it. Ever thought about wearing your funky printed tee underneath your blazer for the perfect office look? If not,  what are you waiting for? If you're thinking about experimenting with your style, then the graphic tee is one that I recommend you start with!
For one tee in particular, I put together two outfits, an edgy look and a laid back vibe. Check out my looks below, and be sure to follow along on Instagram as I document additional ways to wear it.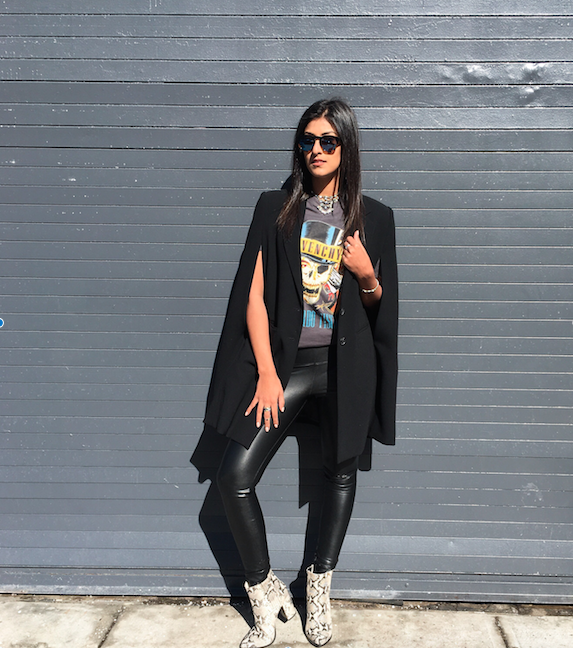 [A night on the town hasn't looked more trendy. The combination of the leather leggings and blazer, paired with an edgy graphic tee screams "fashion forward!" ]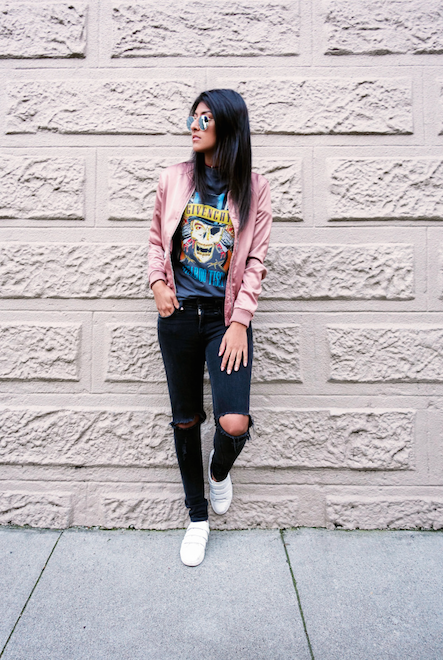 [Opt for a more casual-chic look with distressed jeans and a bomber, paired with the perfect white sneakers and tee.]
---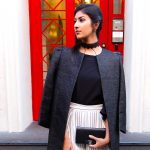 Nikki is an NYC-based blogger sharing tips, tricks, and trends with a side of sass and sarcasm. She is inspired by her Indian roots, showcasing a cross-cultural blend in her personality and style. Nikki aims to bring originality and a dash of audacity into her readers' wardrobes, giving them the courage to pull off any look. She hopes The Nikki Standard becomes a guide for all her readers to create and elevate their own style standard.