(Disclaimer: Keep reading until you sign up for the exclusive giveaway at the bottom of this post)
I am so excited to say that I tried out
Desi Chaat,
the South Asian version of Taboo, with my
desi
friends. It works the same way as Taboo – one person describes a word that is written on a card to teammates without using any of the other related words also on the card. Your teammates have to guess the word before your time is up on the buzzer.
Word you must describe to your teammates: Aunty
Words you cannot use while describing the word: Uncle, Lady, Friend, Mom
If you end up saying one of the
words you are not supposed to use to describe the word, you get buzzed and lose a point. I love the buzzer because it makes the honking sound that auto rickshaws make in India! The game is tons of fun and can be played with friends or family. It's not necessary to know any of the Indian languages fluently to play the game, but you should be familiar with
desi
culture (i.e., cricket, Bollywood movie stars, etc.) and also know some common Hindi words. One of my friends enjoyed the game so much that she borrowed it to play with her cousins. I would highly recommend trying the game out for yourself!
Desi Chaat has a lot in common with Taboo because it too comes with a buzzer, pencil, timer, a rule guide, a set of 250 cards with 1,000 different words that teach players about South Asian culture.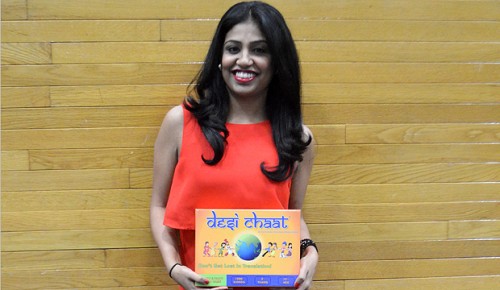 Priya Shah, Rutgers University alumna, created the game with the hopes of mixing the desi culture and trivia to an American-based game, like Taboo. After graduating in 2011 with degrees in both economics and communications, she ventured into the world of entrepreneurship by creating the company Culturally Inclined Productions. The retail price for the game is $33, but you have the chance to win the game for free by signing up for the giveaway below.
1) What was your thought process when creating the Desi Chaat game? What inspired you?
During my time at Rutgers University, I was a part of various organizations that promoted South Asian culture. We had the regular events such as the Diwali Show, a day to play Holi and the norm of other Indian Student Association events! However, while trying to think of new events we could do that would interest the students, I realized that there was a lack of games for South Asians to play and I really couldn't fathom how there weren't any. Once I saw the potential of the game and how it could bring families together and educate people, I made a resolution and set out to create it!
2) What was the purpose of the game, how did you expect people to feel about it and how have the reactions been?
I had a couple of reasons why I wanted to make this game! First off, I felt like besides Antakshari, Dumb Charades and Carrom, there really aren't games that could bring various generations of a South Asian family together. Secondly, for some reason I feel like a lot of South Asians neglect their heritage because of embarrassment, which startles me – you have the resources around you to understand a different language, different music styles, different food, to know the ways of a different land and we're pretty lucky to have that opportunity!  I want this game to shift that "ABCD" mentality (especially in children and teenagers) to an outlook where they understand the benefits and take advantage of this knowledge. What was the most surprising, was the amount of support I received and the enthusiasm behind the game! It was so (awesomely) overwhelming because I didn't know if people would take it seriously or not! The reactions have been so heartwarming! People have told me that it's bringing their family together, people are being "forced" to expand their mind while playing the game, so they are learning a lot of from it and it's bringing a lot of laughter into people's houses! It's also being played at ISA events at various colleges, so it's exciting! I think the best part is when I heard people are playing it in Gujarati, Punjabi and other languages, so it's pretty interesting to see different variations of the game being made and played. It's all about what you make out of it!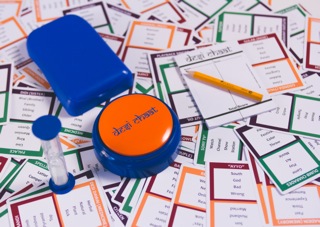 3)What was your previous professional background before creating Desi Chaat and have you faced any challenges getting the game out to the desi market?
Before the development and release of the game, I was working at a marketing firm! As for any challenges getting the game out there – I seriously owe my friends a lot, like A LOT, of advertising money (hahah). Everyone has been so INCREDIBLY kind enough to share the game via various forms of social media and introduce it to their family and friends, so it's had a rippling effect! I think credibility, especially in the beginning of a launch of a product, is extremely important! So, I owe it all to them! My next step is for the game to be available in retail stores across the states, so I'm currently studying how do to that. It's a challenge figuring it all out, but I hope it'll make it to shelves soon!
4) What is your advice to Brown Girl entrepreneurs like yourself?
Faith, a proper support system and sacrifice! If you're starting something new, faith is the core of any start-up. You have to use every ounce of conviction & determination within you in knowing that you can do whatever it is you set out to do. If you believe you can do it, then others will believe in you too! It's also so vital to be in an environment conducive to growth and learning. Surround yourself with people who are genuinely enthusiastic for your dreams! Also, determination and sacrifice go together. You'll have to give up something or another, whether it be going out with friends, relaxing on the weekends etc – just keep going, it'll be worth it at the end.
5) How can non-desis take part in the game?
There's an easy side to the cards that has a lot of "global" words that everyone can understand. Also, a lot of the Hindi words have translations next to them, so it's great because people (desis and non-desis) simultaneously learn new words while playing. The four words you can't say underneath the main word helps players figure out what the main word is, so there are a lot of context clues along the way to allow non-desis to take part in the game.
6) Do you plan to make another desi themed games? What is your goal in the industry and in general?
I do! I'm already in the process of the conceptualization and design development of other games but still have a long way to go for their release! As for my goal in the industry, I'd like the game (future games) to be a carrier of education for generations to come. As knowledge and culture gets lost between generations, I hope the game establishes a standard platform of general knowledge for South Asians, which in turn will allow for more communication between people of different regions. There are about two billion South Asians around the world and you never know where one interesting fact that you know can take you. Games are so unique because have the power to create laughter, bring people together while allowing people to learn and I think it's pretty incredible so I hope that there's more of that to come in the future!
So, like Priya says, "Grab your Nana, Nani, Dada, Dadi, Mummy, Papa, Bhais, Bhens, Betis, Betas, Dosts and Have a SUPER- MAST time playing." To order your own game, visit CulturallyInclined.com and like the Facebook page! All photos were provided by Priya Shah. 
Giveaway!