On October 10, the Global India Fund hosted a gala fundraiser for Girl Rising—a powerful advocacy film turned international movement whose mission is to endorse girls' education. Held at the National Building Museum in Washington D.C., the elegant soiree hosted over 860 prominent leaders, celebrities, and notable guests who assembled to raise awareness about the importance of valuing and educating girls.
Founded in 2007, the Global India Fund helps people give back to the community through philanthropy and service. It partnered with Girl Rising (GR) last year following a trip to India, and since then, has followed Girl Rising's journey toward launching an official campaign in India. GR has received endorsements from Prime Minister Modi, President Barack Obama, First Lady Michelle Obama, Intel, and HP, as well as from the governments of India, Bihar, and Rajasthan.
"The vision for GR in India is to have all girls in India have equal right and access to education," said Nidhi Dubey, the Girl Rising India Country Director. "We really want to inspire parents to dream big for their girls as they do for their sons."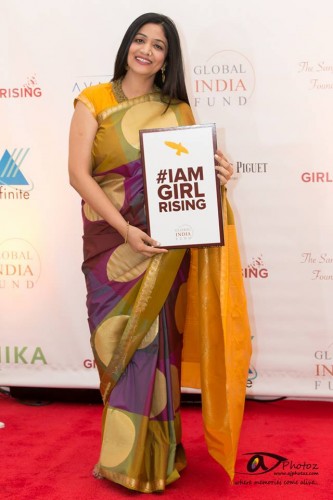 [Nidhi Dubey, Girl Rising India Country Director. | Photo Credit: Anand Jayaraman of AJ Photoz]
Freida Pinto, noted actress, producer, and GR ambassador, explained how India was an ideal fit for the GR campaign: "[India] is a country with so many youth who are waiting to invest their talents and energy into something they can give back to society."

[Actress Freida Pinto. | Photo Credit: Anand Jayaraman of AJ Photoz]
Often, NGOs are on the ground building schools, providing scholarships, and other educational opportunities for young women. However, newly built schools will be empty if campaigns do not change the attitude of how people value girls. "We hope that [Girl Rising] starts creating conversations which lead to a behavior change because there is going to be no progress if mindsets are not willing and ready for this change to start happening," Pinto explained further.
An alarming statistic reveals that 40 percent of Indian girls do not make it past Class 10. Therefore, Girl Rising's primary goal is to help more women achieve this educational milestone and stop the cycle of global poverty.  Many, such as Miss America 2014 Nina Davuluri, have been inspired by the Girl Rising movement and advocated the importance of investing in girls.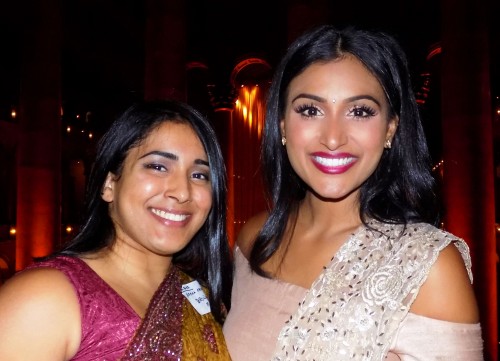 [BG Neena Abraham and Miss America Nina Davuluri. | Photo Credit: Neena Abraham]
"I'm solely here because of the women in my family," Davuluri said at the event. "My grandmother was the first in her family to be educated. Because of that my mother came to America and fulfilled her American dream, and that ended in me becoming Miss America. I'm a living testament of what an education can do."
In all, the splendid evening created awareness around the Girl Rising campaign and its tremendous advocacy work. "Tonight is the beginning of the journey  where we now have 860 plus new ambassadors for Girl Rising," Amitya Vyas, Founder of Global India Fund and Chair of GR Advisory Board, added. "Our job tonight is to give people tangible ways in addition to being here tonight that they can use over the next several years engage in the campaign."
Those interested in contributing to GR can do so by sharing with friends, family, and colleagues via word of mouth and social media, as well as by visiting and donating directly to the Girl Rising campaign.  The Global India Fund's Girl Rising event would not have been possible without the support of Audemar, NIKA; 6 sense/Amanda Kahlow, Infinite Computer Solutions/Sanjay Govil, Sanju Bansal, SanjuK, and the Bansal Foundation. A special thanks to Monika Samtani and Ms. Media Management PR & Management for coordinating media and press coverage.
[Feature Image: Girl Rising Executive Board with GR Ambassadors Freida Pinto and Nina Davuluri. | Photo Credit: Neena Abraham]
---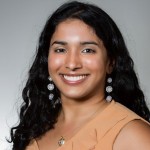 Born in New York and now living in Baltimore, Neena Abraham is the Project/Ad Sales Manager at Brown Girl Magazine. She joined the magazine to work with and befriend inspiring South Asian women as well as stay connected to her culture.