This post was originally published on our partner website India.com:
Quality Chai Time
The holiday season means quality time with your big desi family. Sometimes, depending on the family though, quality time turns into quantity time—and not for the better! You are all sitting there thinking, "how many more hours or days do I have with my family?"
We have some ideas that will break the monotony and morph chai time into something a little more, shall we say, endurable.
Chances are, if you're desi, you may make a vat of chai numerous times throughout the day as relatives weave in and out of the house during the holidays. Why not combine cocktail hour with chai, resulting in a truly memorable chai-tail hour?
On top of showing you numerous versions of spiked chai, these drinks are all served hot, which will be sure to keep you warm and sane this winter!
Entertaining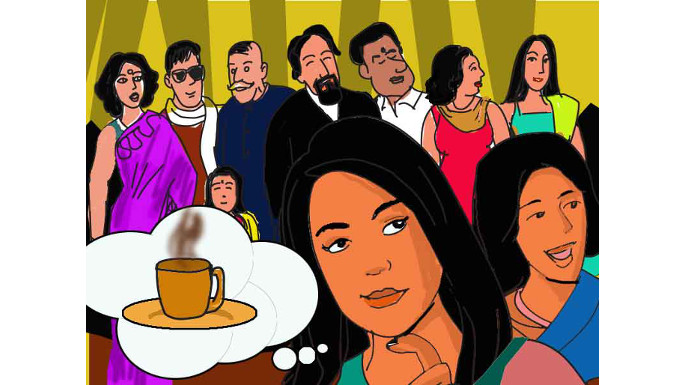 Since you will be serving these cocktails hot, be sure to use decorative thermo glasses or good old fashioned tea cups. Put your cocktails in festive glasses to stay in the spirit!
Garnitures that will add panache to your cocktails are cinnamon sticks as stirrers, whole star anise, candied ginger on skewers, and novelty honey teaspoons just to name a few.
Tips
Remember, just because you are adding other ingredients and alcohol, you should not skimp on the quality of your chai. Make a solid, sumptuous batch of chai—complete with real masalas. Taking the time to simmer a strong, milky batch, and then adding quality alcohol, will make truly memorable libations.
Here is a recipe for masala chai made to be had both with and without alcohol. You're one cup of chai away from making it through the holidays!
Recipes

Masala Chai (4 servings)
Ingredients
12 ounces water
4 ounces whole milk
1 tablespoon sugar
1 heaping teaspoon fresh ginger grated
5 green cardamom pods, crushed
1/8 teaspoon ground cinnamon powder
3 cloves
1 bay leaf
Freshly grated nutmeg
3 tablespoons loose leaf black tea
How to Throw Down
Place water, milk, and all the masalas in a saucepan. Bring the mixture to a boil. Remove from heat, and add tea. Steep for two minutes—then strain out leaves and masalas.
Now that you have a basic recipe for masala chai, it's time to tweak it to bring you different ideas for chai-tails.
Hot Chai Brown Russian
White Russians typically include coffee liqueur, heavy cream, and vodka—we're making it, even more, decadent and brown by adding chai! Using the base recipe, substitute half of the milk quantity with heavy cream. Once you've steeped the tea, pour into four cups. Add approximately 1-ounce vodka and ¾ ounce coffee liqueur to each.
Rum or Bourbon Chai
These are easy! Make the base chai recipe and add 4 ounces of rum to the pot. Strain and pour into 4 cups or glasses. If bourbon is more your thing, you may substitute the same amount in lieu of rum.
Chai Toddy
Use original recipe but omit the sugar and dairy, instead boiling water, spices, and four tablespoons of honey. Strain the leaves and masalas. Prepare four teacups. Pour about 1.5 to 2 ounces of bourbon into each, then add the tea—garnish with lemon wedges.
Vanilla Vodka Chai
Make chai, and strain it. Combine 3 ounces vanilla vodka and 2 ½ ounces amaretto liqueur in a shaker and add to chai. Pour evenly into glasses.
---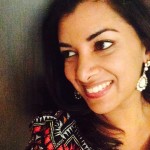 Soni Satpathy-Singh is a recipe writer and developer who resides in Manhattan. She is either always cooking or eating be it for work or simply because she loves to! She is working on her own cookbook and also recently created "Sketchy Desi" which provides daily humor, greeting cards, and apparel that celebrate brown culture. To see more of Sketchy Desi's work, visit SketchyDesi.com or stay tuned to upcoming posts on Brown Girl Magazine.