We're beginning to experience cooler temperatures nationwide. There will surely be other physical changes in the environment in the coming weeks as well, you know, with deep oranges, browns, and mustard-colored foliage dotting trees; the crisp acoustics of crunchy leaves underfoot; and soon enough, shades of pumpkin decorating each porch in time for Halloween.
All these occurrences were once the natural heralding of a new season – fall, but that hardly seems like the case anymore.
The arrival of fall seems to now (prematurely) begin at the whim of Starbucks and the offering of its cult favorite, the Pumpkin Spice Latte. That's right, the coffee Juggernaut has replaced Mother Nature.
Since "PSL" hijacked the market twelve years ago, it seems that everything– from espresso, donuts, breads, and beers– to non-edibles such as candles, lotions, and air fresheners, are severely pumped with the overly saccharine pumpkin spice notes.
Numerous media outlets such as The New York Times, Buzz Feed, and Huffington Post have tried to pinpoint the psychology of this craze and why it seems to have such a strong holding on consumer heart and purse strings.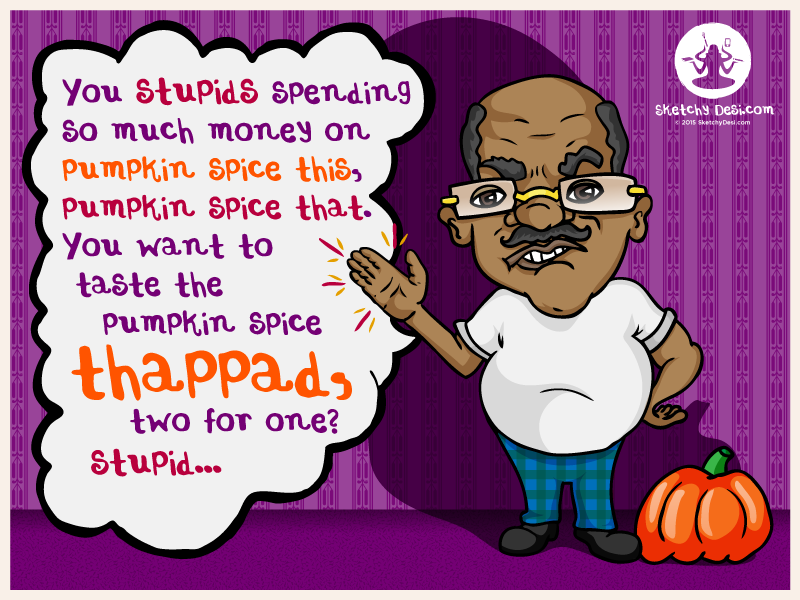 [Photo courtesy: sketchydesi.com/]
Most have concluded that the notes of pumpkin and spices in a drink drum up the senses towards nostalgia and the yearning for tradition and comfort of pumpkin pie and simpler times, of hearth and home.
We're reclaiming the pumpkin and flipping the script a bit here!
For many of us in the Diaspora, pumpkins make their way into our curries and dals and are the marker for the new season. And so, we share with you two of our favorite recipes for spiced pumpkin instead of pumpkin spice!
These classic Odia dishes are chock full fresh pumpkin and masalas. Do not hesitate to use other squash and gourds in place of pumpkin if you feel inspired to do so.
And ladies, another bonus to these recipes – they're healthy and certainly not laden with artificial flavor.
Kakara Bhaja Santula (Pumpkin Curry Stir-fry)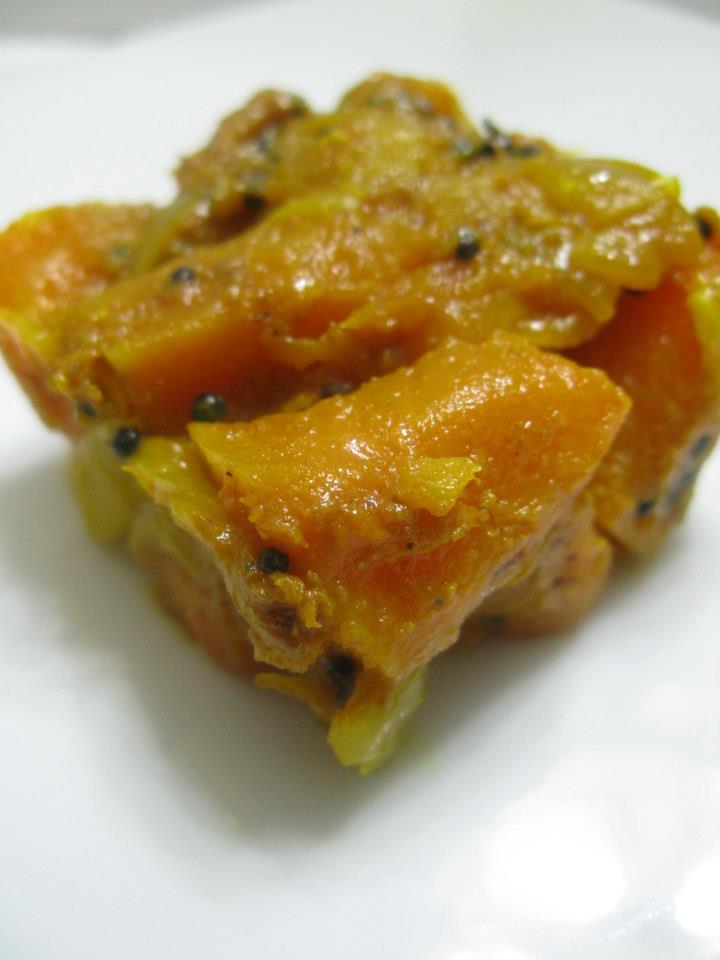 [Photo courtesy: Soni Satpathy-Singh]
Serves 4
Ingredients
2 tablespoons canola oil

1 medium white onion, thinly sliced

2 dry red chilies

1 teaspoon black mustard seeds

1/8 teaspoon asafetida (also known as hing)

1 ½ pound pumpkin, cleaned, peeled and diced

½ teaspoon turmeric powder

½ teaspoon salt

½ teaspoon

garam masala

powder

½ teaspoon roasted cumin powder

½ teaspoon ghee
Directions
Heat oil in kadai or heavy bottom pot over high heat. Add onion, chilies, black mustard seeds, and asofoetida and fry 3 to 5 minutes.
Add pumpkin, stir, and cook another 3 to 4 minutes. Stir in turmeric and salt. Cover and reduce heat to medium-high.
Cook for another 2 to 3 minutes. Stir in garam masala and cumin and continue cooking for 2 minutes.
Add ghee, reduce heat to low, and cook for another 2 minutes.
Remove from heat and transfer to serving dish.
Pumpkin Dal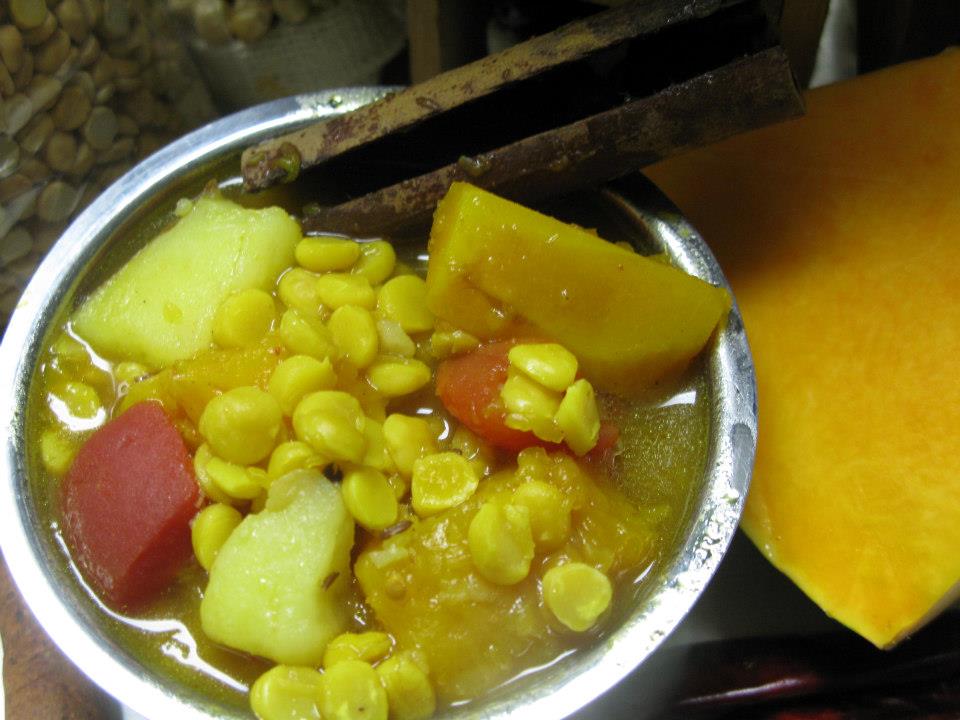 [Photo courtesy: Soni Satpathy-Singh]
Serves 4
Notes: Soak 1 cup chana dal for 30 minutes. Discard water before cooking.
Ingredients
½ teaspoon turmeric powder

1 cup

chana dal

2 cinnamon sticks, crushed

6 small bay leaves

1 pound pumpkin, cleaned, peeled and diced

1 large red potato, diced

1 large tomato, diced

1 teaspoon garam masala

1 teaspoon salt

2 red chilies

½ teaspoon whole cumin seeds

1 tablespoon canola oil

½ teaspoon ghee
Directions
Boil 40 ounces water and turmeric in the heavy bottom pot. Add chana dal and continue boiling for 7 minutes.
Add cinnamon sticks and bay leaves and boil for another 7 minutes.
Add pumpkin and potatoes, reduce heat to medium-high, cover, and cook for 10 to 12 minutes.
Increase heat/flame to high. Add tomatoes, garam masala, and salt and continue cooking for 12 to 15 minutes.
Meanwhile, heat canola oil separately in the skillet. Add red chilies and cumin and fry for 2 minutes. Add fried cumin-chilies to pot of dal in its last 2 minutes of cooking. Stir in ghee.
Transfer to serving dish.
To see more of Soni's original food articles and comics, visit www.facebook.com/sketchydesi/
---
Soni Satpathy-Singh is a recipe writer and developer who resides in Manhattan. She is either always cooking or eating be it for work or simply because she loves to! She is working on her own cookbook and also recently created "Sketchy Desi" which provides daily humor, greeting cards, and apparel that celebrate brown culture. To see more of Sketchy Desi's work, visit www.facebook.com/sketchydesi/ or stay tuned to upcoming posts on Brown Girl Magazine.