Losing my mind.
There's this odd tap that comes from chair legs hitting cold concrete floor, but I try not to think about it because it reminds me of my own shaking legs, leading to thoughts of those legs being broken, leading to thoughts of my face smashing against that floor. There's a mark on the floor that looks like a dried blood stain, and as I sit handcuffed waiting, I wonder if my blood will spill today and make an interesting pattern to occupy the thoughts of the next inhabitant of this grey and stark holding cell.
They speak in loud Croatian, five of them, smoking and laughing. They glance my way from time to time. Five hours later, the Croatian police release me somewhere in the middle of Zagreb. I still have my British and American passport, and I realize for the first time that I am not wearing any shoes. Glass has cut my foot, but I refuse to cry.
No one must see that I feel broken like that piece of glass. It was the summer of 1993. The Bosnian war was rampant. And I was a 20-year-old Muslim artist working in Bosnian refugee camps in Croatia.
These "document checks" were apparently familiar to Bosnian refugees, but even I was not that naïve to believe that my passports alone had saved me. It's still a blur exactly how I got back to the Spansko camp. The stuff nightmares are made of—lost, walking blindly in the dark, no idea where I was going, trying to stop fear and panic from taking over.
Snapshots in my head reminded me of my parents' tired faces; how fiercely I had fought with them to follow my own path. Now, all bravado gone, I solemnly trudged forward, trying to avoid stepping on shattered glass. As I felt a sharp cut, it suddenly dawned on me that I had missed asr and maghreb. Too scared to sit, I performed my prayers standing in a dark alley, shaking.
For the first time in my life, I asked Allah for nothing, but offered the only thing I had left to give: The sincerity of a humbled heart. As the night went on, I somehow found my way back.
On Humanity and Surviving
I learned a lot about humanity that summer while painting with Bosnian orphans. At first, I noticed how many of the kids had rotting teeth, and how generous they were despite having nothing. Other times I witnessed what men would do to take advantage of desperate women, and what desperate women would do to survive; old Saudi men with all their money and false piety buying young girls to be their brides; UN Peace Keepers exploiting young mothers for eggs.
I know what a camp of rape survivors looks like: Innocence lost.
By the end of summer, the Bosnian war was still raging. Women were still being raped, children still being orphaned. The aunties were still criticizing my mom for not getting me married off sooner. I was still the girl who chose the hobby of art over the career of law. The Loser.
Life was suffocating and messy. The nightmares were getting worse, and the pressure of marriage mounting. I had no outlet for my art because a conservative Pakistani community in the late 90s was no place for an unmarried activist artist.
Just when I felt like I was about to hit rock bottom, I picked up a paintbrush and began to paint. Somehow, my artist instincts took over. I painted day and night without allowing myself to think. While painting, I did dhikr. It helped, so I did it at night to drown out images. Over the next few months, I began to feel normal again.
I poured all emotions into a foreign language, but one that I instinctively understood; colors became the beautiful children I had left behind, textures felt like healing scars. Before I knew it, I had created this collection of Arabic calligraphic paintings.
My brother grabbed my hand one day. My sisters called with encouragement. My brother drove me to a café. Together, we showed them my work. Ruta Maya Coffeehouse was to be my first solo show, one of many over the years—one that I will never forget. My mother fried over 100 puris the day of the opening, and my father made his famous chane (curried chickpeas). My parents entertained the coffee house guests as if it were the most precious party of their life. Beaming, they greeted people at the door, and I looked on warmly as they accepted their friends' well wishes.  
Burying Oneself and Doing For Others
Things fell into place when I stopped fighting for the dream of what my life was supposed to be. I tucked away all romanticized notions of living the life of a "starving" artist, of traveling and sharing my art with the world. I wanted to see my parents happy, so I stopped resisting. I finally said yes to an arranged marriage to a good Pakistani boy—and then, to my great surprise, developed a huge crush on him immediately after our nikah.
We went on to have three beautiful children. I was a traditional daughter in law; never doing anything that would reflect badly upon my parents. I supported my husband through his many degrees of higher education; I was a working mom for a while, then a stay at home mom, and a homeschooling mom. We relocated to a new state with every job promotion, and I dedicated myself to every one of those communities, forming strong bonds with the people I would meet along the way.
Friendships became very important to me. I strove to be a good force in my friends' lives, someone people could rely on. Somewhere along the road, fulfilling other peoples' dreams became a priority. It was empowering to be part of the successes of people I had grown to love.
September 11 made it more challenging to show my work, depending upon where I was living at the time. I'd paint every five or six years out of the need to get it out of my system, and display my art in a local gallery close to home.
Then, both my parents got cancer. When my father passed away, it was debilitating. Unspeakable loss. When my mother left me, it was devastating. Lost it completely.  
A few weeks before her passing, we had laughed about my rebellious youth. Then we both stopped laughing and my chest ached as she told me it was time to follow my dreams. When I tried to dismiss it, she said angrily, "Beta, you always say you will and you never do." How was I supposed to tell her that that ship had sailed?
So I lied and told her that I had applied for my MFA. Less than a week after mom's passing, I finished the application process. I didn't get in.
Through The Journey to Find Oneself and God
I buried myself in my art, relying on God once again, a process I had become attached to along the way. But this time it felt different. That day, I created my first conceptual piece in more than 20 years.
The work was raw, real; it dealt with the loss of three lives in the Chapel Hill killings. The image was disturbing. Then came another piece; it was bold and in your face, dealing with discrimination in the US. I was finally doing the work I was meant to do; creating meaningful pieces that made me feel connected to the world again.
I was sure that these pieces would never see the light of day, so I decided to create a website; a refuge that would house all facets of my art, the painter and the activist in one.  I had carefully constructed this beautifully safe life for myself, but my parents, siblings, and husband always knew that I wanted more. Years of living for others meant that I would have to break out of this comfortable box to expose hidden scars that were now my portfolio for the world to see.
In the first huge journey of my life, I was brave, with nothing to lose. This time around, I was petrified. When the website was finally released, something quite extraordinary happened. People told me they were proud of me. College professors from a different life connected with me again. Friends from my old workplace, from high school, college, people from all the communities I had been part of—telling me they had been waiting for this moment and were glad I finally went for it.
Looking back at the past 20 years of trying to be a good daughter, sister, wife, mother, friend, teacher, coworker, community member—in my attempt to not feel like a failure, I had created a network of support. All these years not living up to my potential was, in fact, spent building strong relationships with people that I would need to fulfill my dreams. Love, age, experience, pain, struggles, art, loss—had nurtured a deep, binding connection to God.
The 20-year-old artist-activist knew exactly what she wanted: To look back in twenty or so years and say that she was leading a meaningful life. She blindly ran off to a war zone, escaping her responsibilities to those who gave her life meaning. The 40-year-old artist, wife, mother, knows that a happy ending is not always meant to be.
At some point, you will be dealt losses.
No one knows that better than me: loss of innocence, losing faith, losing loved ones, losing sight of your dreams, losing battles, losing inspiration, losing control—but, it doesn't end there. You fight your way through the dark, grasping and fighting for every step. The path will have glass, and when you cut yourself, people will see you hurt, broken.
If you're lucky like me, those people will be your crutch. When the crutch breaks, you find a shoulder. When that shoulder is gone, you rely on yourself. When you're broken again, you turn to Allah. And you realize that every step you endured had profound meaning because it led you to this person.
It's about the journey that leads you there. It's about finding yourself.
---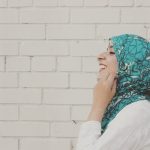 Kulsum is preparing for her first solo exhibit in six years at The Carrack Modern Art in Durham, NC from August 16-27, 2016. Her latest painting series, "Journey to The Good Life," documents the refugee/migrant struggle past and present. Current works can be seen at the Visual Art Exchange, Raleigh, and Greenville Museum of Art through April 2016. Recent exhibits include: Art+Dialogue: Responding to Racial Tension in America, at Greensboro College, and Center for the Visual Arts at Greenhill. Calligraphic works can be seen at Kababish Café in downtown Cary, NC. You can visit her website, as well as follow her on Facebook and Instagram.