A sari, the epitome of femininity. Nine yards of fabric transforms into the figure. It allows for peeks and glimpses into the form. Alluring and enchanting, it can cause one to straighten the spine and become more of a presence. But when I look around, I constantly ask myself, where are the saris?
In our modern world, there has been a shift away from the sari. We are career-focused women, with time being our most valuable currency. We opt for efficient fashion, items in our closets we can simply throw on. The current trend leans towards flowy anarkalis, hybrids such as sari gowns, cholis and skirts. Items are lauded for their ease and comfort. In our fascination with the new, we have moved away from the traditional.
The skill set of draping and pinning a sari is fast disappearing. In fact, a niche trade has arisen in the South Asian bridal world: professional sari-draper, women who will assist on your special day to prepare you and your bridesmaids and loved ones. We've reached a point where the art itself is no longer common knowledge.
The sari, if I may be so bold, is not just a symbol, but the symbol of womanhood. My earliest memory of fashion is of my mother draping a sari. The way she pleated, pinned, tucked, and draped—to me, there was nothing more elegant. She told me that I may wear my first sari when I turned 16. I still remember the thrill of putting it on for the first time.*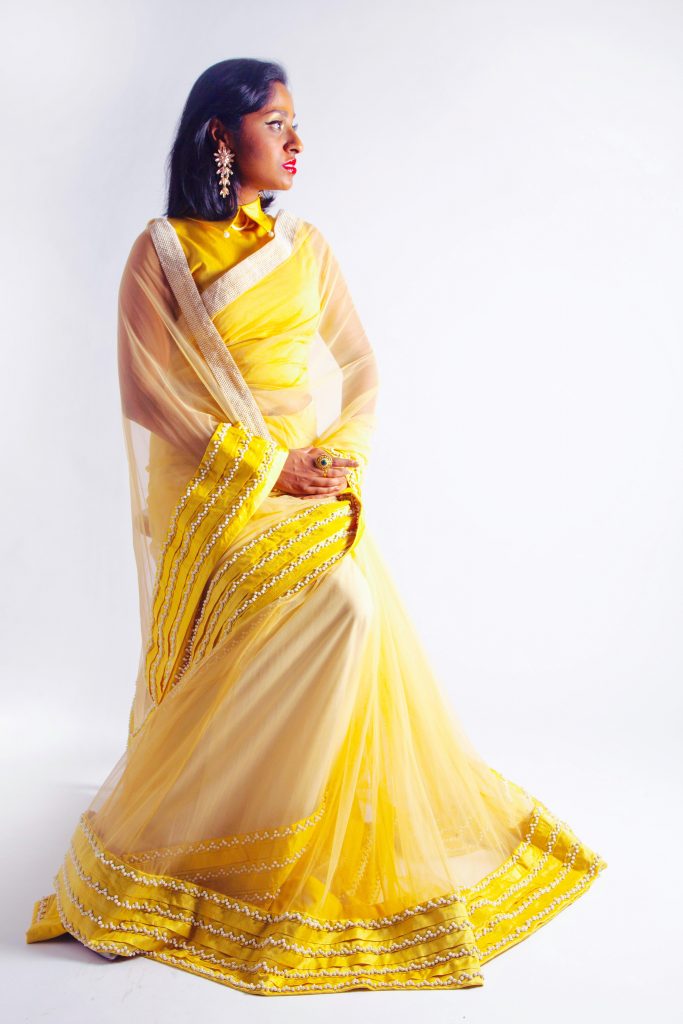 Bear with me, I do have a point to all my nostalgic waxing and waning over my favorite silhouette. I believe a revolution is needed, ladies, a revolution to return to the sari. Where better to start than BG? I urge you all to dive into your mother's and grandmother's closets and spend some time just draping.**
Just play; become that five-year-old you once were that would spend hours constructing outfits with saris you found.*** Do one of those Bollywood spins; be cinematic! Find the joy of the sari because it is a celebration, a celebration of the female form. Find your sari.
*I made the mistake of not practicing of how to walk in one and stepped on my pleats and it all fell out; I've gotten better since then.
**Hint: They tend to hide their favorites in the back of the closet. I make this assumption based on my own grandmother's and mother's tricks. They became aware that I am a sari clepto.
***By found, I mean your mom didn't hang her sari from an event from the night before. She immediately regrets not doing it right away when she finds that you've made it into a canopy for your bed. Finders keepers, Ma.
---
Liya Thachil is the co-founder of WESTxEAST, which is a retail brand aiming to provide South Asian inspired basics. It was created because of the need she and her co-founder, Tania Chackumkal, discovered for sari blouses, petticoats, kurtas and etc. They believe the silhouettes of the subcontinent should be more globally embraced. WxE aims to be a movement towards style beyond borders. Liya is an avid collector of vintage saris and believes all women should own at least one kanchipuram sari.